Spike Jonze's 'Beastie Boys Story' Arrives On Apple TV Plus
Adapted from their revelatory book and touring stage show, 'Beastie Boys Story' captures one of the most unlikely success stories in music history.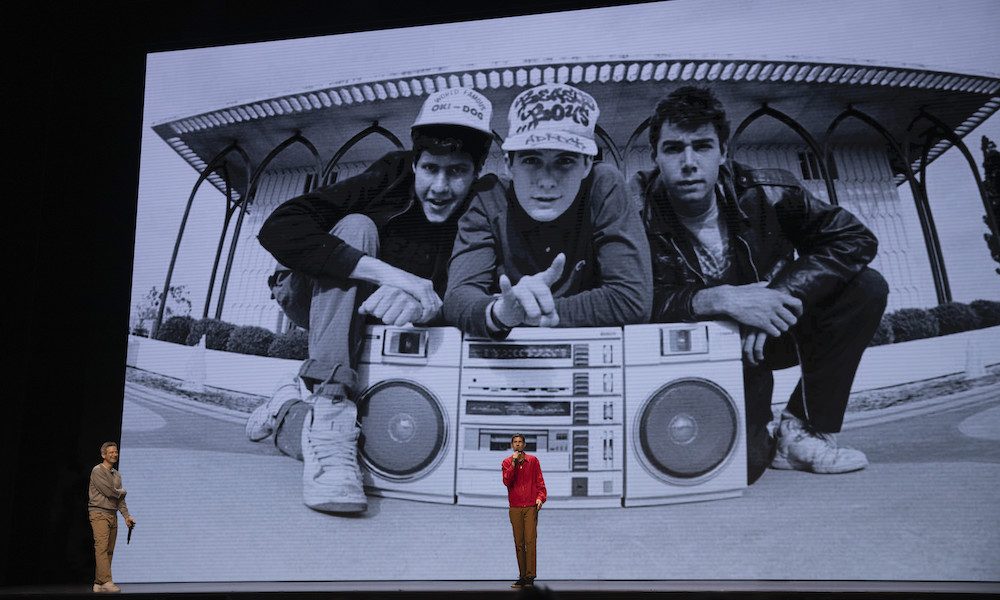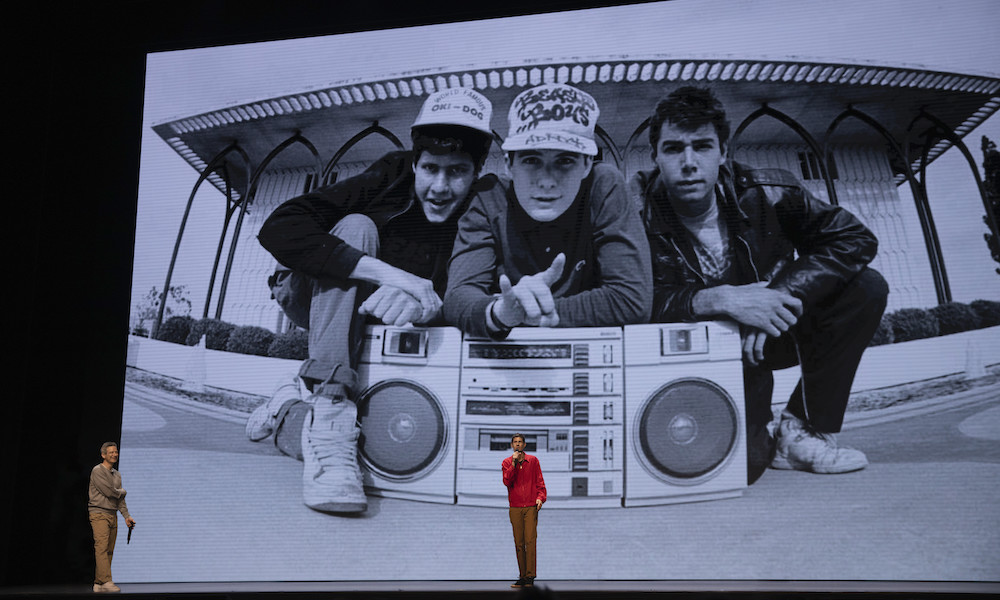 After months of anticipation, the new Spike Jonze-directed Beastie Boys Story documentary has arrived on Apple TV Plus to stream.
The documentary is adapted from a series of live stage shows that surviving Beastie Boys members Michael "Mike D" Diamond and Adam "Ad-Rock" Horovitz staged last year at Brooklyn's Kings Theater.
The stage shows themselves were adapted from their revelatory autobiography Beastie Boys Book, but when it came to distilling 592 pages of their history into a documentary film, they needed some help. Cue their longtime collaborator Spike Jonze, who manages to curate a feature-length career retrospective that does the band justice.
The film spans the group's early punk beginnings in 80s New York, where Horovitz recalls: "I met Yauch and Mike and [early member] John Berry at a Misfits show in 1982. It might've been Circle Jerks, but I like the Misfits more, so I'm gonna say that it was at a Misfits show."
That's the only bit of revisionist history in the film as the duo recall their early (more sophomoric days) of opening for Madonna, clowning frat boy culture on Licensed To Ill and then unintentionally attracting them as a fan base. To their credit, the Beasties own up to their less than woke past and reflect on how they've changed as a band.
Beastie Boys Story — Official Trailer | Apple TV+
All of the key dramatic beats are there: meeting Rick Rubin and Russell Simons and signing to Def Jam, rediscovering their roots on Paul's Boutique, the story behind their famous 'Sabotage' video and their last gig as a group at Bonnaroo in 2009.
Amid these key milestones, are some great moments thanks to archival footage, including an underage Horovitz asking one of his heroes, the DJ pioneer Afrika Bambaataa, if he's ever heard the early Beasties single 'Cookie Puss'.
Ultimately, Beastie Boys Story is a heartfelt, hilarious and emotional tribute to their best friend and late bandmate Adam "MCA" Yauch, who passed away from cancer in 2012 at the age of 47.
Following the premiere of Beastie Boys Story, Diamond, Horovitz and Jonze jumped on Reddit to do a 'Ask Me Anything' (AMA) After Party, where they fielded fan questions and talked about the film.
When asked if the group would ever release Hot Sauce Committee Part One, that was initially set for release in 2009 but was waylaid by Yach's cancer diagnosis.
"Here's the thing, Hot Sauce Committee Part One, we don't know where it is," said Horovitz. "We lost it. We can't find it, if we find it then we're gonna work on it and try to put it out. But we do have a lot of other, I was gonna say material, but old music that we might put out one day.
"Material? What do you mean like skits, like vaudevillian acts?" said Diamond.
"Yeah it's like 17 hours of just what we are doing right now," responded Horovitz.
"When you guys recorded that record, you were pretty deep into your careers," added Jonze. "You were older, you were more experienced. It seems like when you're 19 is when you lose a project. It seems like in your 30s is when it's harder to misplace an entire project."
"Yeah, well what had happened was we had these hard drives," said Horowitz. "And it's the thing you put the songs on and we had one for Part 1 and one for Part 2. And at the same time that we were going to finish the record at the mastering place, what you call the mixer, we had also been working on this documentary that we never put out that was about boxcar travel in the 1920s and so.."
The group went to talk about working with Lee Scratch Perry, their favourite Yach moments and the weirdest moments from living in New York.
Beastie Boys Story is out now on Apple TV Plus. Watch here.
Format:
UK English