Billie Eilish And FINNEAS Will Appear In New 'Simpsons' Short
'When Billie Met Lisa' premieres April 22 on Disney+.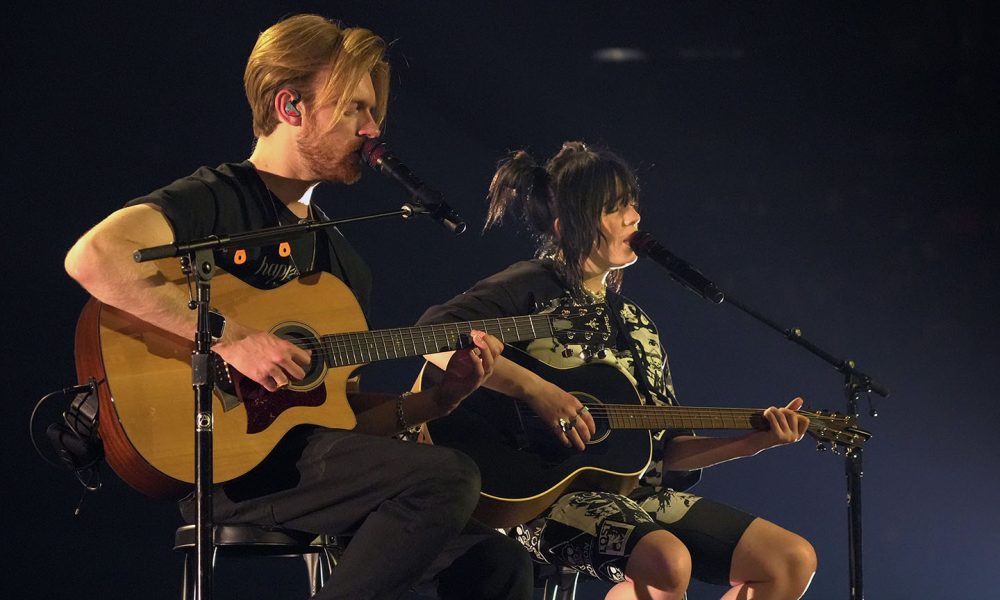 Billie Eilish and FINNEAS will be appearing in a Simpsons special, airing April 22 exclusively on Disney+. Titled "When Billie Met Lisa," the short will feature cartoon versions of the talented siblings, as they help character Lisa Simpson practice her saxophone. Speaking to Rolling Stone, a representative for Disney+ revealed that fans can expect a "a special jam session [Lisa'll] never forget."
Eilish and FINNEAS' appearance on The Simpsons follows a long line of celebrity cameos on the show. Since premiering in December 1989, the animated series has hosted many of music's biggest names, including The Weeknd, members of The Beatles, Dolly Parton, The Ramones, Britney Spears, Justin Bieber, and many more. Puerto Rican star Bad Bunny, meanwhile, brought the show's characters to life in his recent music video for "Te Deseo Lo Mejor."
Eilish and FINNEAS are no strangers to Disney+. Last September, the platform released Eilish's live concert film, Happier Than Ever: A Love Letter to Los Angeles, where she performed songs from her critically-acclaimed sophomore album at the Hollywood Bowl. The singer-songwriter siblings also contributed music to the soundtrack of Disney's new animated film, Turning Red.
"That was so fun…I'm so excited that that got announced because that's been our little secret. We made the songs during the pandemic," FINNEAS told The Hollywood Reporter about their contribution to the Disney film. "And the director is really so talented — her name is Domee Shi. She's incredible, and it was just a really cool process the whole time."
Looking ahead, Eilish and FINNEAS are heading to the Coachella Music Festival, where they will close out Saturday night during both weekends. At just 20 years old, Eilish marks the annual California-based festival's youngest headliner.
Eilish will also resume her Happier Than Ever world tour in June, performing for fans across Europe, Australia, and New Zealand. For a complete list of tour dates, visit Eilish's official website.