BTS' J-Hope Lets The World Burn In 'Arson' Video
The rapper has also released his first solo album 'Jack In The Box' today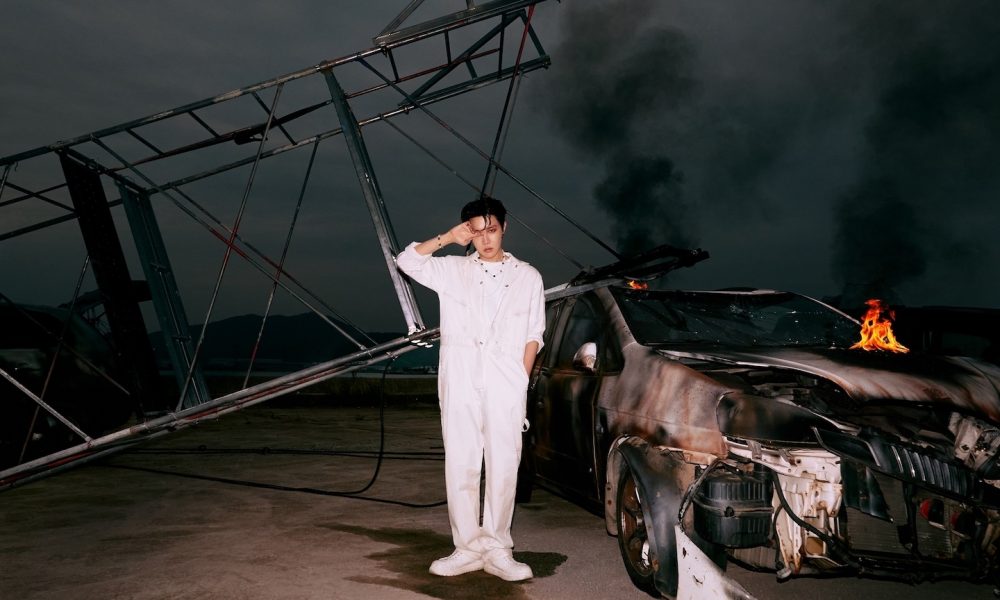 BTS' J-Hope has shared a video for his new song "Arson" and released his first solo album, Jack In The Box.
The visuals for the hard-hitting hip-hop track "Arson" pick up where the video for the previous single "MORE" left off. It opens with the rapper standing amongst burning cars against a grey backdrop and dressed in a white jumpsuit. As it continues, the flames dissipate then reignite, burning the track's title into the ground and scorching J-Hope himself in the process.
"'Right, I lit the flame,'" he reminds himself. "Now I ask myself, choose what/Do I put out the fire/Or burn even brighter?"
"Arson" appears on Jack In The Box, which was also released today and shows a darker side to the Korean superstar than is typically associated with him. As well as adding new layers to his artistry, the record traces the roots of his name – which was inspired by Pandora's Box – and tackles his feelings around his experiences and agonies over the course of his career.
j-hope '방화 (Arson)' Official MV
The artwork for the album sees J-Hope team up with the world-renowned artist KAWS. The album's message about J-Hope's agony, passion, and aspirations is reflected in the cover artwork. It employs KAWS's iconic use of precise line and color to visualize J-Hope at the crossroads of choosing his next path.
In a press release, KAWS said: "I was thrilled when J-Hope invited me to collaborate on the cover artwork for his solo project. We have become friendly the last few years and I'm happy our paths will have crossed at this moment in time."
Jack In The Box is available to listen to now on all digital platforms, while it will also be released via Weverse Albums on July 29. Weverse Albums app allows users to download the album, photos, and more via QR codes. All content on Weverse Albums are high-quality audio and high-res images available digitally.
At the end of this month, J-Hope will make history when he headlines the Bud Light Seltzer Stage at Lollapalooza in Chicago. The performance will make him the first Korean act to headline a main stage at a festival in the US.