Burke Shelley, Bassist, Vocalist & Founder Member Of Budgie, Dies Aged 71
An influence on future metal titans such as Metallica and Megadeth, Budgie recorded a series of classic albums for MCA and A&M during the 1970s.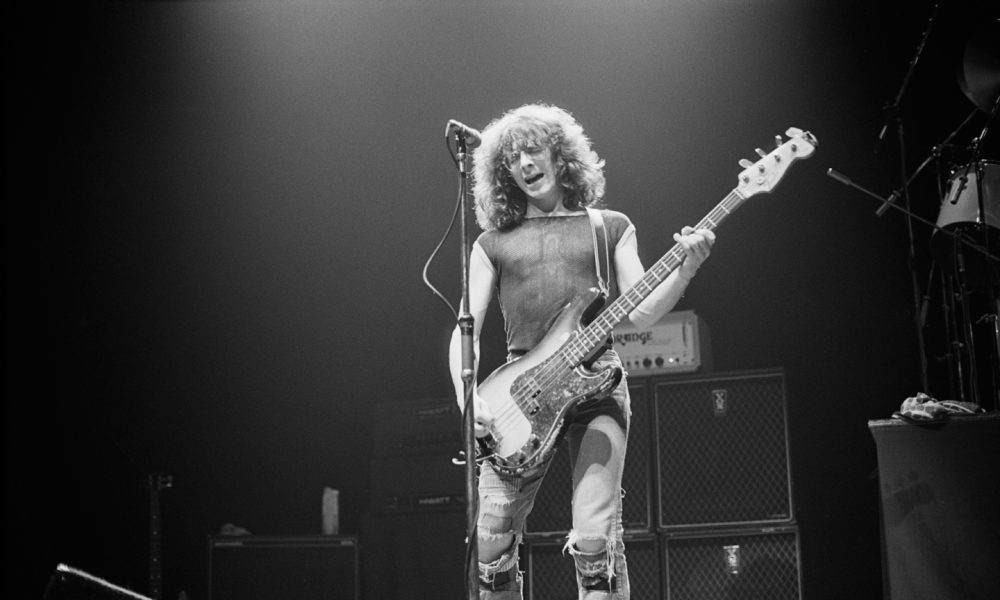 Burke Shelley, bassist and vocalist and founder member of highly respected Welsh rockers Budgie has died at the age of 71.
The news was confirmed on the Budgie fan page on Facebook by his daughter, Ela Shelley. She wrote, "It is with great sadness that I announce the death of my father, John Burke Shelley. He passed away this evening in his sleep at Heath Hospital in Cardiff, his birth town. He was 71 years old." No cause of death has been announced as yet.
One of seven children, Burke Shelley was born on April 10th 1950 in St David's Hospital in Canton, Cardiff. He was raised in the city, in the district of Llanishen, the site of the Royal Ordnance Factory that took a direct, devastating hit from the German Luftwaffe during World War II. The area was being rebuilt in the aftermath of the war, and Shelley had a happy, free-range childhood there, climbing trees and playing the fool in class.
Even before learning to play an instrument, Shelley and friends would make up songs and perform them at the school's end of term concert. When The Beatles arrived in the early 60s and changed everything he nagged his father – also called Burke Shelley – for his first guitar, which cost six guineas ("We should never have changed to decimal," he lamented, characteristically, in 2020). He learned to play through Bert Weedon's column in the Sunday paper, and kept writing tunes, knocking out future Budgie fan-favourite "Parents" when he was just 16.
Like John Lennon, he had an early love for language, especially puns and absurdism (he studied for an English degree as a mature student in the 80s). Later this became part of Budgie's USP, an acronym you can almost hear him quailing at. Memorable titles abounded across the band's classic-era catalogue: "You're The Biggest Thing Since Powdered Milk", "Hot As A Docker's Armpit" (borrowed from the Small Faces' Steve Marriott), "Napoleon Bona-Part One and Two". "In The Grip Of A Tyrefitter's Hand" was inspired by Shelley's local mechanic, who would pull old tyres off their wheels with his bare hands. And given the trademark heaviness of the Budgie sound, even their name itself was a tongue-in-cheek paradox worthy of Terry Pratchett.
Shelley's worldview was transformed forever in 1967 by a show by fellow Cardiff native Dave Edmunds and his trio, Love Sculpture. He jacked in his traineeship as a quantity surveyor and committed fully to music, switching to bass and forming the fledgling Budgie that year with drummer Ray Phillips and guitarists Kevin Newton and Brian Goddard. Newton and Goddard would soon drop out, and fortune would lead to Tony Bourge, a truly gifted and versatile guitar player who would be Shelley's musical foil and co-writer until leaving the band in 1978.
Even at an early age, Shelley was fiercely single-minded, a man of conviction, and was sure to make the most of their big break when it came. On the way to their audition for producer Rodger Bain at Rockfield Studios in 1970, he instructed his bandmates to defy their then-agent's wishes to perform covers, and instead launch into their own material.
"We went up there and played," recalled Shelley, "and [Rodger] said, 'You're exactly what I'm looking for. I've only signed two bands – you and this other band. When they're finished doing their demos you go in and do yours'. It was Black Sabbath. That's partly why people say we were on the same starting block for 'heavy metal', or whatever."
Budgie released a series of classic records during the early-to-mid 1970s, while they were signed with MCA and then A&M Records. The albums Budgie, Squawk, Never Turn Your Back On A Friend (featuring signature tune "Breadfan"), In For The Kill (a Top 30 hit in the UK), Bandolier, If I Were Brittania I'd Waive The Rules (another example of Shelley's whimsical, Milligan-esque facility with words) and – Bourge's brilliant last album with them – Impeckable. These may have underperformed commercially at the time, but the sheer songcraft and heavy style on display were not lost on some of rock and metal's major players.
Despite Bourge's departure, he and Shelley remained lifelong friends, and lived near each other to the end. When discussing the band's music, Shelley was very careful to credit Bourge for his part in the songwriting process. The guitarist was a font of riffs, textures and ideas, while Shelley had an ear for the best ones and a knack for bringing them together into song form.
"We'd just write what we liked," said Shelley, "and we'd never think about how it fits into the music scene. I've had this idea most of my playing life: don't do anything to please the crowd – have a little faith, and please yourself. That way you're comfortable and you build a following of people who like what you do."
And they really did. To this day the internet is awash with old rockers' happy memories of seeing Budgie play, and footage of them on everything from The Old Grey Whistle Test to Sweden Rocks Festival bears out their reputation as fine performers.
Van Halen covered "In For The Kill" in their early set, and bemoaned Budgie's unwarranted obscurity in the USA. Later, Iron Maiden took on "I Can't See My Feelings", Megadeth did "Melt The Ice Away" and Soundgarden took a swing at "Homicidal Suicidal". Most famously, Metallica recorded "Breadfan" and "Crash Course In Brain Surgery" in the 1980s, giving Budgie's career and royalty income a significant bump, and crucially introducing them to a new generation of fan.
Budgie was effectively retired in 2010, making their 11th studio album, 2006's coolly-received You're All Living In Cuckooland, their last. In his latter years Shelley played bass with old friends in the Cardiff area, just for fun. His band The Night Owls would perform in local pubs, knocking out old blues classics, Davey Graham's "Angi" and John Mayer's "Waiting On The World To Change."