Chick Corea Akoustic Band 'Live' Set To Be Released
The Akoustic Band consisted of Corea, bassist John Patitucci, and drummer Dave Weckl.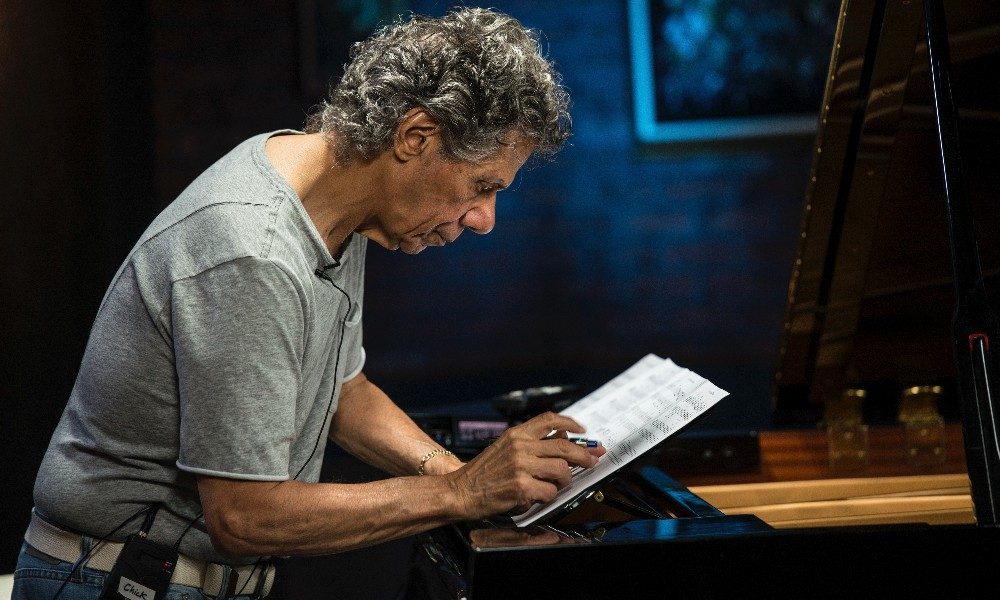 Before he passed away from a rare form of cancer in February of 2021, Chick Corea had prepared his final release, the straightforwardly titled Chick Corea Akoustic Band LIVE. The 2-CD set was recorded January 13, 2018 at SPC Music Hall in St. Petersburg, Florida. Due out September 24, 2021 via Concord Jazz, the release serves as a celebratory reminder of Corea's singular genius, with more than two hours of inspired playing and spirited camaraderie.
In a posthumous statement released on his Facebook page, Corea bid farewell to his compatriots and fans in the same joyous spirit with which he always approached the keyboard: "I want to thank all of those along my journey who have helped keep the music fires burning bright. It is my hope that those who have an inkling to play, write, perform or otherwise, do so. If not for yourself then for the rest of us. It's not only that the world needs more artists, it's also just a lot of fun."
Chick Corea Akoustic Band Live Album Trailer
Two of the gifted musicians who'd helped Chick keep those fires burning so brightly were bassist John Patitucci and drummer Dave Weckl, the pianist's bandmates in his storied Akoustic Band. Corea worked hard making sure everything was just right for this first release by the trio in over two decades.
The Akoustic Band made its debut with 1987's Summer Night Live, documenting a concert in Belgrade, Yugoslavia. The trio was an outgrowth of Corea's revered Elektric Band, for which Patitucci and Weckl formed the rhythmic core. The trio remained active through the 1990s, garnering a Grammy for Best Jazz Instrumental Performance for their 1989 self-titled studio debut, but then fell silent.
"Our Elektric band vibe is never far away," Corea asserted late last year. "There's a special relationship that exists from the very beginning of our trio, which was the original nucleus of the Elektric band. We felt it was a good time to re-explore our musical friendship."
Pre-order Chick Corea Akoustic Band LIVE.
Chick Corea Akoustic Band LIVE Tracklist:
Disc 1:
Morning Sprite
Japanese Waltz
That Old Feeling
In a Sentimental Mood
Rhumba Flamenco
Summer Night
Humpty Dumpty (Set 1)
Disc 2:
On Green Dolphin Street
Eternal Child
You and the Night and the Music
Monk's Mood
Humpty Dumpty (Set 2)
You're Everything (featuring Gayle Moran Corea)