Chuck D Announces 'Livin' Loud' Book Signing At London's Rough Trade East
In the book, the Public Enemy pays homage to his musical influences ranging James Brown and Woody Guthrie to Def Jam labelmates Beastie Boys.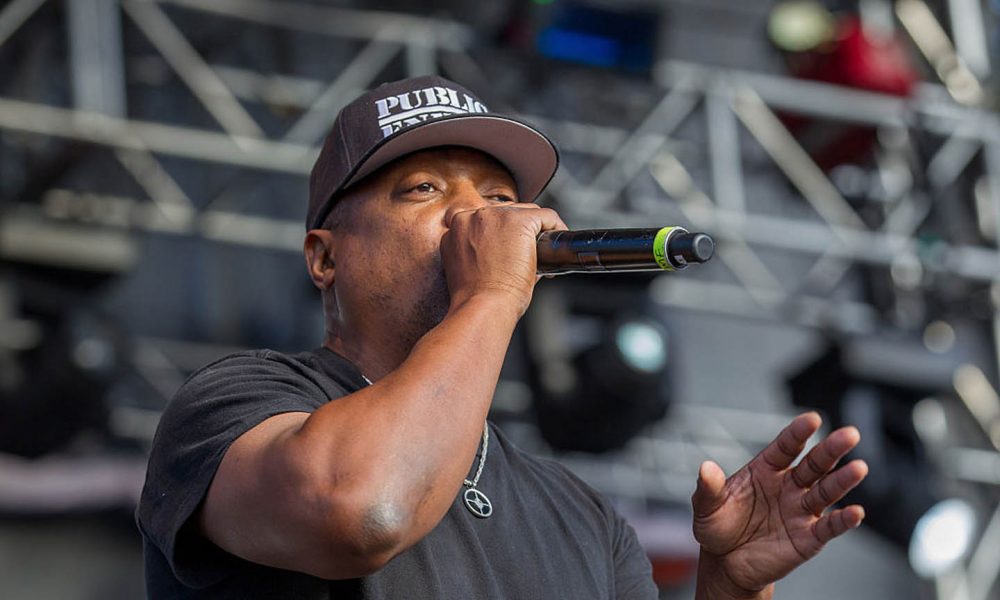 Celebrating the release of LIVIN' LOUD – ARTitation by Public Enemy's founder and hip-hop Chuck D, Genesis Publications has announced a UK exclusive book signing event at Rough Trade East in London on May 16, in which Chuck will be signing copies of the book. Tickets purchased from the Dice link will include a copy of the book to be collected at the event which can be signed by Chuck.
Shop the best of Public Enemy's discography on vinyl and more.
LIVIN' LOUD presents a body of artworks which continue to address the social and politically conscious issues addressed by his lyrics, revealing Chuck D's visual dexterity as he explores a diverse range of subjects paying homage to his musical influences and peers from James Brown and Woody Guthrie to Def Jam labelmates Run-DMC and Beastie Boys, and host of the most influential hip-hop artists from Ice Cube to Run the Jewels. The book also homes in on his twin passions of baseball and basketball, his time on tour with rap-rock supergroup Prophets of Rage, and a range of socioploitical issues.
LIVIN' LOUD features Chuck D's engaging commentary, tracing his musical and artistic trajectory through illuminating anecdotes and cultural observations that give unprecedented insight into his life and work. His text reveals his early experiences growing up in the turbulent era of the 60s, in which he was shaped by the prevalent civil rights and antiwar sentiments of the time. He later shares his journey into the world of hip-hop from his early days through to the formation of Public Enemy, following their stellar career to their Rock 'n' Roll Hall of Fame induction.
Chuck D says, "I was already expressing my political viewpoint through my art and graphics, so the bridge into music was a natural next step. First, I expressed myself with my head and my hands, and then later with my voice."
With a foreword by Rage Against the Machine's Tom Morello, LIVIN' LOUD is a visual experience of over 250 artworks, each piece reflective of the man behind the music. Working with a selection of media, sketchpads and canvases, Chuck D has produced hundreds of artworks over the last six years. Everything from oil paintings of 1950s baseball fields to pencil sketches of music icons of Nina Simone, Bob Dylan and the Beastie Boys have been curated exclusively for Genesis Publications to create a striking kaleidoscope of his work.