Two-Time Rock And Roll Hall of Fame Inductee David Crosby Dies At 81
Crosby was a co-founder of The Byrds and Crosby, Stills & Nash.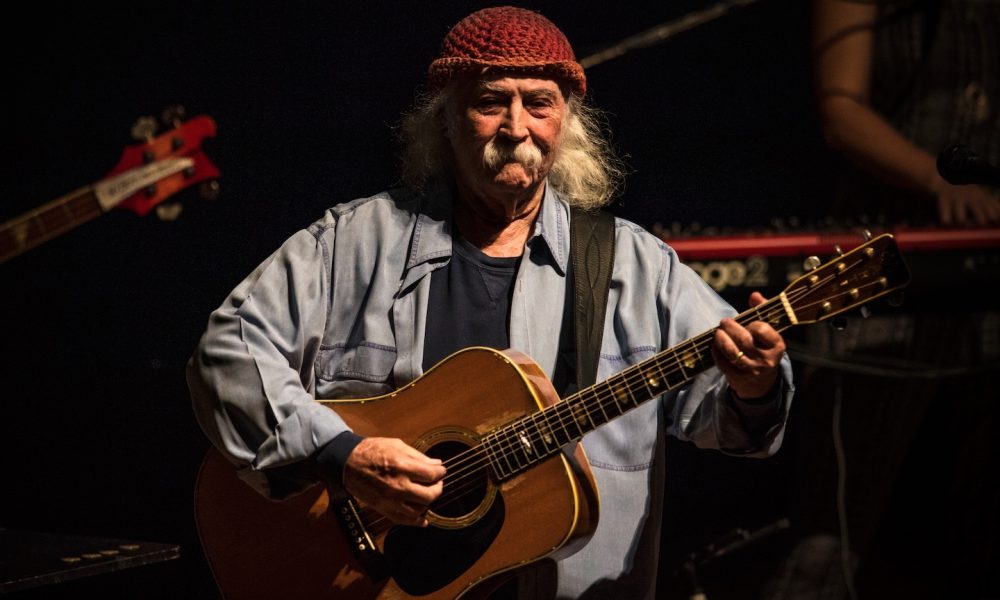 Singer-songwriter and guitarist David Crosby, a founding member of the Byrds and Crosby, Stills & Nash, has died at 81 years. Crosby's unique place in rock history is reflected in his two-time induction into the Rock and Roll Hall of Fame with both of those seminal groups. CSN frequently expanded into a four-piece format with fellow rock totem Neil Young.
In a statement to Variety, his wife wrote: "It is with great sadness after a long illness, that our beloved David (Croz) Crosby has passed away. He was lovingly surrounded by his wife and soulmate Jan and son Django. Although he is no longer here with us, his humanity and kind soul will continue to guide and inspire us.
"His legacy will continue to live on through his legendary music. Peace, love, and harmony to all who knew David and those he touched. We will miss him dearly. At this time, we respectfully and kindly ask for privacy as we grieve and try to deal with our profound loss. Thank you for the love and prayers."
Love for Crosby from his distinguished friends and admirers poured from social media. "Missing you already, Croz. Love to Jan…," wrote James Taylor. "I don't know what to say other than I'm heartbroken to hear about David Crosby," said Brian Wilson. "David was an unbelievable talent – such a great singer and songwriter. And a wonderful person." A message on The Beatles' accounts said: "We're remembering David for his sense of humor, angelic harmonies, and his humanity. Rest in peace."
Graham Nash wrote on Facebook: "It is with a deep and profound sadness that I learned that my friend David Crosby has passed. I know people tend to focus on how volatile our relationship has been at times, but what has always mattered to David and me more than anything was the pure joy of the music we created together, the sound we discovered with one another, and the deep friendship we shared over all these many long years.
"David was fearless in life and in music. He leaves behind a tremendous void as far as sheer personality and talent in this world. He spoke his mind, his heart, and his passion through his beautiful music and leaves an incredible legacy. These are the things that matter most. My heart is truly with his wife, Jan, his son, Django, and all of the people he has touched in this world."
Crosby, born David Van Cortlandt Crosby in Los Angeles on August 14, 1941 and affectionately known as "Croz," was a pioneer of LA's 60s folk-rock Laurel Canyon scene. He helped establish the subgenre with the Byrds during his up and down 1964-67 tenure in the group. In an interview with New Musical Express from April 19, 1975, Crosby noted of the group's break-up: "Roger [McGuinn] and Chris [Hillman] drove up in a pair of Porsches and said that I was crazy, impossible to work with, an ego-manic – all of which is partly true – that I sang s____y, wrote terrible songs, made horrible sounds, and that they would do much better without me."
David Crosby: Remember My Name (Official Trailer)
During that period, he became friends with Stephen Stills of Buffalo Springfield and Graham Nash of the Hollies, launching Crosby, Stills & Nash, whose 1969 debut went multi-platinum and won them the Grammy Award for Best New Artist. With the trio's remarkable harmonies and respective songwriting preeminence, it became an absolute staple of the burgeoning singer-songwriter movement. Their second gig together
CSN were then joined by Young, and although relationships within the group were often fractious, they went on to create 1970's Deja Vu. Crosby frequently and famously struggled with ongoing drug issues which would later lead to his incarceration. He began a career in his own name in 1971, when the much-admired If I Could Only Remember My Name peaked at No.12 in the US. It featured performances from Nash, Young, Joni Mitchell, and members of Jefferson Airplane, the Grateful Dead, and Santana. His three studio collaborations with Nash as a duo in the 1970s all went gold in the US.
Crosby, Stills & Nash (and occasionally Young) reunited on many occasions in the ensuing decades, and Crosby continued to release solo albums such as Oh Yes I Can in 1989 and Thousand Roads (1993), as well as releasing another album with Nash in 2004. He also worked in CPR, a trio with his son James Raymond and guitarist Jeff Pevar, and had a late blooming of solo productivity with a run of albums in his final decade, the most recent of which, For Free, was released in 2021.