Digital Deluxe Edition Of Bob Marley & The Wailers' Exodus' Out Now
The new edition also includes previously unreleased tracks from Marley & The Wailers' landmark London Rainbow Theatre shows from July 1977.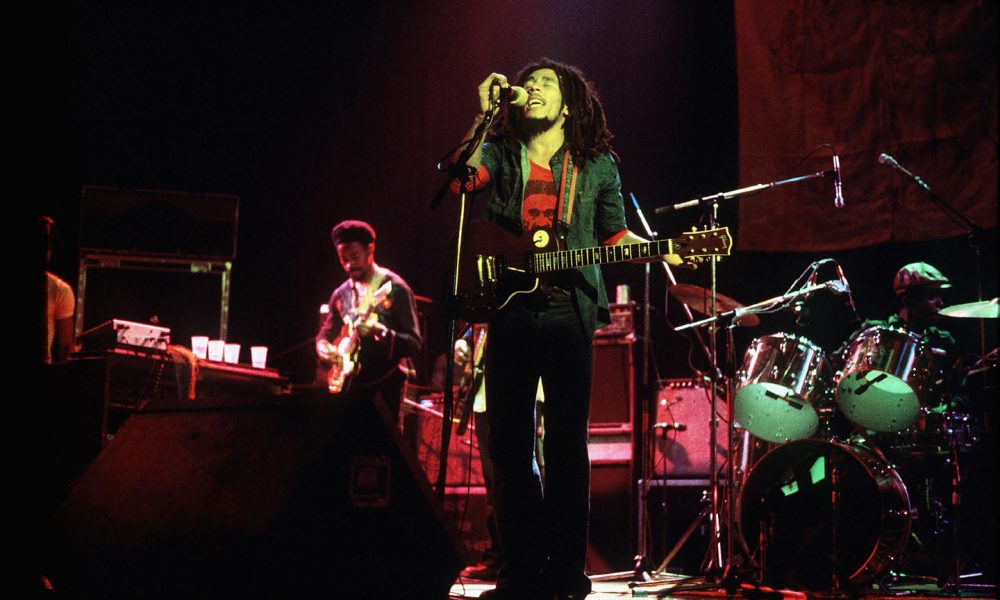 Throughout June, The Marley Family, Island Records, and UMe have marked the 45th anniversary of Exodus – named the "Best Album of the 20th Century" by Time magazine in 1999 – with the digital premiere of three of the four nights from Bob Marley & the Wailers' historic run at London's Rainbow Theatre and a consolidated, revised digital Exodus: Deluxe Edition, which is out now.
Following an assassination attempt in Kingston, Jamaica, in December 1976, Bob Marley and his band moved to London – in "exodus" from their home country – and recorded tracks for what became both the Exodus and Kaya albums. Marley's Exodus, featuring the timeless tracks "Jamming," "Three Little Birds," "One Love/People Get Ready," and the epic title song, came first, which led to early positive reviews, ten early dates around Western Europe and shows at the Rainbow Theatre in London's Finsbury Park during release week.
But an injury to Bob led to the abrupt cancellation of the rest of the 'Exodus' tour, including expected U.S. breakthrough shows scheduled for late summer, leaving June 1-2-3-4 the final performances by the Wailers that year.
A select number of tracks from each of the four nights of the Live at the Rainbow recordings have been included on previously released Deluxe Editions of Exodus, and audio and video of the full concert on June 4 was released during the year-long 75th Birthday Celebration, #Marley75, in 2020.
Most of the legendary performances from the previous three nights, however, feature slightly different setlists – as well as alternate arrangements – that have never been heard until now. Bob Marley & The Wailers Live at the Rainbow: 1st June 1977 made its digital debut on the exact 45th anniversary of the original album's release. Live at the Rainbow: 2nd June 1977 followed on June 10; and Live at the Rainbow: 3rd June 1977 concluded the series on June 17. Across the three dates are 29 previously unreleased performances combined – that's more than three-quarters of the shows.
To round out the 45th Anniversary celebration, a revised and newly remastered Exodus: Deluxe Edition has also now been released. The Deluxe Edition features the ten original tracks from the album, plus 18 Singles & Sessions tracks; 13 of them are culled from two previous Deluxe Editions and adds previously unreleased tracks "Natural Mystic (Alternate Version)," and "The Heathen (Alternate Version)," and the rare 7-inch versions of "Exodus," "Jamming" and "Punky Reggae Party,' the original B-side to "Jamming." In addition to the unreleased tracks, the last two cuts were previously unavailable at all streaming services.