Eddie Vedder Discusses New Album 'Earthling' In Apple Music Interview With Zane Lowe
During the in-depth interview, Vedder discussed his Chicago roots, touring the record, its special guest stars and much more.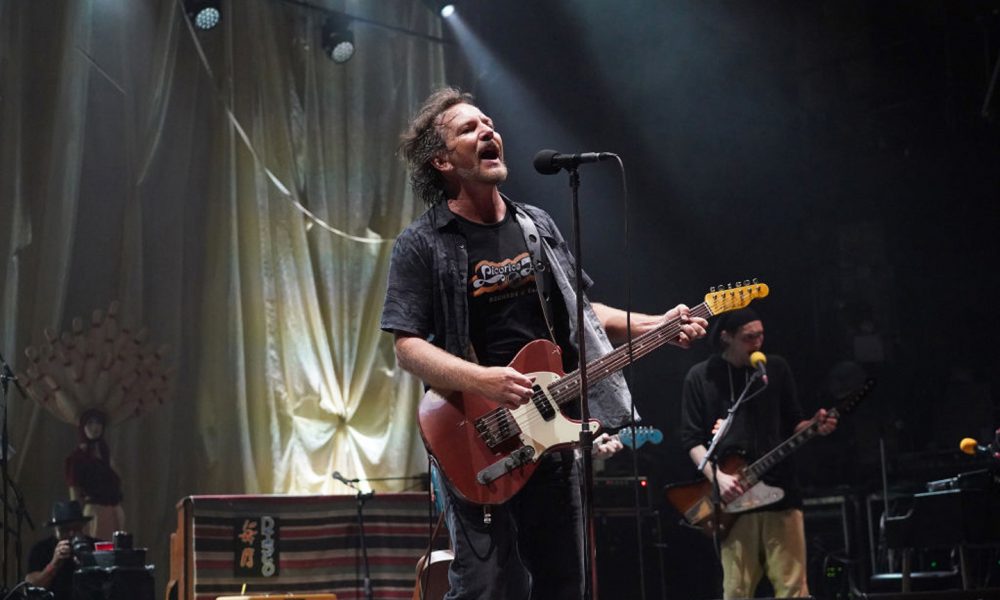 Apple Music's Zane Lowe traveled to Chicago for an in-depth conversation with Eddie Vedder, Chad Smith, Josh Klinghoffer, and producer Andrew Watt about Vedder's new studio album Earthling.
During the interview with Zane, Vedder discussed his Chicago roots, touring the album, featuring his father on the album, his relationship with producer Andrew Watt, how activism has informed his art, the emotions that inspired "Brother The Cloud", and the star-studded collaborations on the album. Later on, self-proclaimed "biggest Pearl Jam fans of all time" Andrew Watt, Josh Klinghoffer, and Chad Smith join Zane to collaborating with Vedder on Earthling, his undeniable vocal performance, and the fun of working together.
You can watch Eddie Vedder's interview with Zane Lowe in full below, but first, if you scroll down, you can read a few extracts to give you a flavor of what went down.
Eddie Vedder: 'Earthling' and Working with Chad Smith, Josh Klinghoffer & Andrew Watt | Apple Music
Eddie Vedder Tells Apple Music About His Chicago Roots…
Eddie Vedder: "Chicago is the original roots and they've never been completely ripped out of the ground. It helped form me both as a young kid, and then moving back as a young adult and some of my first adult jobs of waiting tables and things like that were here and fond memories of being a kid were here, Schwinn bikes and having a little gang of nine year olds, like Stand By Me kind of stuff. I think Seattle is actually where a lot of the identity stuff came in to be honest, because that's when you really had to figure out … I knew who I was as a workman and someone who had a work ethic and somebody who could put in the hours and produce whatever you need from him. I was ready for the workload, but as far as who you were, I think a lot of that got formed up in Seattle in a way."
…About Collaborating With Elton John, Ringo Starr, and Stevie Wonder…
Eddie Vedder: "I think it was creating a painting and then knowing that within that, and you've tried to create all these little bit different colors. You kind of invented these colors on your own. And then knowing the exact color that you need for that part and it's kind of an important part, and if you had that, that's what we need to really make the song. But who has that color? What color is that? And then the color is Stevie. So, it's either you do something like that. Let's say the Ringo example because that would be the perfect … That's the perfect color. So, you can try to mix that color on your own…"
…About His 'Earthling' Tour...
Eddie Vedder: "Yeah, it's a lot of history. Some of these venues that we've played on this tour, some of the ones we've… They're a hundred years old. The Spectrum, the backstage is where Roger wrote "Comfortably Numb" for Pink Floyd. Many nights there, Springsteen, all these historical… I think that the main thing is to celebrate it with the people there that night, and then take all those memories back with you and kind of make sure that they live inside you. And it's good that it happened to somebody who really appreciated it. And not to mention Dr. Jay and the 76ers and Philadelphia Flyers. All these venues, there is, there's a lot of ghosts in there. You make friends with the ghost and then say, "If you need some place to stay when they blow this one up, you can come to my house."