Elvis Costello Compiles Lavish New 'Songs Of Bacharach & Costello' Set
The comprehensive 45-song collection features 19 previously unreleased recordings.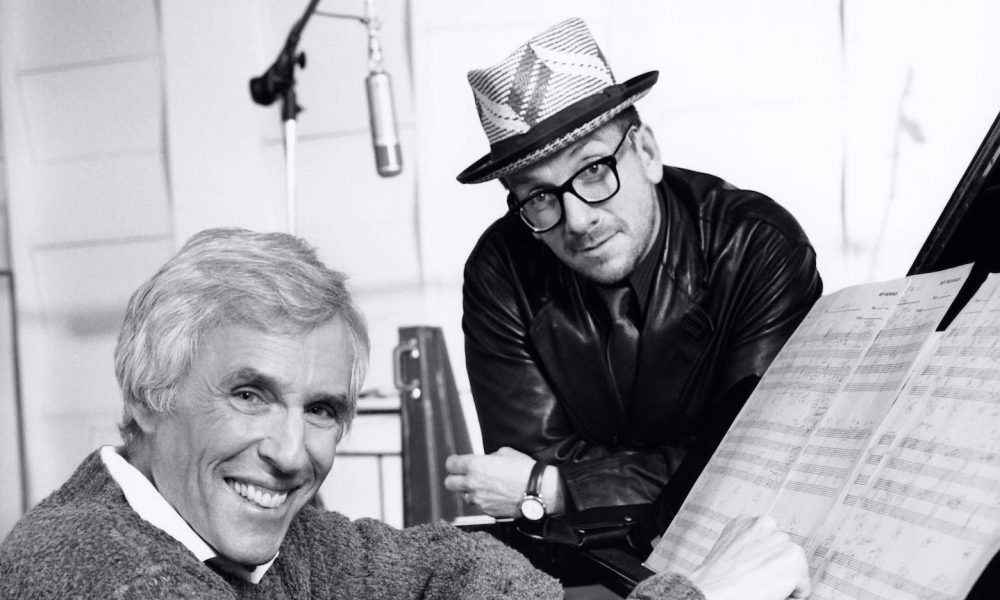 The Songs of Bacharach & Costello, which gathers together the entire catalog of songs written together by Burt Bacharach and Elvis Costello as well as Bacharach & David classics covered by Costello, will be released by UMe on March 3. It's been personally compiled by Costello in celebration of a unique creative partnership that began in 1995 and continues to this day.
Shop the best of Elvis Costello's discography on vinyl and more.
The comprehensive 45-song set – 19 of them previously unreleased – is divided into four CDs in the Super Deluxe edition, titled Painted From Memory, Taken From Life, the live collection Because It's A Lonely World, and Costello Sings Bacharach and David. It includes their initial collaboration, the 1998 album Painted From Memory, newly remastered; live recordings of Bacharach and Costello performing several of the songs from that set, and others from Bacharach's peerless songbook, with orchestras in New York and London; Costello performing stripped down versions of the songs on his Lonely World Tour with longtime accompanist Steve Nieve; and a selection of Bacharach-David songs that Costello has performed and recorded over the years.
The set is housed in a lavish 12.75" x 12.5" box and features a 20-page booklet with photography from William Claxton and Rankin, both in and out of the studio; early drafts of lyrics, studio notes, pages from the Painted From Memory musical script, and a newly-written, 10,000-word essay by Costello, describing in elegant detail his enduring friendship and musical partnership with Bacharach, and what an influence the latter has been.
In The Darkest Place (Live In Melbourne, Australia, Athenaeum Theatre, February 16, 1999)
The compilation is previewed today (10) with the release of three rare, unreleased live performances from 1998 and 1999. They include a starkly compelling "In The Darkest Place," recorded as a duo with Nieve at the piano in Australia on the Lonely World tour, and a performance of "Painted From Memory" recorded in Stockholm with Nieve and the Swedish Radio Symphony Orchestra. The last of the three features Costello and Bacharach accompanied by an orchestra at London's Royal Festival Hall, performing Bacharach and David's "Anyone Who Had A Heart."
The Taken From Life disc includes the 12 new songs that Bacharach and Costello were charged with writing for a proposed Broadway show inspired by Painted From Memory and conceived by Chuck Lorre, an aficionado of the album and television comedy mogul, who worked on the concept with Tony Award-winning writer Steven Sater.
Taken From Life opens and closes with "You Can Have Her" and "Look Up Again," both arranged by Vince Mendoza and newly recorded at Capitol Studios, Hollywood in September 2021 under Bacharach's direction. It also brings together performances on which Bacharach led Costello's Imposters for the Grammy-winning Look Now album, and songs from the proposed score from the EP Purse and the Decca Records release The Sweetest Punch. This featured guitarist Bill Frisell arranging the then-new Bacharach/Costello songs for the voice of Cassandra Wilson and clarinetist Don Byron.
Anyone Who Had A Heart (Live In London At Royal Festival Hall / October 29, 1998)
The title track of Taken From Life is a 2022 recording with the Imposters produced by Sebastian Keys. That disc also contains vocal performances of other songs from the Painted From Memory musical score by Audra Mae and Jenni Muldaur, with piano accompaniment by Jim Cox and Thomas Bartlett, including "I Looked Away" and "Shameless."
The Super Deluxe Edition box set will also be available digitally for streaming and download, and the anthology will also be available in a number of abbreviated formats. A 2CD edition features both Painted From Memory and the entirety of Taken From Life, while the 2LP edition features Painted From Memory and selections from Taken From Life, available with an exclusive lithograph or without. Painted From Memory has also been mixed in immersive Dolby Atmos.
Pre-order The Songs of Bacharach & Costello, which is released on March 3.