Erland Cooper Shares Poignant New Single 'Cold (Mvt.3)'
The track also features on Cooper's new climate change-related album 'Folded Landscapes.'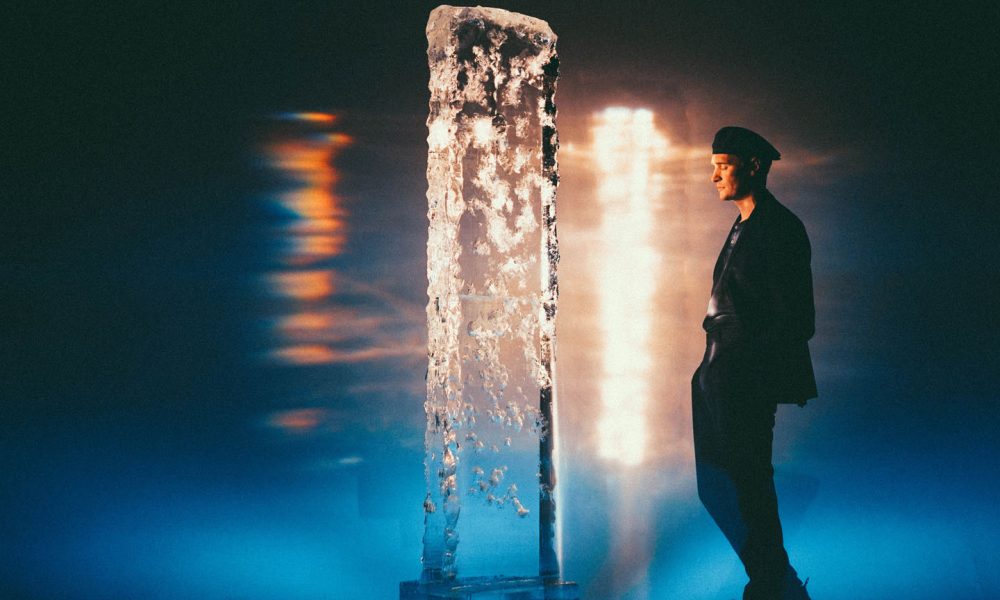 Renowned composer, producer, performer and conceptual artist Erland Cooper pushes his musical exploration of the environment into new realms with his new album Folded Landscapes, which will be released alongside a companion piano album on Mercury KX ON November 3. A new single from the project "Cold (Mvt.3)" is out now and you can check it out below.
Merging modern classical-electronic music with evocative storytelling, Folded Landscapes presents Cooper's urgent observation on climate change and poignantly urges listeners to come together to take positive action. This powerful chamber string work figuratively thaws over seven movements, unfolding with electronics, poetry, soprano, piano, harpsichord, field recordings and samples.
The recording process creatively followed the rising temperature of the piece from glacial to a threatening burn – musicians were recorded in sub-zero temperatures and the audio master tape was sun-burnt on the hottest day in UK history. The heat, moisture, salt and sunlight worked their way into the fabric of the tape, which has been mixed into the finished work, underscoring the work with an unsettling burn that crackles and pops.
The result of a collaboration with Scottish Ensemble, Folded Landscapes features special guests and samples from Poet Laureate Simon Armitage, activist Greta Thunberg, visual artist Norman Ackroyd, and author and conservationist Dara McAnulty. Field recordings of the natural world include the California wildfires and crashing glaciers, alongside samples of news reports of Europe's hottest day.
Armitage explains, "Erland is a poet who works with the language of music; finding and folding words into the landscapes of his compositions was a near-spontaneous happening. If geology could speak its dreams and geography could sing in its sleep, this is what it would sound like."
The album's companion piano version is a minimal solo piano recording deepening the environmental music experience. Shaped by the echoes of the glacial caves and the perspective of the ice, this sister record to the original album offers a captivating and meditative journey through the natural world. Combining the piano version with Folded Landscapes, Cooper aims to create a unique and immersive musical experience that envelops listeners in the atmospheric beauty of his compositions.
Erland said "I'm interested in the relationship between acoustic spaces, a sense of place, performance and resonance. I hope a listener enjoys these moments on a walk or perhaps as they work, as it slowly thaws in between things. It is finished if listened to with a window or door open, the natural world playing its part to complete it, particularly at dawn or dusk."
Cooper mixed the accompanying piano album using the echo captured in the glacial caves of Norway. Scientists working on applied acoustics provided him with impulse responses, allowing him to apply the cave's unique reverb and sustain to the piano recordings in his studio. The result is a subtle yet profound connection to the sense of place, with every reverb and sound design deriving from the essence of the cave.
Additionally, one of the microphones used for recording the piano in Erland's studio was cased deep inside a block of ice. As the ice thawed, Cooper became intrigued by how the ice "heard" the music, creating a unique and experimental recording process that added another layer of depth to the recording.
As an artist dedicated to the environment and fostering change, Erland Cooper continues to inspire through his work. A percentage of the copyright share from Folded Landscapes will go to Brian Eno's Earth Percent charity, symbolically embedding the planet as a stakeholder in musical creativity and directly funding organizations addressing the climate emergency.
Erland Cooper plays the following UK and Europe live dates:
Sunday September 17: Norwich Norwich Arts Centre
Monday September 18: Brighton Komedia
Tuesday September 19: Bristol Redgrave Theatre
Wednesday, September 20: Manchester The Stoller Hall
Thursday, September 21: Leeds Left Bank
Friday September 22: Gateshead Sage Gateshead
Saturday September 23: Aberdeen Music Hall
Sunday September 24: Lancaster Library
Tuesday September 26: Hebden Bridge Trades Club
Saturday November 5: Hamburg Elbphilharmonie
Sunday November 7: Berlin Prachtwerk
Monday November 8: Hasselt Cultuurcentrum Hasselt
Tuesday November 9: Leuven 30CC
Monday November 10: Paris Les Trois Baudets.