Erland Cooper Drops Evocative New Album 'Folded Landscapes'
For his fourth album, the Scottish composer presents his observation on climate change; his belief in the need to come together and take positive action.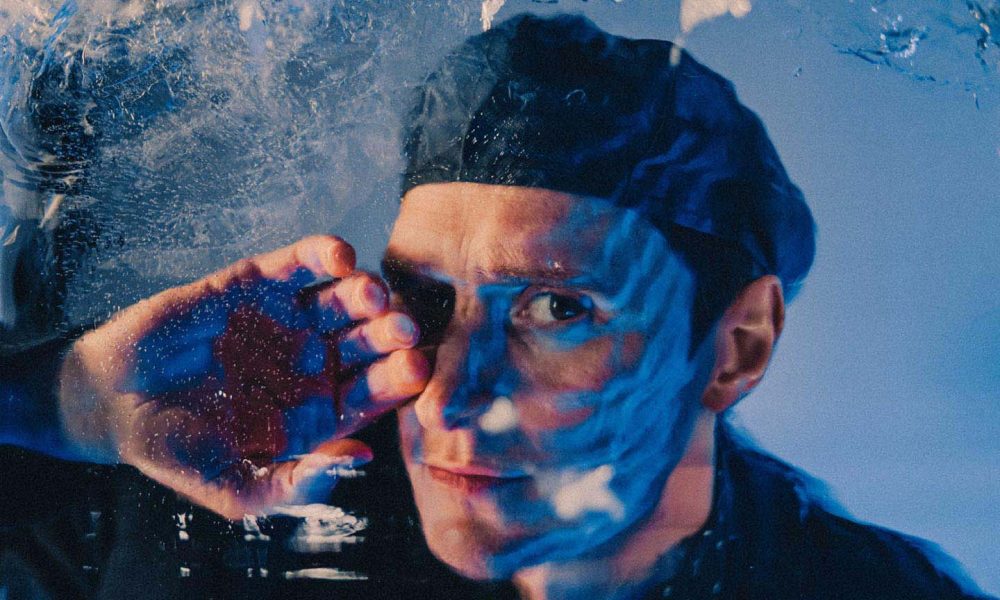 Prolific Scottish composer Erland Cooper, who merges music with evocative storytelling and conceptual art has released his new album Folded Landscapes through Mercury KX/Decca Records.
The album pushes the composer's connection to the environment further into unchartered new realms and Cooper will perform it in full, alongside Scottish Ensemble in four intimate sold-out shows at London's Barbican on May 11-13.
Last week, Cooper, a multi-faceted artist, staged a slow protest surrounding the narrative of climate change. In a gentle act of patience, Erland remained beside a tall, monolithic ice sculpture for over 12 hours observing as the structure melted, to engage with the project's themes of the natural world, time, temperature and the slow violence of change. The event was a prelude to the Barbican shows which will feature conceptual art and storytelling.
Folded Landscapes sees Erland work through the lens of urgent observations surrounding climate change creating a potent, experimental new work. In early 2022, he began a collaboration with Scottish Ensemble, a collective of pioneering musicians crossing art forms, to champion music for strings.
Erland Cooper, Scottish Ensemble - Folded Landscapes - Movement 7 - Pt. 1
In his fourth studio album, Erland presents his observation on climate change; his belief in the need to come together and take positive action. Using drastic temperature changes – from sub-zero to hottest on record – he developed this piece for chamber string ensemble, piano, voice, harpsichord, electronics & field recordings. While the resulting album takes the subject matter and observations surrounding climate change as its underlying theme, it works ultimately as an opportunity to celebrate and cherish the natural world.
The finished album thaws over 7-movements and features UK Poet Laureate Simon Armitage and other special guests and samples, including activist Greta Thunberg, visual artist Norman Ackroyd and multi-award-winning author, naturalist and conservationist Dara McAnulty leading a murmuration of familiar voices. Field recordings include the California wildfires and crashing glaciers. Yet, out of the doom and gloom, beauty and hope bloom on Folded Landscapes.
Erland explains "I hope in this new work, a listener will be rewarded for their patience from a cold, glacial ascent by a slowly thawing, burning hope."
Hailed as 'nature's songwriter', for his work celebrating themes of the natural world, place, people and time, the installation Glacier aimed to combine science, music and art to inspire change. While the resulting album takes the subject matter and observations surrounding climate change as its underlying theme. While Erland wants to inspire the audience to consider their role in climate change and the natural environment, no finger-pointing is intended. "I hope it's more a feeling of inward reflection, 'How can I waste less, and value more? What tiny thing can I do?'"
At the beginning of his 40-minute work, we hear frosty, mournful strings playing elegant but spare, almost Baroque-styled music, over what sounds like the eerie creaking of the hull of a ship – a field recording of an ice lake in Finland. Sparse strings shiver and eventually start to mimic Cooper's tape machine, in fast forward or reverse.
For the early movements, Scottish Ensemble was recorded in sub-zero temperatures in an old industrial factory in Glasgow in winter. The punishing conditions mirror the iciness of the music. By the sixth movement, Cooper has slowly ramped up the temperature in Edinburgh's Castle Studio, mimicking a great thawing process, all in the name of experimentation that fed into the sound.
Listen to the final movement and while your heart warms to the uplifting music – an almost classical Ceilidh – there's a vulnerability that you can't quite put your finger on. Cooper had purposefully left the recorded audio on ¼ inch tape bathing on his London studio roof on the hottest UK day of all recorded time: 40.9C in July 2022.
The heat, moisture, salt and sunlight worked their way into the fabric of the tape, which has been mixed into the finished work. So throughout the album, as the music is arguably becoming more enjoyable, the underbelly is it has much less fidelity, tarnished by burning with crackles and pops. These changes creep up surreptitiously on the listener and are ever more apparent in the final "Movement 7." This acts as an epilogue to the preceding movements, where ambient guitar from Leo Abrahams undulates while the final notes of soloist Daniel Pioro linger in an achingly poignant resolve.
Acting in some way as a poetic navigator, an extremely moving addition to the album is from Simon Armitage. Armitage offered up some poems, which Cooper immediately put to melody.
Armitage explains, "It was a natural fit. Erland is a poet who works with the language of music; finding and folding words into the landscapes of his compositions was a near-spontaneous happening. If geology could speak its dreams and geography could sing in its sleep, this is what it would sound like."
Human responsibility and deep ecology weigh most heavily on the tipping point in the record, a powerful fifth movement. It starts with field recordings of burning wildfires and sounds of news reports of Europe's hottest day, all these voices coming at the listener in a cacophony of alarm.
It morphs into a tastefully chosen section of Greta Thunberg's landmark U.N summit speech (New York, September 2019), before the euphoric ascending arpeggios and soprano vocals herald a sense of hope. Ending with a murmuration of voices in multiple languages led by young naturalist Dara McAnulty stating, "I feel a responsibility towards it" with children's voices asking the listener to waste less and value more, to celebrate and cherish. It is as effective as a call to arms can be.
"Perhaps it is often between despair and the spirit of hope…that good solutions tend to show themselves best?" asks Cooper.
While Cooper aims to inspire an audience to consider their role in climate change and attitudes towards the natural world, no finger-pointing is intended. "I hope it's more to evoke a feeling of inward reflection, 'How can I simply waste less, and value more? What things can I do within this echo chamber of opinion?'"
A percentage of the copyright share will go to Brian Eno's EarthPercent charity as a beautiful way of embedding the planet as a stakeholder in musical creativity and raising money for climate/environmental organisations. The Earth's share of the song – and its income – will be directed to EarthPercent to redistribute to organizations tackling the climate crisis.
Buy or stream Folded Landscapes.
Erland Cooper plays the following UK dates:
London, Barbican, The Pit Theatre
May 11: Premiere
Friday 12th May Performance #2
Saturday 13th May Performances #3 & #4
May 15: Edinburgh Assembly Rooms
May 16: Glasgow SWG3
July 16: Hebden Bridge, Trades Club
September 17: Norwich Arts Centre
September 18: Brighton, Komedia
September 19: Bristol, Redgrave Theatre
September 20: Manchester, The Stoller Hall
September 21: Leeds, Left Bank
September 22: Gateshead, Sage Gateshead
September 23: Aberdeen Music Hall – Just Announced
September 24: Lancaster Library