'Electriclarryland': How the Butthole Surfers Scored an Unlikely Hit
The Texas band embraced pop and went Gold on their 1996 album.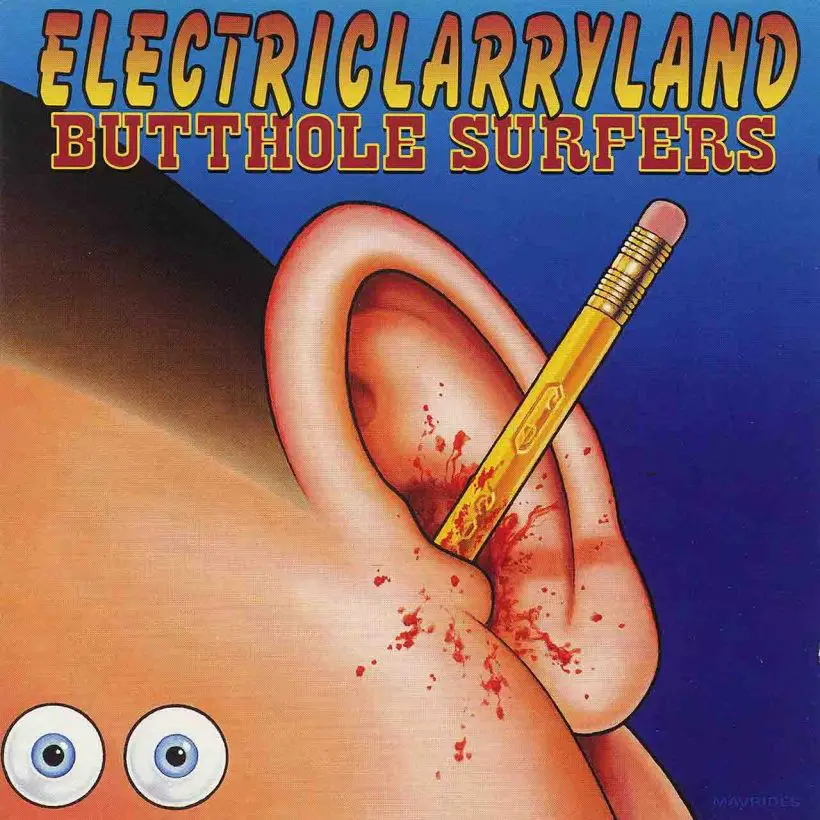 When Austin's Butthole Surfers emerged in the 1980s as one of the American underground's most unpredictable and quite literally dangerous bands, they seemed an unlikely fit for a mainstream hit. Nudity, pyromania and barely controlled chaos: Their live shows were the stuff of legend. If they weren't being threatened with a lifetime ban from a venue after a gig, it was probably an off night.
Even with their incendiary pranksterism, the Surfers had the songs to back it up, with albums like Hairway to Steven and Locust Abortion Technician making waves in the underground. This growing reputation eventually found them making their Capitol Records debut with 1993's Independent Worm Saloon, which yielded an alt.rock hit in the U.S. with "Who Was In My Room Last Night?" Within a few years, they'd have an even bigger hit up their sleeves with their seventh album, Electriclarryland.
Listen to The Butthole Surfer's Electriclarryland now.
Recorded at Paul Leary's house in Austin, as well as Arlyn Studios in Austin, and Bearsville Studios in Woodstock, New York, Electriclarryland found the Surfers striking a balance between abrasive noise rock urgency and soaring melodies on standout tracks such as the squealing leadoff track "Birds" and the heavy riffs of "Thermador."
Yet it was the album's lead single, "Pepper," that proved to be the game changer. Taking inspiration from Bristol trip-hop acts such as Tricky and Massive Attack, the group employed more electronic elements like looped drum breaks instead of a more conventional, live guitar-bass-drums approach. Lyrically, Hayes delivered a chanting sing-speak that often received comparisons to Beck, who released Odelay that same year, but with a gallows humor and a body count that nods to Jim Carroll's "People Who Died": "Tommy played piano like a kid out in the rain/Then he lost his leg in Dallas, he was dancin' with a train."
The song propelled the Butthole Surfers to a higher level of mainstream exposure than ever before. It topped the Billboard Alternative Airplay Chart and earned the group their first Top 40 hit, squeezing in at number 38. Not everyone celebrated its success, though. The group found themselves on the business end of "sellout" accusations from longtime fans who scoffed at their newfound fame. Unlike many bands of the time period, the Butthole Surfers brushed it all off with the indifference of a group who'd already seen it all. "Yeah, but who cares," Haynes countered in a 2015 interview with Texas Monthly. Guitarist Leary added, noting that they had nothing to prove: "We were never a punk band."
Riding the high of "Pepper," the Butthole Surfers earned their first and only Gold record, selling over half a million copies of Electriclarryland. Following it up proved more challenging; their 1998 album After the Astronaut ended up being scrapped, and they went on an extended hiatus after 2001's Weird Revolution. Brief though it might have been, the Butthole Surfers enjoyed the all-too-rare experience of making it to the top without losing what made them weird.