Adam Lambert Film 'Fairyland' Heads To Sundance Film Festival London
The much-anticipated event offers a packed program of bold cinematic voices for its 10th edition.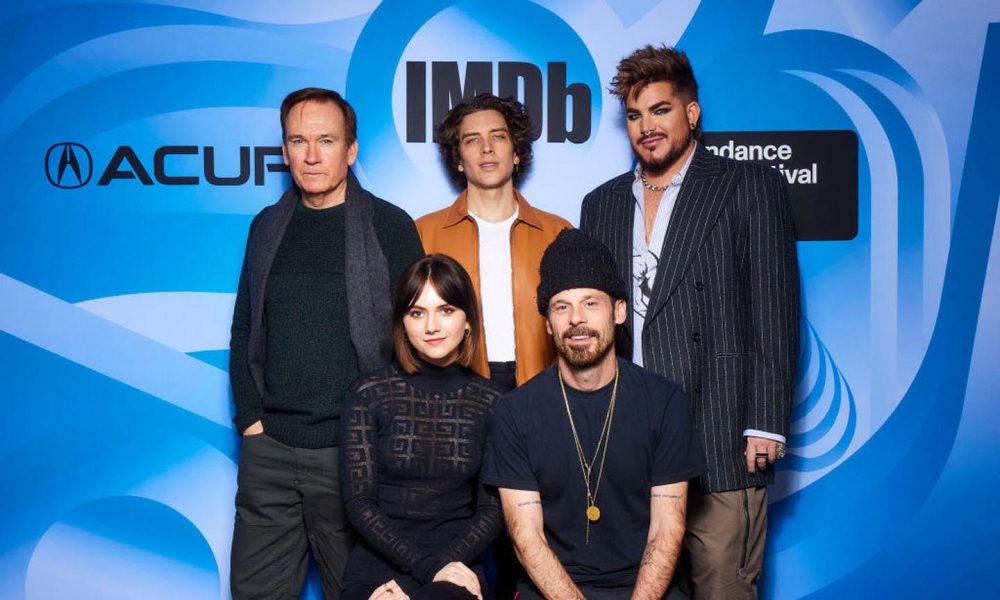 Picturehouse and the Sundance Institute have announced the lineup of feature fiction and documentary films: a specially curated program of UK-produced short films and a Gregg Araki retrospective for the 10th edition of Sundance Film Festival: London 2023, taking place July 6-9 at Picturehouse Central.
The festival is set to screen 11 feature films that premiered at the Sundance Film Festival in Park City, Salt Lake City, and the Sundance Resort in January. The program has been specially curated for London by the Sundance Institute team in collaboration with Picturehouse.
The festival will close on 9 July with the UK premiere of You Hurt My Feelings, from acclaimed filmmaker Nicole Holofcener (Lovely & Amazing, Enough Said). The Brooklyn-set comedy-drama stars Julia Louis-Dreyfus (Veep, Seinfeld) and Tobias Menzies (The Crown) as a couple whose marriage is suddenly upended when Louis-Dreyfus overhears Menzies' honest reaction to her latest book.
The Festival will open on 6 July with the UK premiere of Scrapper, written and directed by Londoner Charlotte Regan. Charlotte is a Sundance Ignite Fellow and was named as a 2020 Screen International Star of Tomorrow.
One of the program's highlights is Andrew Durham's Fairyland is a stylish coming-of-age drama based on Alysia Abbott's memoir Fairyland: A Memoir of My Father. The film is told from the perspective of a young girl being brought up by her single gay father in San Francisco in the 1970s and stars Emilia Jones (CODA), Scoot McNairy (Argo), Geena Davis (Thelma & Louise) and singer-songwriter and Queen frontman Adam Lambert.
"Andrew reached out, and we had a great conversation, and he told me about the memoir", Adam Lambert told Collider, explaining more about his part in the film. "I read it and I thought it was beautiful. I've always loved San Francisco in the '70s, particularly in the Castro, the gay liberation movement. My mom's side of the family lived there in the Castro during that time. It hits home for me. That was a very nostalgic era based on stories I've heard.
"There are lots of queer stories being told right now, and it's really important, and it's something that's long overdue," he added.
"[There are] more and more characters coming out. [There are] more and more stories. I feel like we're at a time when queer stories and visibility are more important than ever, and they're the reason why we have been able to move the needle in the first place!"
Elsewhere, Anton Corbijn's (Control, The American) charming feature documentary debut, Squaring the Circle (The Story of Hipgnosis), is an entertaining tribute to the days of analog creativity and artistic risk. Corbijn's film explores the story of Storm Thorgerson and Aubrey "Po" Powell, aka the innovative design studio Hipgnosis, the team behind iconic sleeves for artists such as Def Leppard and Pink Floyd. Interviewees in the film include Paul McCartney, Noel Gallagher, Roger Waters and David Gilmour.
Squaring the Circle (The Story Of Hipgnosis) - Trailer
In an exclusive repertory strand, the Festival will present three films by the radical American filmmaker, producer, writer, and editor, Gregg Araki, whose filmmaking is closely associated with the New Queer Cinema movement. The Festival are thrilled that Araki will be in London to attend the special screenings and Q&A sessions: The Doom Generation, which has been remastered in 4K for an uncensored director's cut, follows two troubled teenage lovers (Rose McGowan and James Duval) who pick up a drifter (Xavier Red) and embark on a journey full of sex, violence and convenience stores.
David (Mark Howell), Craig (John Lacques) and Alicia (Darcy Marta) are a triangle of young lovers in Three Bewildered People In The Night who find angst and despair as they sort out their feelings and sexuality in a late-night coffee shops – the film is having its first public UK showing at Sundance Film Festival: London; Mysterious Skin is adapted from Scott Heim's 1995 novel and tells the story of two pre-adolescent boys who both experienced sexual abuse as children, and how it affects their lives in different ways into their young adulthood. One boy becomes a reckless, sexually adventurous prostitute (Joseph Gordon-Levitt), while the other (Brady Corbet) retreats into a reclusive fantasy of alien abduction.
The Festival's second-annual Industry Program will run alongside the festival's public screenings and events. Each industry passholder will have exclusive access to more than 15 industry-only events during the festival, including intimate roundtable meetings, keynotes, masterclasses, themed panel discussions and daily networking drinks.
Following popular wins for the Academy Award-winning CODA, Jim Archer's Brian and Charles, Bo Burnham's critically acclaimed Eighth Grade and the Academy Award-winning Icarus, audiences will again have the opportunity to cast votes after screenings, with the Audience Favourite award being announced at the close of the festival.
Joana Vicente, CEO of Sundance Institute said in a statement: "We are looking forward to introducing a wonderful selection of films to audiences in London and can't wait to be back at Picturehouse Central. These films are provocative, moving, and entertaining, and created by some truly visionary storytellers. We know that alongside a compelling series of conversations and industry programme, it will be an outstanding 10th edition of the Festival."
Sundance Film Festival: London Ticket Passes are on sale now, with priority booking for Picturehouse Members and Sundance Film Festival Ticket Passholders on sale from 10:00am, May 3. General ticket sales will open at 10:00am on May 9.
Visit the official Sundance Film Festival: London website for further information.