FLETCHER Finds Salvation On 'Her Body Is Bible,' Announces Debut Album 'Girl Of My Dreams'
The album is set to arrive on September 16.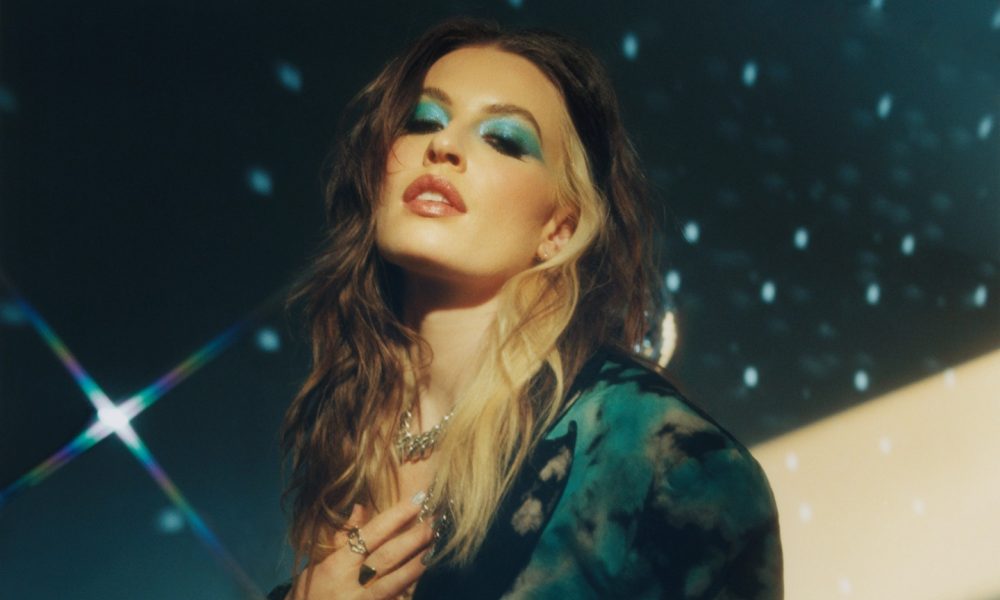 FLETCHER is diving headfirst into her debut album era with the release of the project's lead single "Her Body Is Bible." The track finds the singer basking in the salvation of a woman in a perfect introduction to Girl of my Dreams, set for release on September 16 via Capitol Records.
Co-produced by Dua Lipa collaborator Sly and close collaborator Malay – who executive produced Girl of my Dreams as well as past FLETCHER projects you ruined new york city for me and THE S(EX) TAPES – "Her Body Is Bible" is Springsteen-esque in nature, but with the pop singer and songwriter's classic, clever flare.
FLETCHER - Her Body Is Bible (Lyric Video)
"Saw the light, at 4 AM we're dancin' in the dark / I like your T Swift T-shirt on the ground," FLETCHER sings. "Hold on tight, when the world gets hard, this shit's likе paradise / All night, you're so hot, I'm freakin' out."
"Her Body Is Bible" introduced Girl of my Dreams as an honesty-driven, raw presentation of FLETCHER as a musician. In a statement, the singer shared: "For my debut album it felt right to do a deeper dive into self-exploration, and all the different facets that make up who I am."
She adds: "I wanted it to be the most honest, raw, and complete representation of the complex and sensitive-ass Pisces that I've always been. It took a long time and a lot of reflection to create a body of work like that, but it's important to me that my music comes directly from lived experience."
By creating a space for self-reflection within her music, FLETCHER has extended that safety to her fans, who often turn up to her shows to see themselves reflected in the artist who dominates the stage. Shortly after the album's release, she will hit the road for the Girl of my Dreams tour. Tickets are on-sale now for the North American leg of the tour via the official FLETCHER website. View the full slate of dates below.
Pre-order FLETCHER's debut album Girl of My Dreams, out September 16.
FLETCHER Girl of my Dreams Tour
October 10 – Orlando, FL – House of Blues Orlando
October 11 – Orlando, FL – House of Blues Orlando
October 13 – Ft. Lauderdale, FL – Revolution Live
October 14 – Ft. Lauderdale, FL – Revolution Live
October 16 – Atlanta, GA – The Eastern
October 17 – Charlotte, NC – The Fillmore Charlotte
October 19 – Silver Spring, MD – The Fillmore Silver Spring
October 20 – Boston, MA – House of Blues Boston
October 23 – Philadelphia, PA – Theatre of The Living Arts
October 24 – Philadelphia, PA – Theatre of The Living Arts
October 27 – Toronto, ON – HISTORY
October 29 – Montreal, QC – MTELUS
October 30 – New York, NY – Hammerstein Ballroom
October 31 – New York, NY – Hammerstein Ballroom
November 1 – Pittsburgh, PA – Stage AE
November 2 – Chicago, IL – The Riviera Theatre
November 4 – Minneapolis, MN – First Avenue
November 6 – Denver, CO – Ogden Theatre
November 7 – Salt Lake City, UT – The Union Event Center
November 10 – Vancouver, BC – Vogue Theatre
November 13 – Portland, OR – McMenamins Crystal Ballroom
November 14 – Seattle, WA – Showbox SoDo
November 16 – Oakland, CA – Fox Theater
November 17 – Los Angeles, CA – Hollywood Palladium
November 18 – Los Angeles, CA – Hollywood Palladium