Listen To Ghost's Propulsive New Single, 'Twenties'
Ghost's Tobias Forge also spoke with Apple's Zane Lowe about the band's new album, 'Impera.'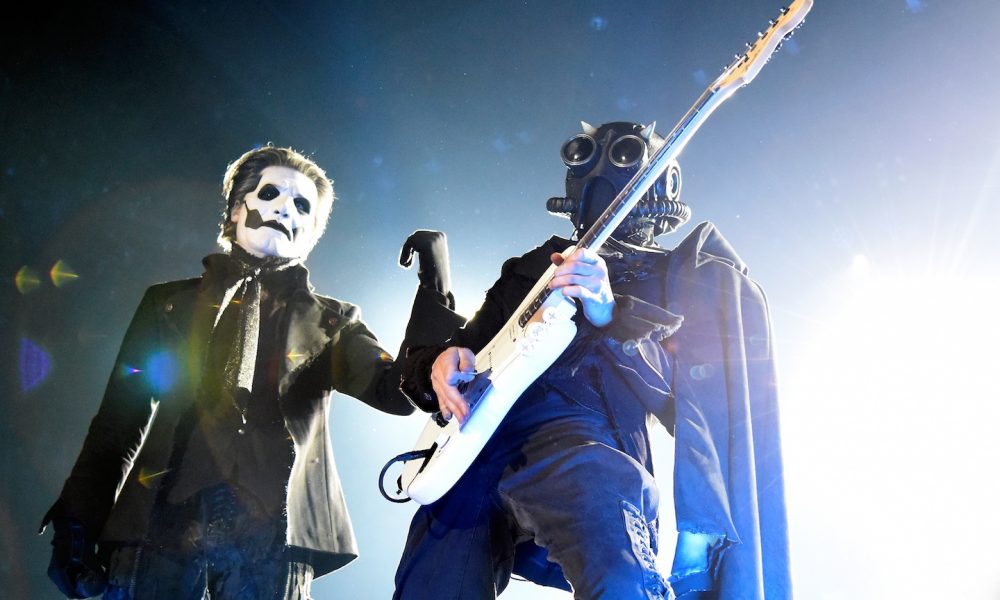 Ghost have released "Twenties," the latest advance offering from IMPERA, the imminent fifth album from the GRAMMY-winning Swedish theatrical rock outfit. The album is set to be released on March 11 via Loma Vista Recordings.
With its messianic promises of reigns of pennies and piles of moolah set to an appropriately manic musical backdrop, the unrelenting and propulsive "Twenties" stands in stark contrast to its Pre-Impera predecessor, the eerily hypnotic "Call Me Little Sunshine." The apocalyptically prophetic vibe of "Twenties" — particularly its lyrical relevance to historical events unfolding on the world stage (however incidental) — render the song utterly unique in the Ghost canon.
Ghost - Twenties (Official Lyric Video)
The release of "Twenties" is accompanied by an Apple Music New Music Daily exclusive interview with Ghost's Tobias Forge, welcoming Apple's Zane Lowe into the world of Impera.
Explaining the album to Lowe, Forge had this to say: "The idea was to paint a picture of an empire, warts and all, and shine a light onto the sort of self-destruction mechanisms within the empire that are sort of per default in there to sort of reassure its ultimate demise. Somehow they have always built each empire that way. It's painfully clear to us as we talk.
"Years ago, when, when I got the idea that I wanted to make a record about empires, I also had the idea that I wanted to make a record about the plague. Those two concepts felt diametrically opposed to me in a way, because the plague had more of individual, carnal, divine aspect of the annihilation. Whereas the imperial record that I referred to in my head had more of like a structural society, mechanical annihilation. So those two concepts felt different from each other."
Produced by Klas Åhlund and mixed by Andy Wallace — and also featuring the Active Rock No.1 radio single "Hunter's Moon" — <a href="https://www.udiscovermusic.com/news/ghost-new-album-impera/">Impera finds Ghost transported literally centuries forward from the Black Plague era of its previous album, 2018 Best Rock Album GRAMMY nominee Prequelle. The result is the most ambitious and lyrically incisive entry in the Ghost canon: Over the course of Impera's 12-song cycle, empires rise and fall, would-be messiahs ply their hype (financial and spiritual alike), prophecies are foretold as the skies fill with celestial bodies divine and man-made.
All in all, the most current and topical Ghost subject matter to date is set against a hypnotic and darkly colorful melodic backdrop making IMPERA a listen like no other — yet unmistakably, quintessentially Ghost.