HEALTH Announce 'DISCO4 :: PART II,' Share Lamb Of God Collaboration, 'COLD BLOOD'
The album is out April 8 via Loma Vista Recordings.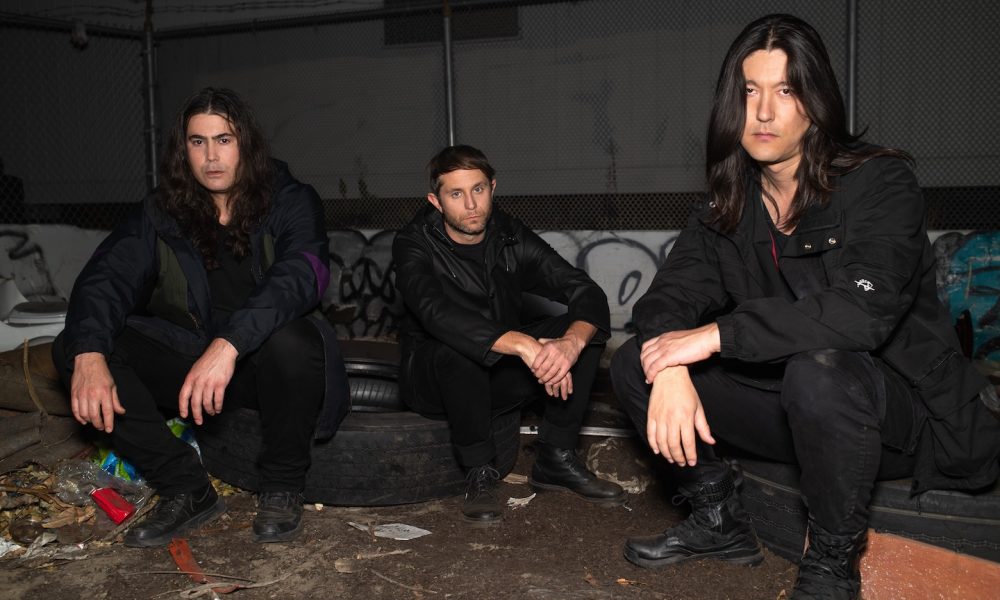 HEALTH have announced DISCO4 :: PART II, the follow-up to 2020's DISCO4 :: PART I. The project will be released on April 8, 2022, via Loma Vista Recordings. The 12-song LP includes their recent collaborations with Nine Inch Nails and Poppy alongside new tracks with Lamb of God, The Body, Backxwash, Perturbator, and others, and closes with a new original HEALTH single, "THESE DAYS 2.0.2.1.".
"COLD BLOOD," HEALTH's thunderous first collaboration with metal titans Lamb of God, proves the band can devote themselves to a genre and detonate it all in the same track. The band also released an accompanying animated video by Łukasz Rusinek.
HEALTH x LAMB OF GOD :: COLD BLOOD
The band of Jacob Duzsik, John Famiglietti, and Benjamin Miller also announced a headlining album release show at L.A.'s 1720 on April 6 and are back on the road for European dates this spring with Peturbator, Youth Code, and Maenad Veyl on select dates.
Three years after VOL.4 :: SLAVES OF FEAR, the L.A. trio's ferocious entry into the world of heavy music, HEALTH return with the second half of their DISCO4 series. A whole lot went to hell in the world in the meantime, forcing the band to re-invent how they wrote music together. For DISCO4 :: PART II they cut it fast and mean, recruiting both legends and nascent contenders of heavy music and its many peripheral genres.
DISCO4 :: PART II Tracklist:
01. HEALTH x Poppy – "DEAD FLOWERS"
02. HEALTH x Nine Inch Nails – "ISN'T EVERYONE"
03. HEALTH x Ada Rook x PlayThatBoiZay – "MURDER DEATH KILL"
04. HEALTH x Maenad Veyl – "IDENTITY"
05. HEALTH x Lamb of God – "COLD BLOOD"
06. HEALTH x The Body – "AD 1000"
07. HEALTH x Backxwash x HO99O9 – "PAGAN-ICONZ"
08. HEALTH x Street Sects – "THE JOY OF SECT"
09. HEALTH x EKKSTACY – "STILL BREATHING"
10. HEALTH x The Neighbourhood – "NO ESCAPE"
11. HEALTH x Perturbator – "EXCESS"
12. HEALTH – "THESE DAYS 2.0.2.1."
HEALTH 2022 Tour Dates:
04/06 – Los Angeles, CA @ 1720
04/18 – Glasgow, UK @ Stereo
04/19 – Manchester, UK @ The White Hotel
04/20 – Birmingham, UK @ Castle and Falcon
04/21 – London, UK @ Studio 9294
04/22 – Tilburg, NL @ Roadburn
04/24 – Gdansk, PL @ Drizzly Grizzly
04/26 – Vilnius, LT @ Kablys Club
04/27 – Tallinn, ES @ Sveta Baar
04/28 – Helsinki, FI @ Ääniwalli
04/29 – St Petersburg, RU @ MOD
04/30 – Moscow, RU @ Aglomerat
06/9 – Bucharest, RO @ Control Club
06/11 – Budapest, HU @ A38
06/12 – Vienna, AT @ Arena
06/13 – Poznań, PL @ Klub U Bazyla
06/14 – Krakow, PL @ Zaścianek
06/15 – Kosice, SK @ Tabačka Kulturfabrik
06/16 – Bratislava, SK @ Fuga
06/17 – Zagreb, HR @ Klub Mochvara
06/18 – Ljubljana, SI @ Kino Siska
06/20 – Dortmund, DE @ Junkyard
06/21 – Zurich, CH @ Bogen F
06/22 – Wiesbaden, DE @ Schlachthof
06/24 – Clisson, FR @ Hellfest