Immanuel Wilkins Announces 'The 7th Hand,' Releases First Single 'Emanation'
'The 7th Hand' is out January 28.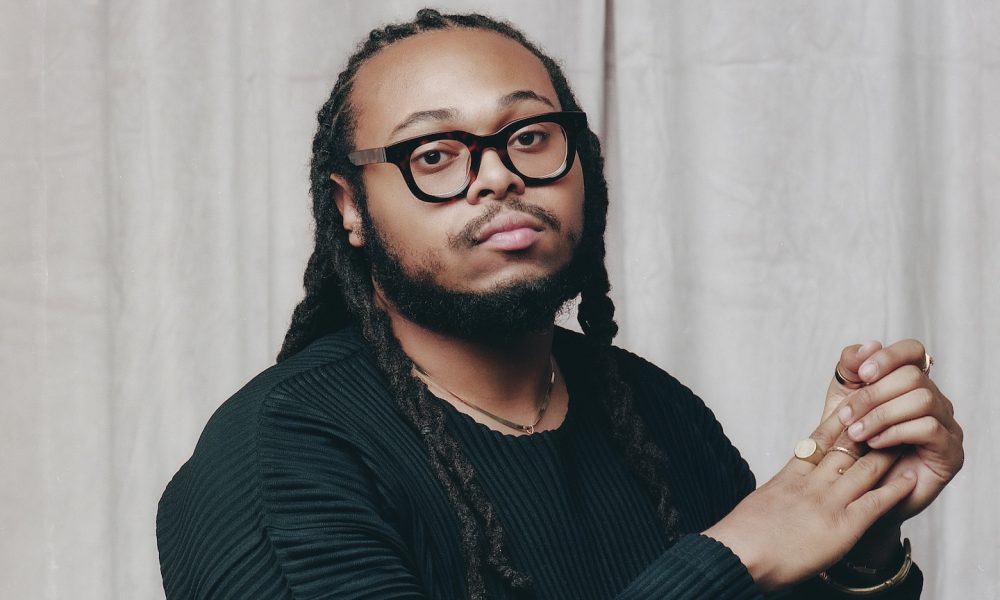 Alto saxophonist and composer Immanuel Wilkins has announced a January 28 release for his new album The 7th Hand, the follow-up to his widely acclaimed debut Omega.
Omega was named the No.1 Jazz Album of 2020 by The New York Times with JazzTimes calling it "the most important debut jazz recording in years." The 7th Hand, which will be released by Blue Note, once again showcases Wilkins' profound compositional talent with a seven-movement suite of new original pieces performed by his quartet with Micah Thomas on piano, Daryl Johns on bass, and Kweku Sumbry on drums, plus special guests Elena Pinderhughes on flute and the Farafina Kan percussion ensemble. The lead track "Emanation" is available to stream or download today.
The 7th Hand explores relationships between presence and nothingness across an hour-long suite. "I wanted to write a preparatory piece for my quartet to become vessels by the end of the piece, fully," says the Brooklyn-based, Philadelphia-raised artist who Pitchfork said "composes ocean-deep jazz epics."
While writing, Wilkins began viewing each movement as a gesture bringing his quartet closer to complete vesselhood, where the music would be entirely improvised, channeled collectively. "It's the idea of being a conduit for the music as a higher power that actually influences what we're playing," he says. The 7th Hand derives its title from a question steeped in Biblical symbolism: If the number 6 represents the extent of human possibility, Wilkins wondered what it would mean — how it would sound — to invoke divine intervention and allow that seventh element to possess his quartet.
Throughout the album Wilkins and his bandmates reveal their collective truth by peeling themselves back, layer by layer, movement by movement. "Each movement chips away at the band until the last movement — just one written note," says Wilkins. "The goal of what we're all trying to get to is nothingness, where the music can flow freely through us." Wilkins will be bringing his band on the road in 2022.
Immanuel Wilkins Tour Dates:
January 28: The Side Door, Old Lyme, CT
January 29: Harlem Stage, New York, NY
January 30: The Falcon, Marlboro, NY
February 18: SFJAZZ, San Francisco, CA
February 20: Bach Dancing and Dynamite Society, Half Moon Bay, CA
February 21: Kuumbwa Jazz Center, Santa Cruz, CA
February 22: Portland Jazz Festival, Portland, OR
February 23: Just Jazz Series, Los Angeles, CA
February 26: Kennedy Center, Washington DC
March 3: Bimhuis, Amsterdam, The Netherlands
March 4: Paradox Tilburg, Tilbourg, The Netherlands
March 5: Lantaren Venster, Rotterdam, The Netherlands
March 6: DeSingel, Antwerp, Belgium
March 8: Porgy & Bess, Vienna, Austria
March 9: Jazz Club Unterfahrt, Munich, Germany
March 13: You Must Believe in Spring Festival, Mantova, Italy
March 14: Ronnie Scott's, London, UK
March 15: Le Duc des Lombards, Paris, France
March 16: Le Duc des Lombards, Paris, France
March 17: 30CC, Leuven, Belgium
March 19: Terrassa Jazz, Terrassa, Spain
March 20: Tempo Club, Madrid, Spain
March 22: Teatro Victoria Eugenia, San Sebastian, Spain
March 23: ZigZag Club, Berlin, Germany
March 24: Halle424, Hamburg, Germany
March 25: Transition Festival, Utrecht, The Netherlands