JAY-Z Recruits Jadakiss, Conway the Machine, And BackRoad Gee For New Single 'King Kong Riddim'
The song is featured in the film 'The Harder They Fall.'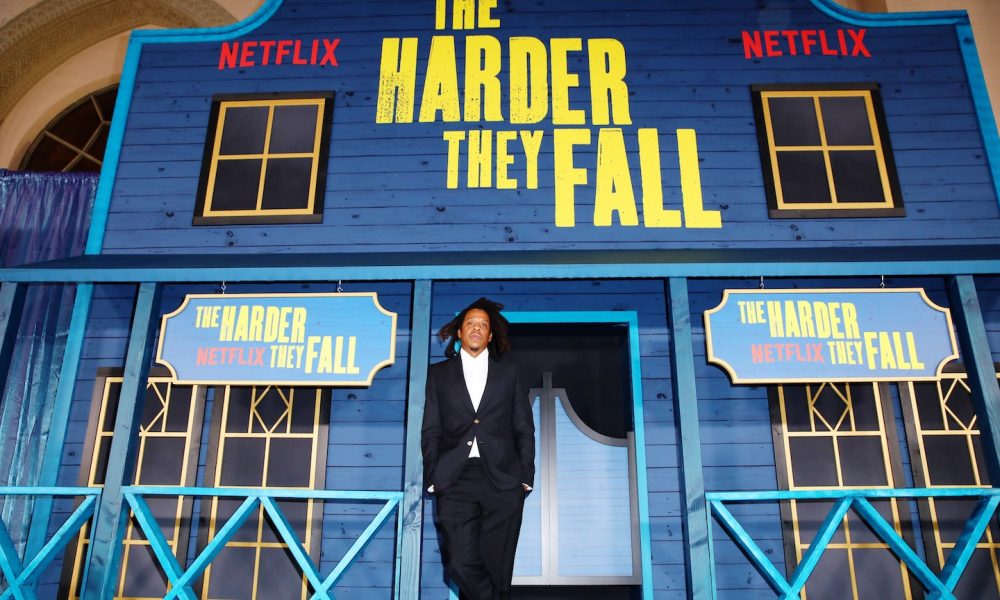 JAY-Z has shared "King Kong Riddim," a new song from the soundtrack to The Harder They Fall featuring Jadakiss, Conway the Machine, and British drill-grime star Backroad Gee.
The soundtrack to The Harder They Fall was produced and co-written by Jeymes Samuel, who wrote and directed the film. The OST also features "Guns Go Bang," which features Kid Cudi.
The title track features Koffee, and Hill and Fatoumata Diawara collaborate on "Black Woman," which Hill co-produced with Jeymes Samuel. It also features Seal, CeeLo Green, and more artists.
The Western, which is in theaters now and heads to Netflix beginning November 3rd, was co-produced by Jay-Z alongside James Lassiter. Samuel also wrote and produced the songs on the soundtrack. The film follows two rival groups facing off after a leader of one crew is released from prison and stars Idris Elba as Rufus Buck and Jonathan Majors as Buck's rival Nat Love. It also stars Regina King, Zazie Beetz, Delroy Lindo, and LaKeith Stanfield.
Earlier this month, Conway The Machine linked up with The Alchemist for an epic new single, "Piano Love."
"With 'Piano Love' I am giving my fans what they love me for, grimy raps on an insane beat from The Alchemist; something magical that sets the tone for the rest of God Don't Make Mistakes," Conway The Machine asserts. "If you've been a Conway fan from day one, you're going to absolutely love the first single."
The road to Conway The Machine's Shady Records debut album has been eventful and incredibly redemptive. His prelude project, From King To A GOD (2020), was universally hailed and received "Best Album Of The Year" accolades from influential outlets such as the New York Times, Complex, Pitchfork, Noisey, Hotnewhiphop, and more.
Building anticipation for God Don't Make Mistakes, Conway's 2021 has included a rousing performance of "Scatterbrain" on The Tonight Show with Jimmy Fallon featuring J.I.D and Ludacris. He also had the honor of contributing a verse to "Hood Blues," which was selected as the lead single for DMX's posthumous album Exodus.
Buy or stream the Original Soundtrack for The Harder They Fall.