Unsung Jazz Legend Garrett Saracho Revisits His Lost Classic Album 'En Medio'
Saracho's work has been rediscovered by a new generation of aficionados, with the long out-of-print and previously unavailable on streaming platforms.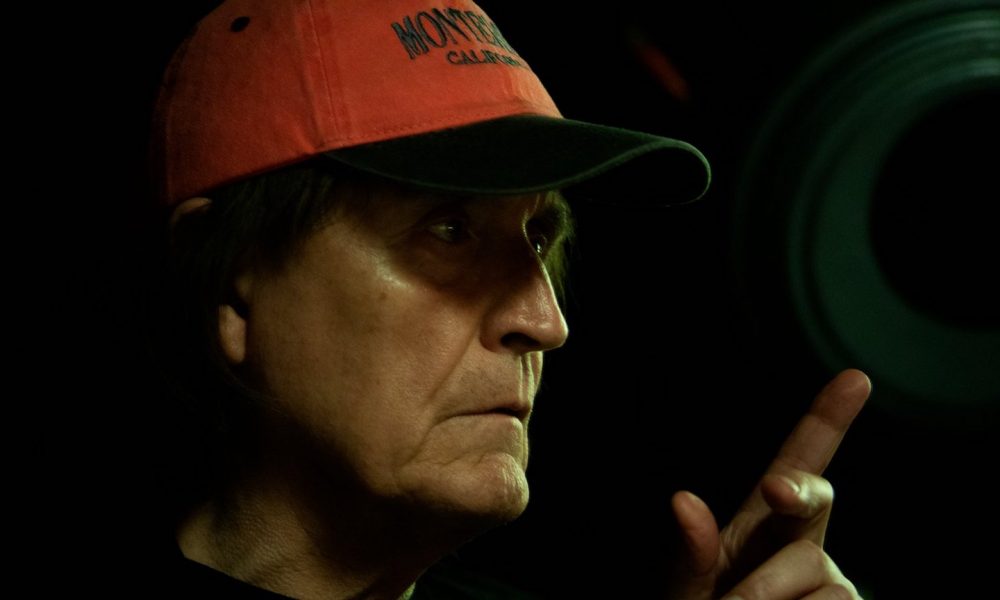 A jazz prodigy from East L.A. signs to Impulse Records at 23, drops one of the most vibrant records of the 70s West Coast jazz scene, and then all but disappears from the scene and industry altogether. Now 50 years later, Garrett Saracho makes his return to the scene and stage with the reissue of his mercurial 1973 album En Medio.
Combining spiritual jazz, funk, Latin soul, and rock, En Medio remains a singular statement from a very singular artist. It was recorded in one weekend in May 1973 at The Village Recorder in West L.A., with a host of musicians with varying levels of association to the Union of God's Musicians and Artist Ascension (UGMAA), a network of primarily African American jazz musicians organized by Horace Tapscott that acted as a community resource, linking musicians together and helping them find work.
This Saturday, July 15, Saracho will return to the stage as part of Los Angeles' Grand Performances and perform En Medio in full for the very first time, alongside unreleased tunes and selections from his recent album with Jazz is Dead.
We spoke with the enigmatic keyboardist and composer from his home in Whittier, California, ahead of his performance about the making of En Medio, returning to the industry, and his deep love for L.A.
This interview has been edited and condensed for clarity.
What does it feel like to perform En Medio again after 50 years?
It was a big surprise initially for me because, besides the great critic reviews I received from fellow musicians and stuff, it was gratifying that somebody out there remembered me.
What do you remember about making this album?
I just remembered that we recorded and mixed the album in 16 hours. In those days, they used to get us in and out, particularly artists like myself. And I owe a lot to Lee Young, my original producer, and Ed Michel, who became my producer. And for lack of a better word, those two people were the ones that really helped me launch my career and the album. And I owe a lot to them, personally.
For those who are discovering En Medio for the first time, how would you describe the album to those who may not be familiar with your work?
It's hard to describe the album because the compositions were written from total emotion, and it's something that I owed a very dear friend of mine who had passed away, my keyboard arranger. And I had only been playing piano for a couple of years at that time. But I knew I could compose the music, and that's simply what I did. It was in memory of him that I accomplished my goal.
That's what I have to say about the album; it's behind the scenes. And not just the music, it's behind everything that led me up to that point, and because I felt so deeply involved and affected by Herbie Baker Jr.'s gift of giving me the opportunity to create my own music. I learned something very quickly; I knew I could compose music. I'm a writer, a composer, a filmmaker, and a storyteller. I'm not a band leader. I'm not going to try to be the greatest composer who ever lived. There is no greatest. It's just simply out of emotion and what I feel.
There seems to be a renaissance of not only jazz but more experimental jazz in both Los Angeles and abroad. Why do you think that is? Were you just ahead of your time?
I had a professor at UCLA who was kind of like a mentor to me. He was a great man. He helped me a lot emotionally. And he told me once, "Garrett, you're not ahead of your time. The people around you are behind theirs." So maybe that answers your question about 50 years later.
What's also very striking about En Medio is the album cover. It's very evocative. Were you part of the art direction of that?
When I signed with ABC Dunhill/ Impulse Records, the producer Lee Young told me, "I want you to meet the art department." I went across the street where the artists were, and there must have been about 20 people there. They all congratulated me and were excited to work with me. After meeting such wonderful people, I turned around and asked Young and the head of the art department, "I really appreciate what you're doing, and thank you very much, but I'd just like to ask you a favor. I said, "I have my own artwork and my own artist."
I said, "My father is an incredible designer." If you think that album was something, you should have seen my father's work. My father was impeccable. He worked on the stealth B-1 bomber, worked on the Apache helicopter helmet, worked on the Tomahawk missile guided system, worked at Capital Records, and did all the album layouts for Beach Boys, Doris Day, and every artist that came in there. ­­­My father was one of the most gifted, creative graphic designers to me and the world.
That's amazing
I showed them a picture that his old girlfriend had taken of me. My father and I decided we wanted to do a surreal thing. At that time, there weren't many albums like that. They had all different kinds of hippie and psychedelic stuff, but he wanted to emphasize me. Since I was the artist, he wanted to focus on my face with a dark background. We had an artist by the name of Ignacio Gomez who did a lot of layouts for Fender Guitars, so we wound up coming out with that idea. It turned out to be very magical. I was very proud of that aspect. I know that those people at Impulse Records in the art department were great people. I'd seen some of their work. But I just had this feeling that I wanted to share this moment with my Pop and Ignacio.
You'll be performing this weekend in Los Angeles; what can people expect from the show?
I'm going to do the entire song selection from En Medio, which is really surprising to many people that I know, because they always thought of me as the keyboardist historian with my family group, Redbone. So naturally, they thought, "Wow, what's going to happen now? What will you do for the second show?" I said, "I have a big surprise for everybody." You've got to come to the show to find out. People have a tendency to say, "Well, that's his album," or "That's his legacy," and I always tell them, "I'm not dead yet" [laughs].
I'm still creating. To go back and rest on your laurels on an album that was done so many years ago has never been enough for me. I always look for new things. I could say right now that some of the mentors in my life, I appreciate their philosophy first more than their music, including Miles Davis, Wayne Shorter, and Herbie Hancock.
This performance provides a rare opportunity to reintroduce people to this album and hear it as intended, from start to finish.
That will be the first show. I'm very diverse in that respect. I never stick to one genre. I've always had different concepts in my head. And as a filmmaker, I always see it visually.
You've lived many lives, working in music, then film production, editing, and screenwriting; how do you juggle the different creative demands?
I've been working on the music for the most part, but I've just finished a screenplay based on my family in the forties. So I'm working on a musical dance review and the film.
By the way, I'm dedicating the show to the people of Los Angeles. I'm fourth generation Angeleno, and I want to dedicate this show to my family, the people of Los Angeles, particularly the forgotten ones, and the people up in Chavez Ravine who were driven out of their homes. I never forgot where I came from, and I want to show how important it is for all people in Los Angeles to be very fortunate to live in one of the greatest, if not the greatest, city of all.
Speaking of L.A. history, who were some of your influences local to L.A.?
Herbie Baker Jr., obviously, B.B. Dickerson, the bass player from War, my cousins Lolly and Tony from Redbone, and just people who guided me. And it was tough love, but I adapted very, very quickly. So I was very fortunate, from the age of five till I was about 15, to hang around a boxing gym and meet all kinds of characters.
You were born and raised in Los Angeles and attended UCLA, and I heard you had a famous run-in with another Hollywood character at school?
Now, that's a funny story. I had a Great Dane at the time; his name was Queequeg, after the character in Moby Dick. I was walking Queequeg early one Saturday morning on campus, and suddenly, as I was going by Powell Library, I heard music coming from Royce Hall. I got closer and thought, "Somebody's playing Frank Sinatra?" So I tied my dog up and walked in.
To my amazement, the place was half filled, and there in a tuxedo on the stage was Frank Sinatra. "Wow, there's Frankie." So, I sat in the back row, put my legs up, and kicked back. As I'm watching the show, I turn over to my left, and this guy's standing there with a clipboard and waving his finger to me, "Come here." I was just a freshman, so I didn't pay attention. He comes walking over and says, "Up. Up." So, I get up, walk out, and he tells me, "In the future if you do not have a ticket to pay for the concert, you will not be allowed in the theater. And if you do come in, you will be arrested and taken to jail by the police.
So, I'm walking out, and here come two security guards, football players, to escort me out. As we left, I asked them, "Hey, Frank Sinatra, what's that about? They said, "Oh, that's the Frank Sinatra Award scholarship." I said, "Oh, great, can anybody win that?" They said, "Well, yeah, if you go to school here." I said, "Cool."
As I was leaving, that man looked at me and said, "I do not want to see you ever come into this place again. Do I make myself clear?" And I said, "Yes, you do."
I turned around and said, "Hey, old man," in Spanish. "There are more things on heaven and earth than dreamt of in your philosophy."
And one year later, I was in the green room drinking champagne with Nancy Sinatra. I won the award, and we were celebrating, and out of the corner of my eye, here comes the same guy. It turns out he was the stage manager. He comes up to me and pours me a glass of champagne; I hand one to him, we toast, and we become the best of friends. I did a lot of great shows with him. Jorge Estrada was a great man. He ran the International Student Center, the Huntington Hartford, Brentwood Veterans Theater, Royce Hall, and numerous places; we did some shows together at the Masonic Temple. Here he was the man that threw me out one year, and the following year, we're toasting.
With you returning to the public eye, are you surprised by how people are reacting to this record? There seems to be a significant groundswell in support and appreciation of it.
I think the biggest surprise to me was about five years ago when I was in my studio, and I got a phone call from this young guy who is my manager now. He was raving and talking about how much he loved my album, "I've been trying to find you," and "I would really love to get to meet you." I couldn't figure out what he was talking about because I thought he was talking about Redbone. I said, "Excuse me, what are we talking about here? He said, "En Medio, that's the music. I said, "En Medio, why?" He said, "Well, everybody loves your music in Europe, Finland, Sweden, France, Spain. I said, "Why?" And he said, "Everybody just loves it."
Get full event details for his free outdoor performance in Los Angeles here.