"Music Affects Us In A Healing Way": Azar Lawrence Is On A Mission
Picking up from where Coltrane left off, jazz saxophonist Azar Lawrence reveals how he's kept spiritual jazz alive for the past 40 years.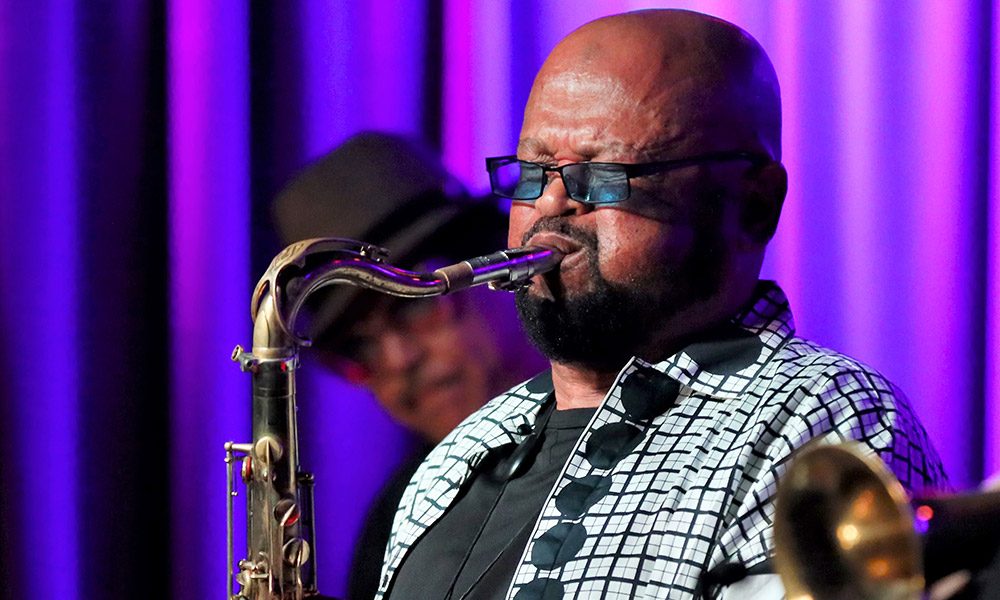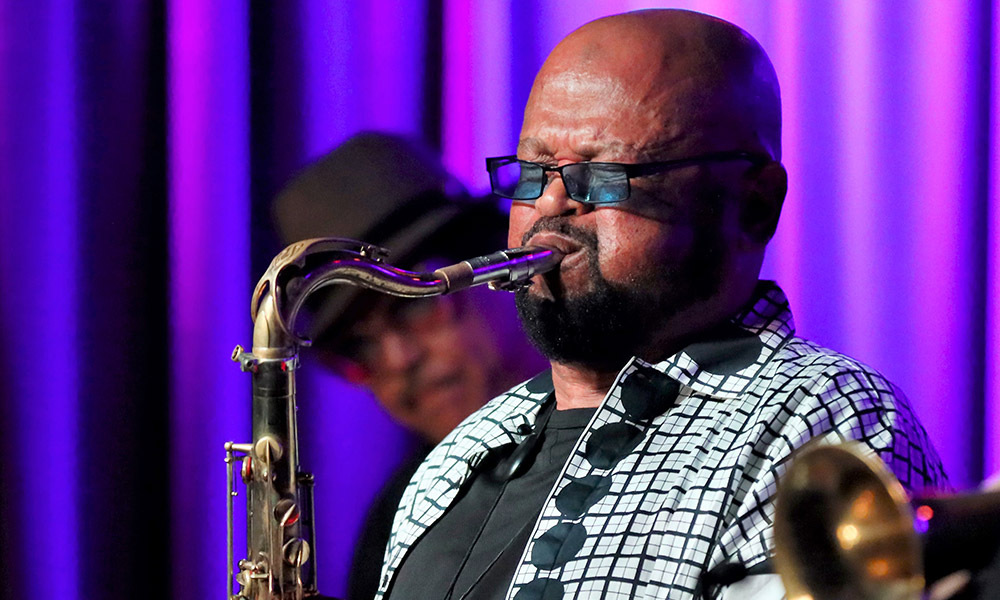 "I started as a violin player, but don't ask me to pick it up now," laughs Azar Lawrence, an affable 66-year-old jazz musician from Los Angeles who rose to fame as a saxophonist and served his apprenticeship in the bands of Elvin Jones, McCoy Tyner and Miles Davis in the early 70s, before forging a storied solo career.
Lawrence's debut solo album, 1974's Bridge Into The New Age, which was reissued by Craft Recordings in 2017, was originally released by Bob Weinstock's jazz indie, Prestige. Largely ignored at the time, it has since been hailed as a classic example of post-Coltrane spiritual jazz. In fact, the album, with its cosmic themes, astral female vocals and deep, searching qualities, could plausibly be cited as forerunner of what contemporary jazz sensation Kamasi Washington is attempting right now. There are striking sonic and aesthetic similarities between what Washington – also from the US West Coast – is doing and the path that Lawrence was taking back in the 70s. In an interview with uDiscover Music, Lawrence reveals that he has a connection with the young tenor saxophone maven.
"Kamasi's father and I went to high school together," he says. "We're old friends. When I played at this place called The World Stage in LA, sometimes Kamasi used to come and sit in. We've played together many times. I'm proud of him. He's been very helpful because he's definitely brought attention to what we've been doing. Everybody's talking about spiritual music again and that's what we've been doing for 40 years."
"I'd been involved with in-depth studies of spirituality"
A graduate of Horace Tapscott's Pan African People's Arkestra, with whom he played as a teenager, Azar Lawrence recorded three albums in as many years for Prestige. It was while on tour in Europe with pianist McCoy Tyner, in 1974, that he was offered a chance to record as a leader by producer Orrin Keepnews. The owner of the Milestone label, Keepnews was in Montreux, Switzerland, to capture Tyner's quartet at the lakeside town's famous jazz festival.
"I did the Enlightenment album with McCoy there and that's when Orrin Keepnews heard me for the first time. On the inside of the album cover, there's a picture of McCoy on the lake and it was taken during a yacht cruise that the record company put on. They invited me to go and, on that trip Orrin Keepnews asked me if I would be interested in signing with Prestige."
Lawrence didn't hesitate to say yes, and assembled a great band – including trumpeter Woody Shaw, alto saxophonist Arthur Blythe (aka "Black Arthur"), singer Jean Carn, drummer Billy Hart and percussionist Mtume – to bring his singular musical vision to life. The album's themes reflected Lawrence's interests in metaphysics, meditation and cosmology – "I'd been involved with some in-depth studies of spirituality since the early 70s," he reveals – and the album's title came from a chant the saxophonist had devised for the intro of the set's closing track, 'The Beautiful And Omnipresent Love'.
The Beautiful And Omnipresent Love
"I said this chant at the beginning of the song, which went, 'I am black as the night from which the light of a new day descends, I am the blended colours of life and the bridge into the new age.' When I said that phrase, Orrin Keepnews said, 'Wait, that sounds like an album title,' so the album became Bridge Into The New Age."
"My roots are in funk – all those rhythms are African rhythms"
His next album for Prestige was 1975's Summer Solstice, a blissful collection of Latin-inflected moods and grooves that had a smaller cast of contributors. It, too, has a spiritual theme, and its title, says Lawrence, was inspired by the earth's longest day, in midsummer. "It's one of the high points of the year in terms of how the solar system starts to express itself," he explains.
After the success of Bridge Into The New Age's reissue on vinyl, Summer Solstice was ripe for reissue as well. One of the set's standout tunes, the sizzling, Latin-tinged 'Novo Ano', has returned to his setlist. "We're playing it with my new band, The Azar Lawrence Experience," the saxophonist – who plays both tenor and soprano varieties of the instrument – says.
Azar Lawrence's final album for Prestige, 1976's People Moving, saw him take another road. It was a more direct, yet slicker, excursion into jazz-funk that saw him team up with some of LA's finest session musicians, among them Patrice Rushen, Jerry Peters, Lee Ritenour, Harvey Mason and producer/writer Skip Scarborough, who was working with Earth, Wind & Fire at the time. Significantly, the album included Lawrence's take on two Scarborough-penned EW&F tunes, 'Can't Hide Love' and 'Gratitude'.
"It was quite different from my other two Prestige records," admits Lawrence, though the album reveals that funk is a core part of the saxophonist's musical DNA. "I played with an early version of [the West Coast band] War, also The Watts 103rd Street Band, and Ike & Tina Turner. I also took Maceo's place with Fred Wesley's Horny Horns when he went back to rejoin the James Brown organisation. So my roots are in funk and I've always been fond of that music because all those rhythms are African rhythms."
"Kendrick Lamar comes to our concerts"
Though it's been 40 years since he was at Prestige, Azar Lawrence has gone on to record for a raft of different labels. Significantly, though, the reissuing of his albums has brought a different demographic to his gigs.
"What's so interesting is that our audience is a young audience now," says Lawrence. "Even Kendrick Lamar came to one of our concerts last year, when we debuted the reissue of Bridge Into The New Age at a place called Zebulon in Los Angeles, a concert that was sponsored by Concord Records. He came in for two hours and listened to us the whole time."
Though he's just released a superb new album, Elementals, the saxophonist's new fans also want to hear his old stuff. Eager not to disappoint them, Lawrence has obliged by reviving several classic songs and inserting them into his setlist. "We do 'Fatisha', 'The Beautiful And Omnipresent Love' and 'Warriors Of Peace'," says Lawrence, adding that a new addition to The Azar Lawrence Experience sings Jean Carn's original vocal parts. "We have singer Wendy Barnes, who has exclusively worked with Stevie Wonder as a background vocalist," he reveals.
"Miles said, 'I haven't heard tenor saxophone like you since John Coltrane'"
Reflecting on his past and trying select the high points from of his long career, Azar Lawrence is spoilt for choice. "Playing every night with Elvin Jones was a highlight," he says. "Then comes five and a half years spent with McCoy Tyner. I asked him once how could he perform with a guy like me after playing with Coltrane, and he said, 'As long as I can hand you the baton without going down in the race.' Every night of those years, I thought I had heard the best, but then the next night it was even better, like God was expressing himself through the instruments."
Lawrence's short stint with Miles Davis, which lasted only a matter of a few months in early 1974, is also a source of pride to the LA saxophone maestro. "I remember he phoned me from Washington, DC, and said, 'Hi, it's Miles. What's going on? You want to play some music?' He then told me, 'I haven't heard tenor saxophone like you're playing since John Coltrane.' That was a great compliment."
"The whole concept is to reach as many people as we can"
As recent performances by The Azar Lawrence Experience reveal, the saxophonist is now doing something that he's always been striving to achieve with his unique brand of jazz: to create sounds and moods that have a remedial effect on those that encounter it.
"The whole concept is to reach as many people as we can and then heal them," he says, stressing the spiritual dimension of his music and the positive vibrations it can send out. "It's based upon the recognition that this music is affecting us in a healing way and merging our intellects with our hearts. It's all helpful. We've been doing it for 40 years, and 'Trane' did it before us. It all came out of that."
The 180g vinyl reissue of Summer Solstice can be bought here.
Format:
UK English