Much-Loved Jimmy Buffett, Hero Of Legions Of 'Parrotheads,' Dies At 76
'He lived his life like a song till the very last breath and will be missed beyond measure by so many,' read a statement.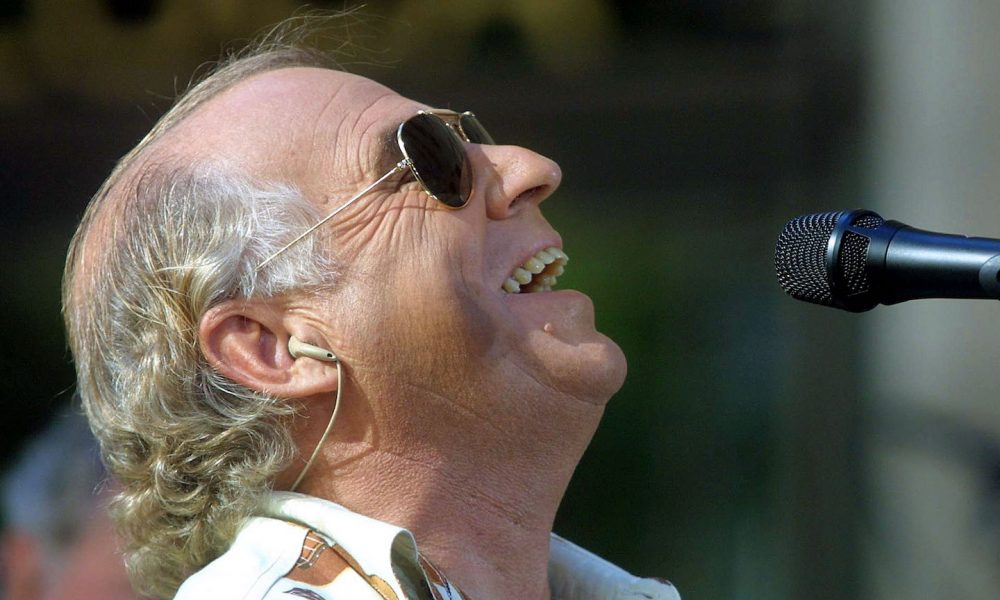 Much-loved singer-songwriter Jimmy Buffett has died at the age of 76. A statement said: "Jimmy passed away peacefully on the night of September 1 surrounded by his family, friends, music and dogs.
"He lived his life like a song till the very last breath and will be missed beyond measure by so many," the announcement continued. Buffett had been briefly hospitalized in the spring, declaring to his legions of fans on his return home: "Growing old is not for sissies, I promise you."
With a catalog of anthemic songs adored by his "Parrothead" disciples, from "Margaritaville" and "Cheeseburger In Paradise" to "Come Monday" and "Changes In Latitudes, Changes In Attiudes," Buffett epitomized an easy-going, unhurried style that made his fortune. He went on to own an empire of themed resorts and restaurants while continuing to tour, in a performing career of more than 50 years. In 1996, he was listed at No.13 in Forbes' America's Richest Celebrities list, with a net worth of $550m.
Country stars and friends the Oak Ridge Boys posted the message: "Rest Easy Jimmy…thanks for the fun." The Wall Street Journal wrote: "Crooner sang about beach bums, hustlers and pirates while heading up numerous business ventures." USA Today reflected: "With his crinkled smile, breezy tunes and barefoot stage presence, Jimmy Buffett encompassed the persona of a beach bum.
"But a 50-plus year recording career that spawned unparalleled devotion from fans as well as branded restaurants, books, beer, resorts, a Broadway show and cruise line established Buffett as a bona fide mogul."
He was born James William Buffett on December 25, 1946 in Pascagoula, Mississippi, spending part of his upbringing in Arizona. He graduated from the University of Southern Mississippi with a history degree in 1969 and released his debut album Down To Earth, on Andy Williams' Barnaby label, in 1970. Read more about his early years here.
Changes In Latitudes, Changes In Attitudes
By the time of 1973's follow-up A White Sport Coat and a Pink Crustacean, Buffett had signed to ABC, where he would enjoy increasing success, making the Top 30 of the US album chart with 1974's A1A. The 1977 LP Changes in Latitudes, Changes in Attitudes was a platinum-selling breakthrough, including both the title track and "Margaritaville," the latter an Adult Contemporary chart No.1.
After 1978's Son Of A Son Of A Sailor, he moved to MCA, where he enjoyed ever greater popularity with his relaxed "beach bum" persona both on disc and on stage. His LP titles reflected his lighthearted approach, in such releases as Last Mango In Paris, Floridays, and Off To See The Lizard. He also enjoyed chart-topping country success in later years, guesting with Alan Jackson on the hedonistic "It's Five O'Clock Somewhere" (2003) and the Zac Brown Band's "Knee Deep" (2011).
Asked by Rolling Stone in 1996 to describe a typical "Parrothead" fan, Buffett mused: "There are people out there looking for a good time for a few days a year. We come to town, and we're the carnival or the Mardi Gras. People blow off steam and then go back and be basically law-abiding citizens. But to see them on those two days, you'd go, 'My God, this is the most drunk and boisterous maniac crowd you ever saw!'"