Jon Pardi Announces First Global Headline Tour To Open In UK In August
Named after his current album, the tour opens in Belfast on August 25.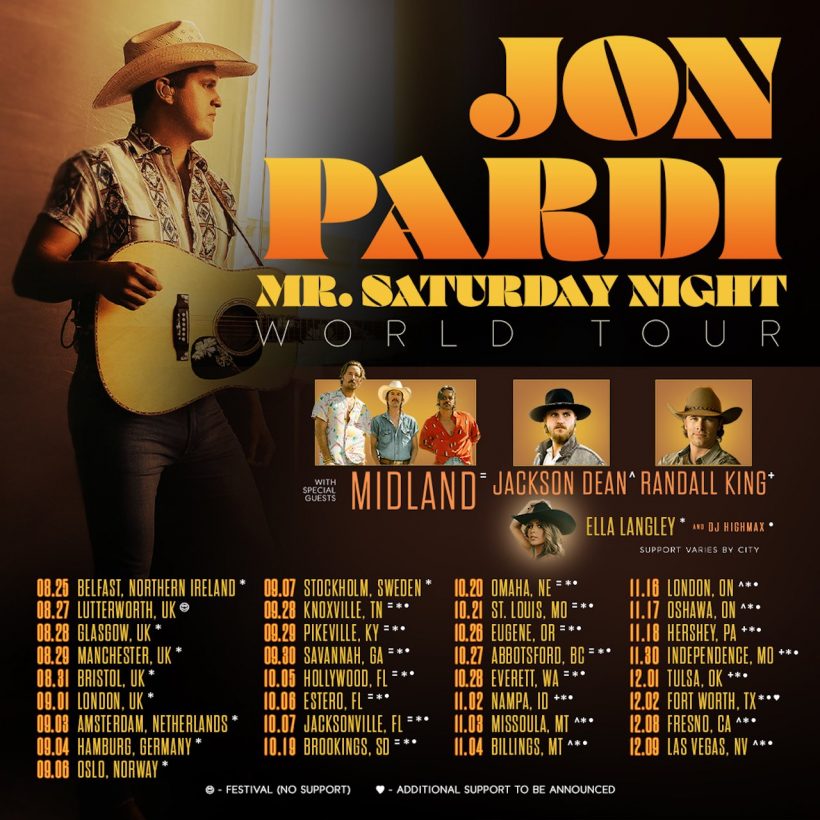 Jon Pardi has announced his first official global headline tour, the 2023 Mr. Saturday Night World Tour, produced by Live Nation. Named after his current album, the tour opens in Belfast on August 25, then features a number of other UK dates including his previously-confirmed Long Road Festival appearance. Then come stops in Amsterdam, Hamburg, Oslo, and Stockholm, before Pardi starts the North American leg of the tour.
Guests on the dates include Midland, Jackson Dean, Randall King, Ella Langley, and DJ Highmax at selected shows. Ticket sales will begin with a Citi presale beginning today (21), with additional presales throughout the week. Tickets go on general sale on Friday at 10am local time on LiveNation.com or JonPardi.com. VIP packages are also available, which may include premium tickets, a backstage tour, a group photo backstage, an invitation to the Pardi Time! VIP Lounge, a limited edition gift item, and more. More information is at vipnation.com.
Jon Pardi Announces the Mr. Saturday Night World Tour
"Your Heart Or Mine," the current single from Mr. Saturday Night, climbs 31-30 in its 24th week on Billboard's Country Airplay chart. Pardi also features on that chart as the co-writer, with Hunter Phelps, Jordan Schmidt, and Michael Hardy, of Cole Swindell's "Drinkaby," which clinbs 34-33. Pardi's previous single "Last Night Lonely" became his fifth No.1 on that survey last August.
Jon Pardi - Your Heart Or Mine (Official Music Video)
The album prompted Taste of Country to observe that Pardi's "refusal to chase sets Mr. Saturday Night apart," while Nash News said that the album "proves he might be the most successful at combining the old-school sound with today's need for hooks." The album was produced by the artist with Bart Butler and Ryan Gore, the same team that oversaw his third album Heartache Medication in 2019.
Rolling Stone said that Pardi's "state-of-the-art blend of traditional instrumentation and progressive grooves that point to country's future," while People described him as "a leader among a growing number of artists bringing back fiddle, steel and twang."
Buy or stream Jon Pardi's Mr. Saturday Night album.