Karol G Releases 'Mañana Sera Bonito,' Recruits Shakira For 'TQG'
Other guest collaborators include Romeo Santos, Sean Paul, and more.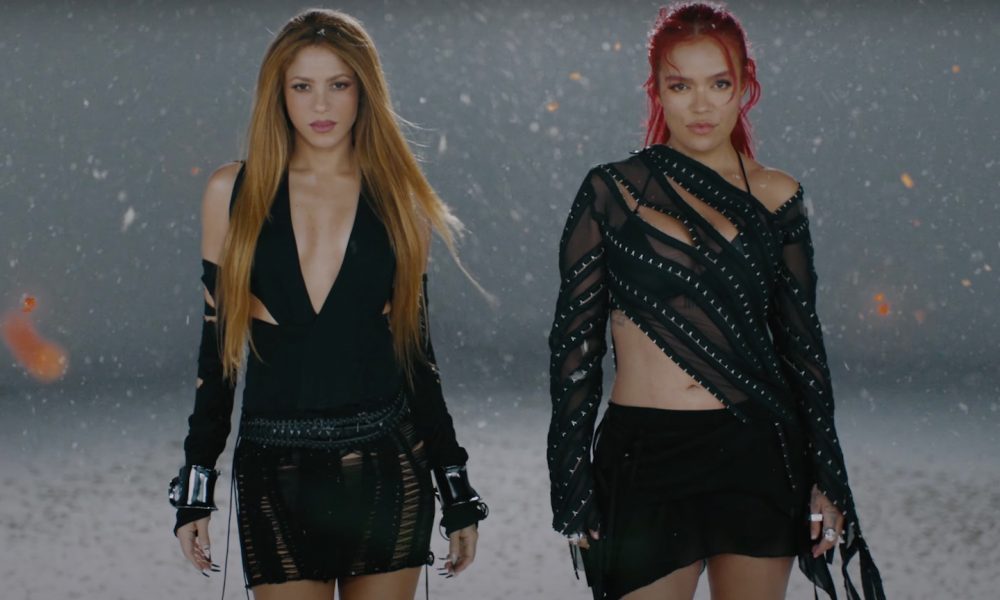 Karol G has released her highly-anticipated fourth album Mañana Será Bonito. A collection of intimate songs, the album reveals the Latin GRAMMY Award winning artist beyond her stage name, giving her fans a glimpse of Carolina's deepest, most vulnerable emotions as she overcame heartbreak.
The track is highlighted by a number of tracks, including "TQG," a reggaeton-pop track and accompanying music video that features icon Shakira. Watch the video below.
KAROL G, Shakira - TQG (Official Video)
Other guest collaborators include Romeo Santos, Sean Paul, and more. Karol G offered a taste of the album earlier this month when she released the Santos collaboration, "X Si Volvemos."
The single finds the Colombian superstar and the king of Bachata collaborate for the first time, intertwining their silky voices to tell the passionate and sensual story of the end of a relationship.
Composed by G, Santos and Kevyn Mauricio Cruz, and produced by Ovy On The Drums, "X Si Volvemos" gives life to an enthralling night in bed as a couple admits their undeniable sexual chemistry while accepting that they aren't meant to be together. "Que en el amor no, pero en la cama nos entendemos," they sing, which translates to: "In love we don't understand each other, but we do in bed."
The album title translates to Tomorrow Will Be Beautiful and the initial announcement came accompanied by a playful trailer in which G called a self-help hotline run by children who give her suggestions on activities to take her mind to a better place. The album's title comes from a mantra the star used to tell herself when things weren't going well.
Last year, Vevo's Global Top Ten Music Videos of 2022 chart revealed that Karol G's "PROVENZA" landed in first place with a massive 547 million views worldwide. "PROVENZA" was the star's highly-anticipated solo single released in April after a seven month break, and was a self-described "completely new audiovisual project" for her that explored a significantly more tropical sound. The music video features an all-female cast and messages of empowerment and body positivity.