LE SSERAFIM – 'UNFORGIVEN': Everything We Know
The five-member girl group will release its debut album in May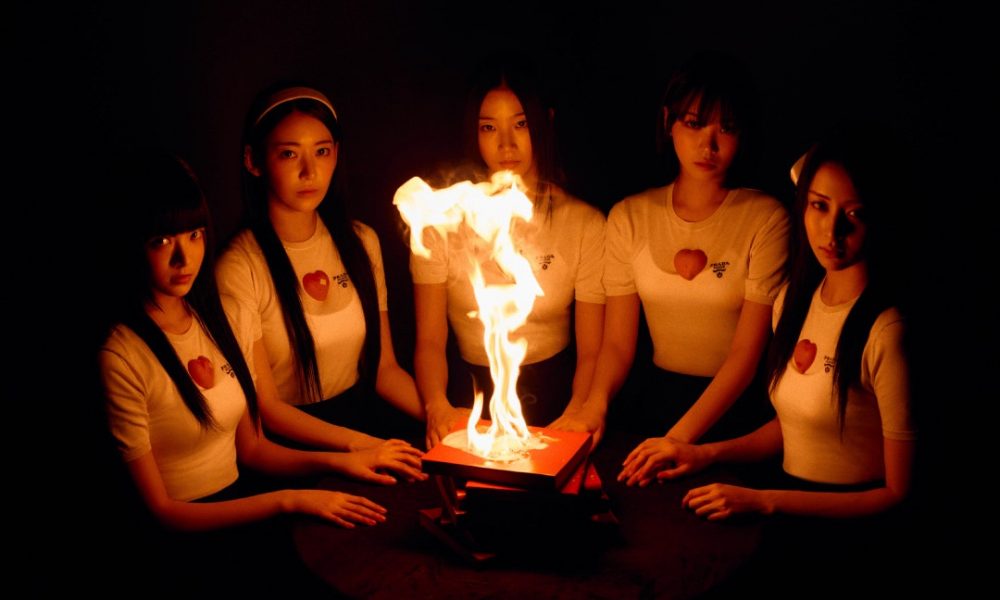 LE SSERAFIM has confirmed the release of its debut album, UNFORGIVEN, which will arrive next month.
The highly-anticipated full-length record follows the five-piece girl group sharing two EPs last year – first, in its debut release FEARLESS, followed by ANTIFRAGILE.
UNFORGIVEN will be released at 6pm KST (5am ET) on May 1 – one day prior to the group's one-year anniversary – via SOURCE MUSIC. It confirmed the news earlier this month with the release of a slogan film, which was soundtracked by an enchanting guitar-driven instrumental.
"Do you want to be forgiven?" text in the visuals asked, calling back to the "ANTIFRAGILE" music video. "You don't have to. I'm unforgiven too." In Korean, it added: "Alone we meander, but together we adventure." The video closed with the group's logo burning in flames.
LE SSERAFIM (르세라핌) UNFORGIVEN
On April 9, LE SSERAFIM shared a trailer for UNFORGIVEN, titled "Burn The Bridge." The video opened on a puddle of red liquid spilled over a white tiled floor. It then cut to scenes of the five members, narrated by them taking turns speaking in English, Korean, and Japanese.
"The darkness drives me into a corner and forces me to choose," LE SSERAFIM said. "Either give up or give in. That I can go forward, but only within the limit. My answer? I wish for what is forbidden to me. A closed door, a door locked shut, another door slightly ajar – I open them all. The path I meant to follow is back there.
"And I say to you, let's go beyond together. To come to that faraway land with me. I'm never going back. We'll burn it all and it will light our way. We don't have to be forgiven. We are unforgiven."
LE SSERAFIM (르세라핌) UNFORGIVEN TRAILER 'Burn the Bridge'
Further details about UNFORGIVEN are set to be released in the coming weeks, with a promotion schedule revealing what fans can expect. The first batch of concept photos was released on April 11, with more to follow on 12 and 13.
A track sampler will give listeners a taste of the upcoming record on April 16, while the full tracklist will be confirmed on April 17. A highlight medley will give a more expanded preview on April 24 ahead of two teasers for the record's official music video on April 27 and 29.
As UNFORGIVEN's release approaches, LE SSERAFIM will host a countdown live event at 5:30pm KST on May 1. Find more details about the upcoming promotions here.
Last year, LE SSERAFIM made US chart history with ANTIFRAGILE, becoming the fastest K-pop group to enter the Billboard 200 chart with the EP, which peaked at No.14. The record's title track has remained on the Billboard Global (excluding US) chart for a consecutive 23 weeks and had accumulated over 200 million streams on Spotify as of March 15.
Between the group's official releases, singer Huh Yunjin has shared three solo songs – "Raise y_our glass," "I ≠ DOLL," and "Love You Twice." The latter was accompanied by a music video produced in collaboration with the animation artist Ramdaram.
Find more information on LE SSERAFIM's UNFORGIVEN on Weverse.