Watch Marcus King's Fiery Live Video for 'Lie Lie Lie'
The track appears on the blues-rocker's forthcoming solo album, 'Young Blood.'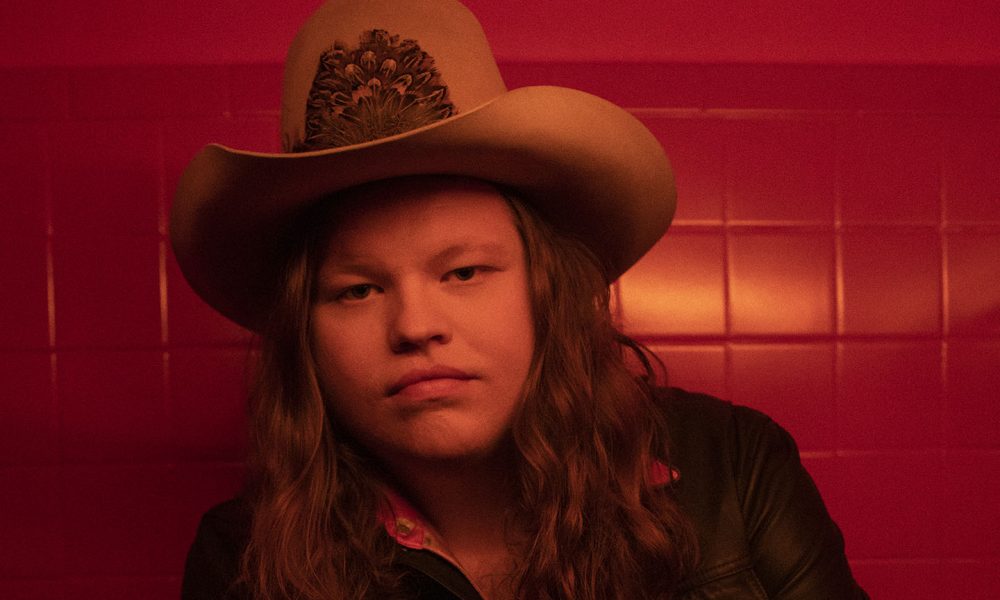 Marcus King sounds like he's guzzling gasoline and spitting out fire on the live version of his new single "Lie Lie Lie," as premiered in his latest video. The fiery track is an early arrival from his forthcoming solo album, Young Blood, due out August 26 via American Records/Republic.
King made his name as the leader of The Marcus King Band, bursting into view in the 2010s to bring the spirit of old-school Southern-fried blues rock back to the fore in modern music. But in 2020 he released his solo debut, the Grammy-nominated El Dorado, overseen by Dan Auerbach of The Black Keys.
If "Lie Lie Lie" is any indicator, his second solo outing will be a scorcher and his upcoming run of shows sill be even hotter. The studio version of the song is a burner in its own right, but the live take King and company cooked up at Auerbach's Easy Eye Sound Studio out to be preceded by a fire marshal's warning.
Stripping down to a lean and mean power trio format, King and his rhythm section maximize the impact of the raw, rocking riff at the heart of "Lie Lie Lie." His guitar sounds like a barely contained feral beast, and when the solo arrives, King rips into it with an almost frightening ferocity. His bandmates don't just back him up either—they prod him forward at every step, so the intensity never lets up for a moment.
Marcus King - Lie Lie Lie (Live From Easy Sound / 2022)
King's summer and fall tours of Europe and the U.S., respectively, will give him and his band a chance to dig even deeper into the new batch of tunes they've put together for Young Blood, so be on the lookout. Visit King's official website for tickets and more info.
Scroll down to view tour dates and preorder Young Blood here.
Marcus King Tour Dates:
June 23 – Fairview Park – Dublin, Ireland
June 25  – Alexandra Palace – London, United Kingdom
June 26  – The Globe – Cardiff, United Kingdom
June 28 – O2 Apollo Manchester – Manchester, United Kingdom
June 29  – O2 Apollo Manchester – Manchester, United Kingdom
June 30 – Rock City – Nottingham, United Kingdom
July 2  – Rock Werchter – Werchter, Belgium
July 3 – Rockhal – Esch-sur-alzette, Luxembourg
July 5 – Oosterpoort – Groningen, Netherlands
July 6 – Cognac Blues Passions 2022 – Cognac, France
July 7  – Doornroosje – Nijmegen, Netherlands
July 8 – North Sea Jazz Festival 2022 – Rotterdam, Netherlands
July 16 – Wild Hare Music Festival 2022 – Canby, OR, United States
July 27 – FloydFest 22- Heartbeat 2022 – Floyd, VA, United States
Sept 9 – The Met – Philadelphia, PA
Sept 10 – The Theater at MGM National Harbor – Washington DC
Sept 11 – House Of Blues – Boston, MA
Sept 15 – Beacon Theatre – New York, NY
Sept 16 – Beacon Theatre – New York, NY
Sept 17 – KEMBA Live! – Columbus, OH
Sept 18 – Bourbon & Beyond Festival – Louisville, KY
Sept 20 – HISTORY – Toronto, ON
Sept 21 – Stage AE – Pittsburgh, PA
Sept 23 – GLC Live at 20 Monroe – Grand Rapids, M
Sept 24 – The Sylvee – Madison, WI ^
Sept 25 – Palace Theatre – St. Paul, MN
Sept 27 – Egyptian Room @ Old National Centre – Indianapolis, IN
Sept 29 – Ryman Auditorium – Nashville, TN
Sept 30 – Ryman Auditorium – Nashville, TN
Oct 1 – The Tabernacle – Atlanta, GA
Oct 2 – The Tabernacle – Atlanta, GA
Oct 4 – Stubb's Bar-B-Q – Austin, TX
Oct 6 – The Van Buren – Phoenix, AZ
Oct 7 – The Wiltern – Los Angeles, CA
Oct 11 – The Masonic – San Francisco, CA
Oct 13 – Crystal Ballroom – Portland, OR
Oct 14 – The Neptune Theatre – Seattle, WA
Oct 15 – The Neptune Theatre – Seattle, WA
Oct 17 –  The Complex – Salt Lake City, UT
Oct 18 – Mission Ballroom – Denver, CO
Oct 20 – The Pageant – St. Louis, MO
Oct 21 – Byline Bank Aragon Ballroom – Chicago, IL
Oct 22 – The Fillmore  Detroit- Detroit, MI
Oct 23 – Agora Theatre – Cleveland Ohio
Oct 25 – The Fillmore Charlotte – Charlotte, NC
Oct 26 – Avondale Brewing Company – Birmingham, AL
Oct 27 – The Fillmore New Orleans – New Orleans, LA