Mark Knopfler Writes Foreword For J.J. Cale's 'Tulsa Sound' Box
The set features many of the best-loved songs by this unique troubadour, including 'Cocaine,' 'Call Me The Breeze,' and 'After Midnight.'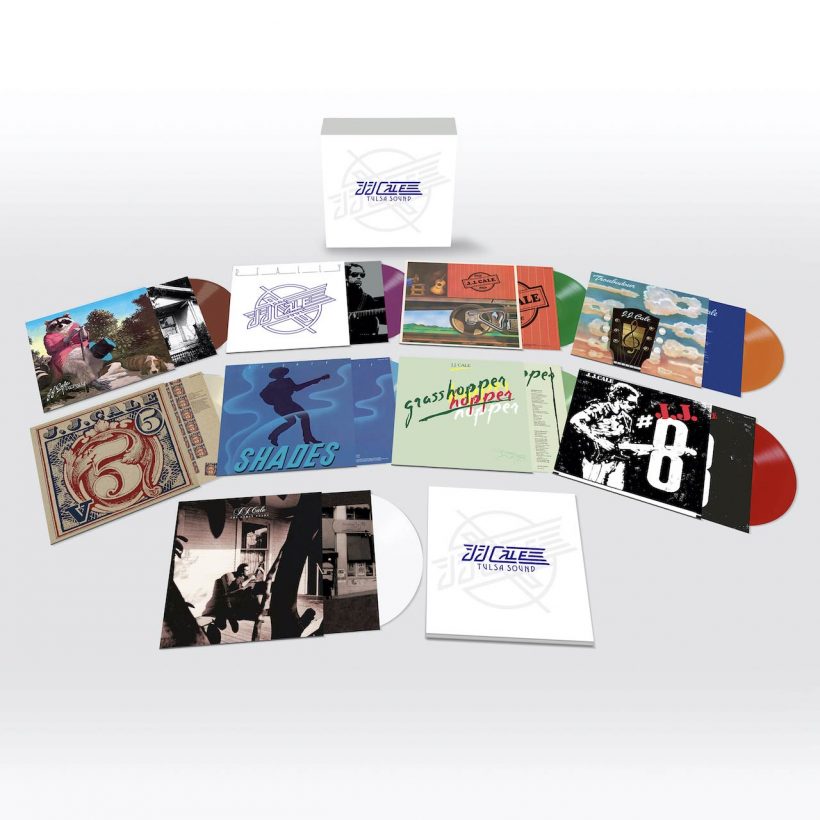 The first eight albums in the career of the ever-influential J.J. Cale are to be presented in a limited edition vinyl boxed set with a foreword by one of his greatest admirers, Mark Knopfler.
Tulsa Sound will be released on October 6 and features many of the best-loved songs by this unique troubadour, including "Cocaine," "Travelin' Light," "Call Me The Breeze," and "After Midnight." The eight original LPs will be accompanied by a nine disc, The Early Years, which gathers together his pre-breakthrough singles of the 1960s. The other albums in the set span the years 1971 to 1983, and each is pressed on a different color 180 gram vinyl disc, all remastered at Abbey Road Studios.
The set is accompanied by a 40-page hardback book featuring rare and unseen images, essays, memorabilia, and Knopfler's foreword. "J.J. Cale kept me falling in love with guitar, kept me wanting to play the instrument," says the British guitar hero and singer-songwriter. "But most important for me, I think, is the songwriter in him, the deep well of creativity that has given us so many bewitching songs to treasure."
Other greats to sing Cale's praises include Eric Clapton, who called him "One of the most important artists in the history of rock, quietly representing the greatest asset his country has ever had…he has been an incredible inspiration to me. His records are really minimal, light, it's all about finesse. It's almost like he's whispering in your ear but you hear everything single word. I don't know how he does it. It's such a cunning technique."
Read more about J.J. Cale's "After Midnight" and debut album Naturally.
Neil Young observed: "Of all the players I ever heard, it's gotta be Hendrix and J.J. Cale who are the best electric guitar players," while Tom Petty added: "One of our favorite songwriters is a man named JJ Cale. He's a fantastic writer."
Pre-order the Tulsa Sound boxed set, which is released on October 6.
The full tracklist is:
Naturally – Side A
Call Me The Breeze
Call The Doctor
Don't Go To Strangers
Woman I Love
Magnolia
Clyde
Naturally – Side B
Crazy Mama
Nowhere To Run
After Midnight
River Runs Deep
Bringing It Back
Crying Eyes
Really – Side A
Lies
Everything Will Be Alright
I'll Kiss The World Goodbye
Changes
Right Down Here
If You're Ever In Oklahoma
Really – Side B
Ridin' Home
Going Down
Soulin'
Playing In The Street
Mo Jo
Louisiana Women
Okie – Side A
Crying
I'll Be There (If You Ever Want Me)
Starbound
Rock And Roll Records
The Old Man And Me
Everlovin' Woman
Okie – Side B
Cajun Moon
I'd Like To Love You Baby
Anyway The Wind Blows
Precious Memories
Okie
I Got The Same Old Blues
Troubadour – Side A
Hey Baby
Travelin' Light
You Got Something
Ride Me High
Hold On
Cocaine
Troubadour – Side B
I'm A Gypsy Man
The Woman That Got Away
Super Blue
Let Me Do It To You
Cherry
You Got Me On So Bad
5 – Side A
Thirteen Days
Boilin' Pot
I'll Make Love To You Anytime
Don't Cry Sister
Too Much For Me
Sensitive Kind
5 – Side B
Friday
Lou-Easy-Ann
Let's Go To Tahiti
Katy Kool Lady
Fate Of A Fool
Mona
Shades – Side A
Carry On
Deep Dark Dungeon
Wish I Had Not Said That
Pack My Jack
If You Leave Her
Shades – Side B
Mama Don't
Runaround
What Do You Expect
Love Has Been Gone
Cloudy Day
Grasshopper – Side A
City Girls
Devil In Disguise
One Step Ahead Of The Blues
You Keep Me Hangin' On
Downtown L.A.
Can't Live Here
Grasshopper
Grasshopper – Side B
Drifters Wife
Don't Wait
A Thing Going On
Nobody But You
Mississippi River
Does Your Mama Like To Reggae
Dr. Jive
#8 – Side A
Money Talks
Losers
Hard Times
Reality
Takin' Care Of Business
#8 – Side B
People Lie
Unemployment
Trouble In The City
Teardrops In My Tequila
Livin' Here Too
The Early Years – Side A
Dick Tracy
It's A Go-Go Place
Outside Looking In
The Early Years – Side B
In Our Time
After Midnight
Slow Motion