Maze Ft. Frankie Beverly's 'Live In New Orleans' Set For 40th Anniversary Reissue
Two digital EPs will also celebrate the beloved R&B group.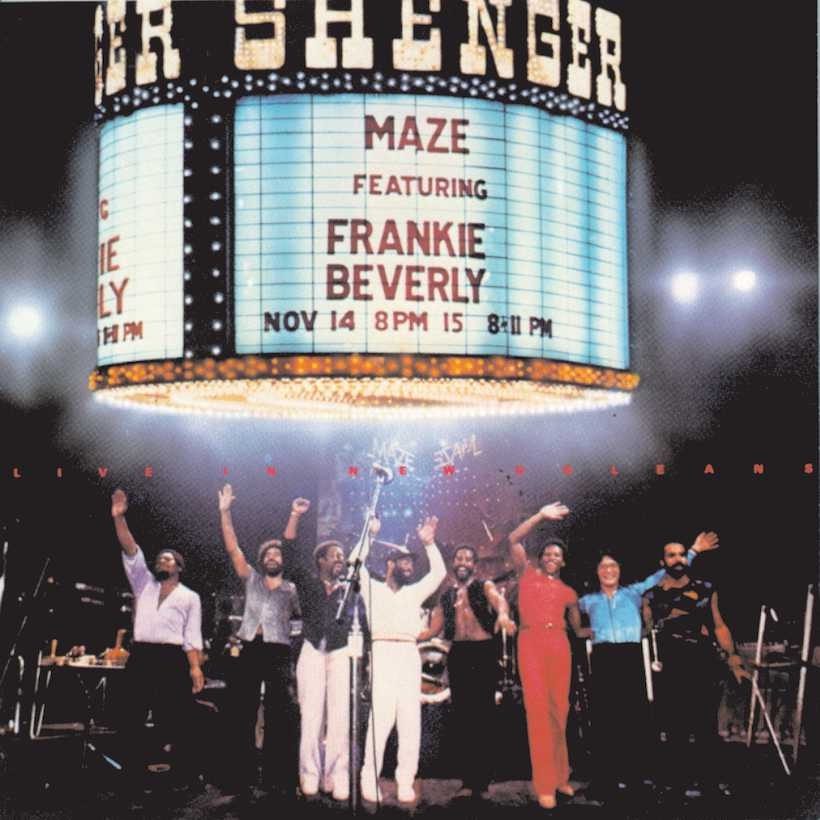 Maze Featuring Frankie Beverly were one of the most popular R&B acts in America when they played a two-night stand at New Orleans' Saenger Theatre in November 1980. The resulting concert recording, released in January 1981, not only encapsulated the energy of the San Francisco group's live performances but became one of their best-selling records – and forever tied them to New Orleans. Now, 40 years later, a deluxe reissue will celebrate this enduring title.
In stores February 19 – just in time for the Mardi Gras – Live in New Orleans features newly-remastered audio from the original analog tapes. The 2LP set comes pressed on 180-gram black vinyl, while a limited edition will be available on standard-weight white vinyl – paying homage to frontman Frankie Beverly's signature white stage outfits, as well as to the audience members who followed suit, donning all-white at Maze shows.
Upon its release, Live in New Orleans reached No.3 on Billboard's R&B Albums chart and No.34 on the Billboard 200. Highlights include extended live sets of Maze's top 10 R&B hits – "Feel That You're Feelin'" and "Southern Girl" – plus the definitive live versions of album cuts like "Look At California" and the massively-popular "Joy and Pain," which is transformed into a thrilling audience sing-along.
Side Four of the album offers four studio recordings (captured at San Francisco's Automatt Recording Studio), including the top 10 R&B hit "Running Away," and the Maze anthem, "Before I Let Go" – the latter of which was covered by Beyonce for her 2019 Homecoming: The Live Album.
Maze was founded by Frankie Beverly in 1970 under the moniker Raw Soul. In the middle of the decade, after relocating to San Francisco, the band caught the ear of Marvin Gaye. Under Gaye's wing, the band changed their name to Maze, and joined the soul star on the road as his opening act.
Despite their roots in Philadelphia and the Bay area, Maze have always considered New Orleans their home base, while Beverly has credited the city for the Gold status of their 1977 debut, Maze featuring Frankie Beverly. With that in mind, Maze decided to record their first live album and fifth overall album, Live in New Orleans, at the Saenger.
Produced and arranged by Beverly, Live in New Orleans secured Maze and Frankie Beverly's deep-rooted bond with New Orleans, and transformed it into an indelible, tangible delivery for the entire world to experience. They've since closed the city's annual Essence Fest for more than 20 years.
Also coming next month are two special digital releases: Maze: The M+M Mixes and Joy and Pain: The Lifelines Remixes. The first title features all of the Maze remixes created by M+M's John Morales including the band's first chart-topping R&B hit, "Back in Stride" and "Too Many Games." The collection also includes Morales's 2017 remixes of "Before I Let Go" and "Joy and Pain."
The Joy and Pain EP, meanwhile, features the rare "Lifelines" remixes by Hank Shocklee, Eric Sadler, and Paul Shabazz – all members of The Bomb Squad, best known for their era-defining, multi-layered production work for Public Enemy. These remixes, featuring a guest appearance by rapper Kurtis Blow, are making their commercial and digital debuts.
Live in New Orleans, Maze: The M+M Mixes, and Joy and Pain: The Lifelines Remixes are all available February 19. Scroll down to view tracklists and preorder Live in New Orleans here.
Live In New Orleans (2LP Set)
Side 1
1. You
2. Changing Times
3. Joy and Pain
Side 2
1. Happy Feelin's
2. Southern Girl
3. Look at California
Side 3
1. Feel That You're Feelin'
2. The Look In Your Eyes
Side 4 – Studio Side
1. Running Away
2. Before I Let Go
3. We Need Love To Live
4. Reason
Maze: The M+M Mixes
1. Before I Let Go / M+M Mix 8:50
2. Joy and Pain / John Morales M+M Mix 11:11
3. Back In Stride / Extended M+M Mix 9:34* [original 12" version was 8:00]
4. Too Many Games / Extended Remix 7:30
5. Before I Let Go / John Morales M+M Mix Instrumental 6:56*
6. Joy and Pain / John Morales M+M Mix Instrumental 11:14*
7. Back In Stride / John Morales M+M Mix Instrumental 8:15
8. Too Many Games / John Morales M+M Mix Instrumental 5:47
*Previously Unreleased
Joy and Pain: The Lifelines Remixes
1. Joy and Pain / Lifelines Remix 7" feat. Kurtis Blow 4:17
2. Joy and Pain / Lifelines Remix Radio Version feat. Kurtis Blow 6:56
3. Joy and Pain / Lifelines Remix feat. Kurtis Blow 8:47
4. Joy and Pain / Lifelines Remix Instrumental 8:32
5. Joy and Pain / Original LP Instrumental 7:21