Megadeth To Celebrate 35th Anniversary With Special Releases, Exclusive Merchandise & More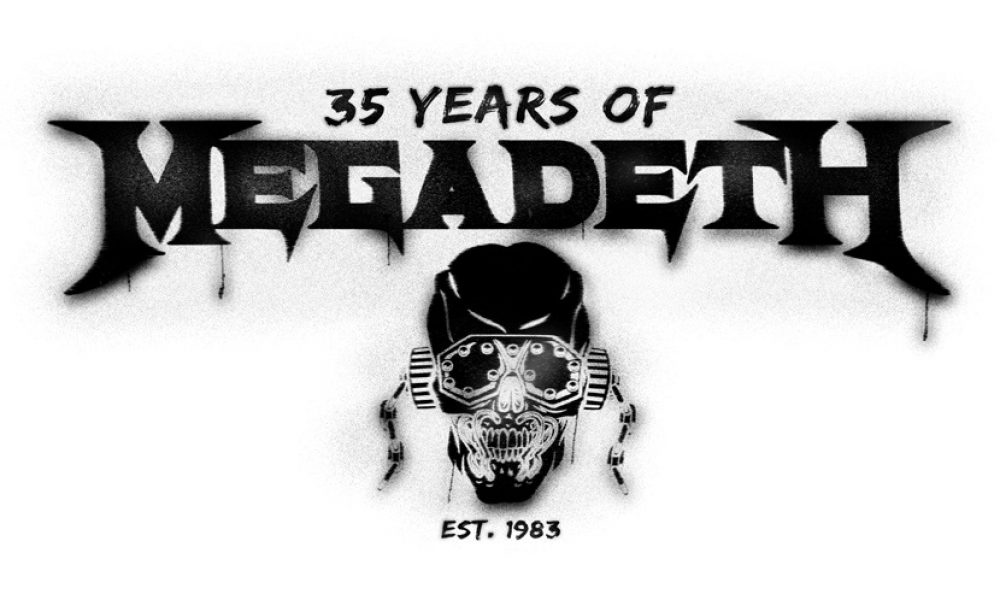 Multi-Platinum thrash metal pioneers Megadeth have announced they will celebrate the band's 35th anniversary throughout 2018, with special releases, exclusive merch items, and one-of-a-kind events and opportunities for fans worldwide. The band's founder member Dave Mustaine will also celebrate the band's anniversary on his weekly radio show. The announcement comes two years to the day since the release of their acclaimed, Grammy-winning album, Dystopia, on 22 January, 2016.
"When I started Megadeth, I didn't imagine myself living for 35 years, let alone my band reaching this incredible milestone," says Dave Mustaine. "Thanks to almost everyone I've met, worked, and played with these last three and a half decades."
Kicking off the anniversary celebrations, Megadeth's new music video for 'Lying In State' launches on the band's website today at 7am PST / 10am EST exclusively for Megadeth Cyber Army members. The band is offering discounted Premium Cyber Army membership starting today at 7am PST / 10am EST through to 31 January at 11:59pm PST. In Megadeth's web store, all Dystopia items are specially priced for two weeks, beginning today.
Throughout the year, Dave Mustaine will also celebrate the band's anniversary on his weekly Gimme Radio show, "The Dave Mustaine Show," which premieres each Thursday at 12pm PST/ 3pm EST, with exclusive giveaways, contests, and behind-the-scenes stories about his career and Megadeth. Fans can tune in and communicate directly with Mustaine in the Gimme Live chat feed at gimmeradio.com or via the Gimme Radio app.
 One of the original "Big Four," thrash metal acts, Megadeth burst onto the scene 35 years ago and virtually invented a genre with their debut album Killing Is My Business… And Business Is Good! (lauded by VH1 as the "Greatest Thrash Metal Debut Album of All Time"). In total, Megadeth has sold more than 38 million albums worldwide, earning numerous accolades including 12 Grammy nominations and one win, and scoring five consecutive platinum album, including 1992's two-million-selling Countdown to Extinction.
Megadeth's latest album, 2016's Dystopia, debuted at No. 3 on the Billboard 200 Albums chart and drew international acclaim from critics and fans. It was featured in several Best Albums lists from leading music magazines, including Rolling Stone's 20 Best Metal Albums of 2016. The album's blistering title track also earned Megadeth the year's Grammy Award for Best Metal Performance.
Explore Our Megadeth Artist Page.
Format:
UK English