Mickey Guyton Tackles The National Anthem At The Super Bowl
The Grammy-nominated country singer showcased her incredible vocals at the game.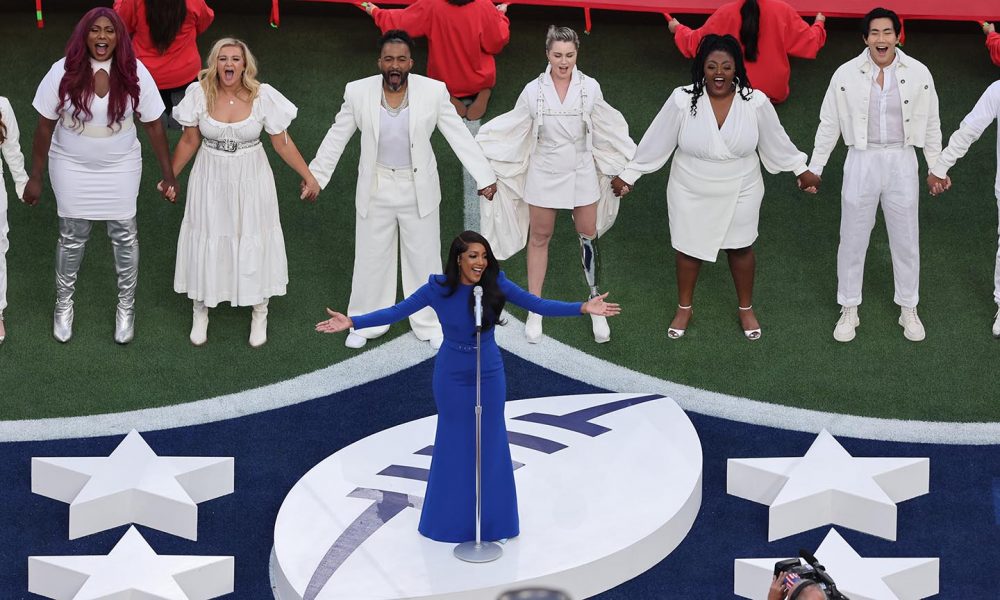 Last night, as Super Bowl LVI kicked off in Los Angeles, country star Mickey Guyton took center stage, opening the game with an emotionally-charged performance of the National Anthem. Joining Guyton on the field was a ten-piece backing choir, which elevated her stunning vocals.
"This is what it's all about! I am so honored and grateful to be able to sing the National Anthem today with this incredible group of people," she shared on Twitter from a rehearsal. Backstage, Guyton continued to celebrate, even posting a picture with Prince Harry. Today, she shared some behind-the-scenes moments with fans.
What a dream✨ Feeling so grateful this morning. ❤️ #SuperBowlLVI #NFL #NationalAnthem
Guyton's performance was one of many musical highlights of the night. R&B singer Jhené Aiko covered "America the Beautiful" during the pre-game introduction, complete with a live harpist. Fans were also ecstatic for the Super Bowl halftime show – a ten-minute-long spectacular, featuring Dr. Dre, Mary J. Blige, Snoop Dogg, Kendrick Lamar, Eminem, and surprise guest 50 Cent, performing their most iconic hits.
Ahead of her Super Bowl performance, Guyton released her broadly-acclaimed debut studio album, Remember Her Name, in September 2021. In addition to earning Guyton a Grammy nomination for Best Country Album, the record's title track is also in consideration for two categories, including Best Country Song and Best Country Solo Performance. A year earlier, Guyton received her first Grammy nod for her song "Black Like Me."
"This album helped me realize that I needed to let go of the idea that I wouldn't be accepted by every part of country music, or by everyone, in general. Instead, I focused on what I truly had to say about who I am on this record," Guyton told CMT in an interview. "I hope the freedom that making this album allowed me to experience encourages other artists to do the same."
Listen to the best of Mickey Guyton on Apple Music and Spotify.