Moody Blues Co-Founder, Drummer, And Writer Graeme Edge Dies At 80
Bandmate John Lodge praised his 'friendship, his love of life and his 'unique' style of drumming that was the engine room of the Moody Blues.'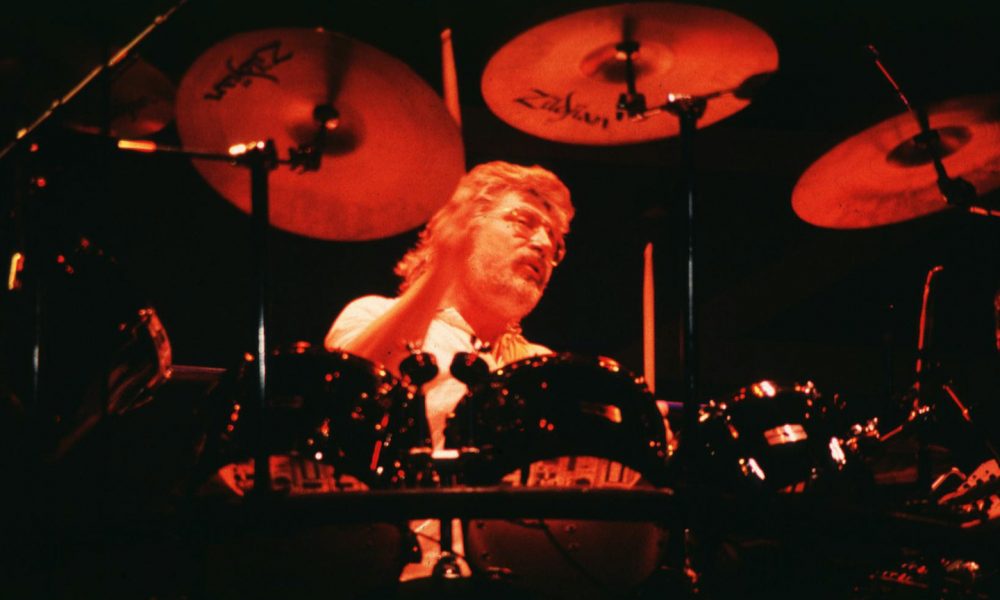 Graeme Edge, drummer with the Moody Blues, with whom he was a co-founding member in 1964, has died at the age of 80.
His longtime bandmate John Lodge tweeted, including a lyrical reference to their song "The Dream," which Edge co-wrote: "'When the White Eagle of the North is flying overhead'…sadly Graeme left us today. To me he was the White Eagle of the North with his beautiful poetry, his friendship, his love of life and his 'unique' style of drumming that was the engine room of the Moody Blues."
In a late 2017 interview that followed the 50th anniversary reissue of the band's classic 1967 album Days Of Future Passed, and before their induction into the Rock and Roll Hall of Fame, Edge told us: "We forced our way to the top by having everybody else pack in before us! We never had any idea [how long we would last], of course when we first started, we couldn't trust anybody over 30.
"What nobody considered at the time is that your fans do grow older with you, so you keep on going and we all of us love playing live. I'm 76 now and I don't know how long I can carry on, but I want to carry on. It keeps you young."
Edge was born in the Staffordshire town of Rocester on March 30, 1941; his mother was a pianist for silent movies and his father, grandfather and great-grandfather were all music hall singers. After managing the local Blue Rhythm Band, he became an original member of the Moody Blues along with Ray Thomas, Mike Pinder, Clint Warwick, and Denny Laine. He played drums on all of the original line-up's releases for Decca, which included chart-topping UK success with their cover of Bessie Banks' "Go Now" and a series of less successful follow-ups.
Edge helped the group transition to a more progressive sound with the departure of Laine and Warwick and the arrival of Lodge and Justin Hayward as joint frontmen. Days Of Future Passed was the first in an epic run of adventurous and experimental rock albums, which incorporated poetry, folk, mysticism, and other elements into a unique whole. He co-wrote lyrics for both the unlisted "Morning Glory" and the closing "Late Lament/Resolvement" on the 1967 album and wrote and narrated the short, introductory "Departure" for the follow-up In Search Of The Lost Chord.
Edge was an ever-present on drums and percussion on every subsequent studio release and on their exhaustive tours, many of which focused on their formidable US audience. He would continue to contribute poetry and narration to subsequent Moodies releases, writing the rocky instrumental "Beyond" for 1969's To Our Children's Children's Children.
His other credits included "Don't You Feel Small" for A Question Of Balance; "After You Came" for Every Good Boy Deserves Favour; and "I'll Be Level With You" for the band's 1978 reunion Octave. His "Going Nowhere" was on 1983's The Present and "Nothing Changes" on 1999's Strange Times.
During the band's mid-1970s hiatus, when all members turned to solo work, the drummer formed the Graeme Edge Band and released two albums, 1975's Kick Off Your Muddy Boots (on which one track featured a drum "duet" with Ginger Baker) and 1977's Paradise Ballroom.