Nicki Minaj Shares Fiery New Single 'Bussin'
The follow-up to 'Do We Have A Problem?' also features a guest verse from Lil Baby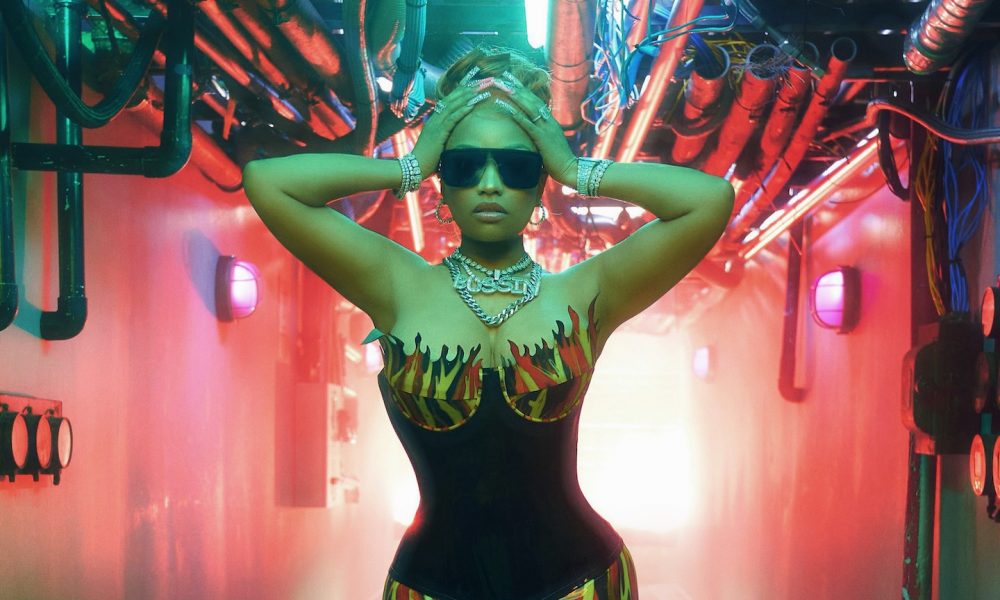 Nicki Minaj has today (February 11) released her second single of the year in "Bussin," another collaboration with Lil Baby.
The track follows hot on the heels of last week's (4) "Do We Have A Problem?" the video for which featured a preview of the new song at its end.
"I'm trying to ball, I just copped me some hoops/Blonde on my inches, brown on the roots," Minaj raps on the track, while she and Lil Baby take turns to boast: "Every-every bit of seven hundred, this is not a rental/Yellow-yellow Lamborghini coupe, this is not a lemon."
The rap queen announced the imminent arrival of "Bussin" earlier this week (7) and shared the artwork for the release at the same time. The sleeve sees her standing in a corridor featured in the "Do We Have A Problem?" video, wearing black shades, a big necklace featuring the single's title, and putting her hands on her head.
It's currently unclear whether another cinematic video will accompany "Bussin," however the visuals for "Do We Have A Problem?" ended on a cliffhanger, with Minaj and Lil Baby holding Power's Joseph Sikora at gunpoint.
Before Minaj made her comeback with her first single of 2022, she gave fans at the LA Clippers game at Los Angeles' Crypto.com Arena a sneak preview. She also performed her Diamond-certified single "Super Bass" at the event and was given her own personalized jersey by the team.
Later, she also stopped by The Late Late Show with James Corden to talk about the track. "I get nervous every single time," she said of her feelings before releasing new music. "Because you want people to like what you do – we wouldn't be doing it if we didn't want approval from our fans."
After Corden commented on the grand scale of the video, Minaj spoke about the idea behind it. "Before I was famous, I went to school and studied acting so I was like, 'You know what, why don't I bring something that I love to do to my music video, which is acting,'" she said. "We got Joseph Sikora and Cory Hardrict and Lil Baby is actually a great actor in my opinion as well, and we just did something that is in my lane, not me doing anything in anyone else's lane."