Sir Patrick Stewart Hosts 'Abbey Road' Crosswalk Dedication Ceremony In Hollywood
"The music of the Beatles transcends all barriers, flying high above borders (and walls) to unite and uplift us."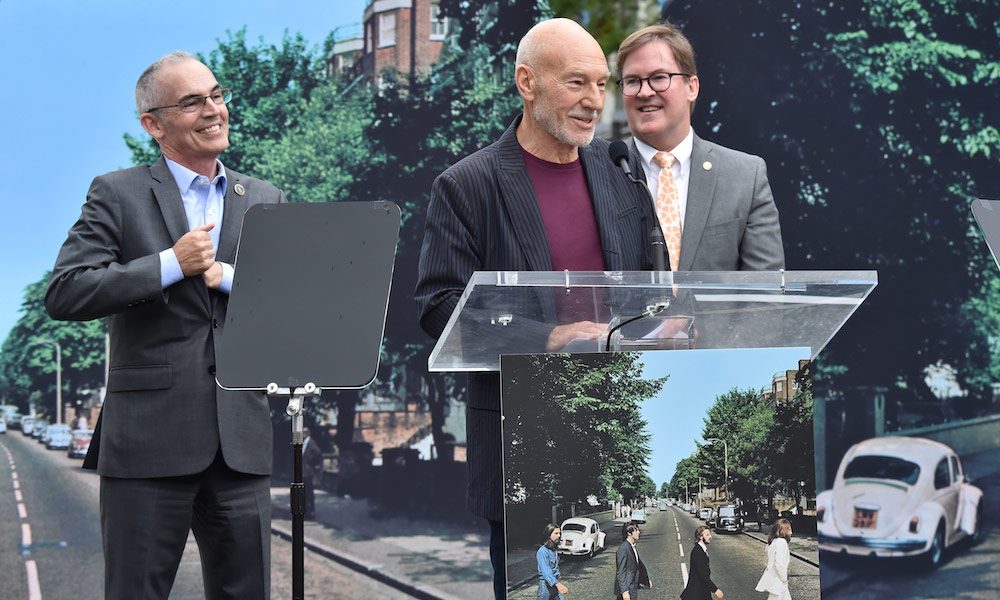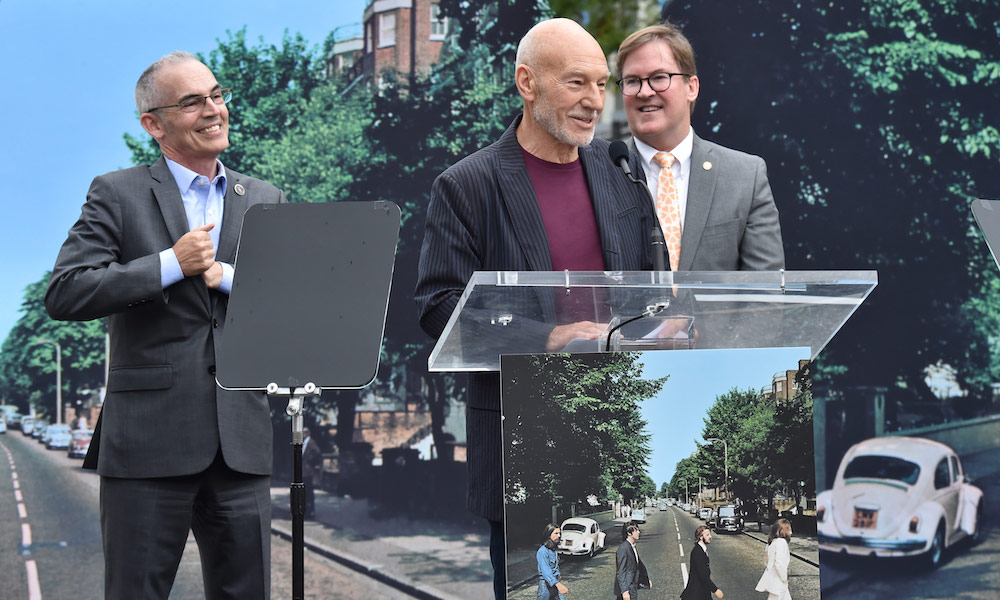 To celebrate the 50th anniversary of The Beatles' landmark album Abbey Road, the crosswalk by Hollywood's most famous intersection was officially named 'Abbey Road At Vine'.
As hundreds of visitors flock to the original Abbey Road crosswalk in London, famously captured on the album's cover, now Beatles fans have another destination to honour the Fab Four at the crosswalk in front of the Capitol Records tower in Los Angeles.
Special guest Sir Patrick Stewart, along with Los Angeles City council member Mitch O'Farrell (13th District) and Board of Public Works President Kevin James led the Vine Street crosswalk dedication and unveiled the commemorative City of Los Angeles sign on Thursday, 26 September.
"The music of The Beatles transcends all barriers," said Stewart, "flying high above borders (and walls) to unite and uplift us".
The award-winning actor also talked about his first encounter with The Beatles in 1964. He was 24, acting in a regional theatre company with fellow actress Jane Asher, who also happened to be Paul McCartney's girlfriend at the time.
"One Saturday night, the word went around backstage, 'Paul's out front!' recalled Stewart. "After the performance that night, standing around my dressing room in my underwear there was a knock at the door, it opened and standing in the door frame was Paul McCartney. 'Jane tells me you like Aston Martins he says, 'Here drive this', and threw the keys to me."
With McCartney and Asher in the back, Stewart drove the Aston Martin DB4 from Bristol to Bath and back, all the way, McCartney egging him on to go faster.
"All I could think was, if I kill Paul McCartney, that will be the Patrick Stewart legend for the rest of time," Stewart laughed.
Stewart then did a dramatic reading of various Beatles lyrics from Abbey Road, reminding the audience why he won a Grammy for Spoken Word.
"Why don't we do it in road and take some photos of this lovely Abbey Road zebra crossing," suggested Stewart and with that, the crowed lined up to snap their photo in front of the pop-op Abbey Road crossing.
Visitors also took selfies in front of the double-decker bus, wrapped in the Abbey Road album cover.
Along with the historic unveiling, numerous ceremonial festivities took place all over the world in honour of the album's 50th anniversary today, a day before the release of Abbey Road: Anniversary Edition, a lavish anniversary box set that includes a newly remixed version of the album and previously unreleased outtakes from the 1969 sessions.
The Beatles' Abbey Road can be pre-ordered here.
Format:
UK English