Paul McCartney Visits 'Egypt Station' For Upcoming Album, Plans "Little Gigs"
New release will be out on Capitol in September, as McCartney plans imminent small shows.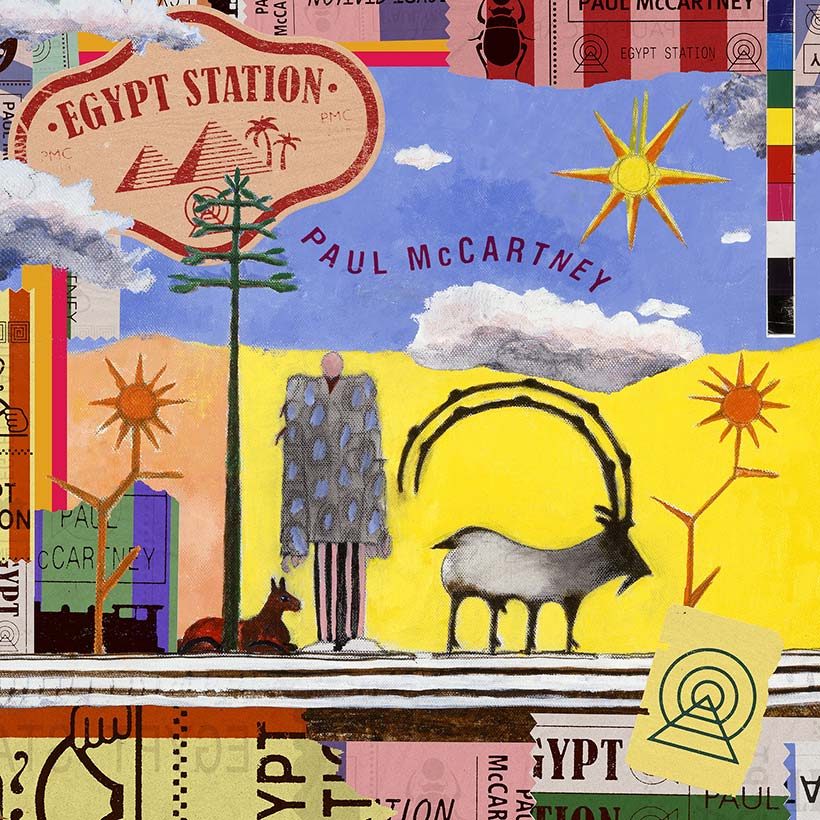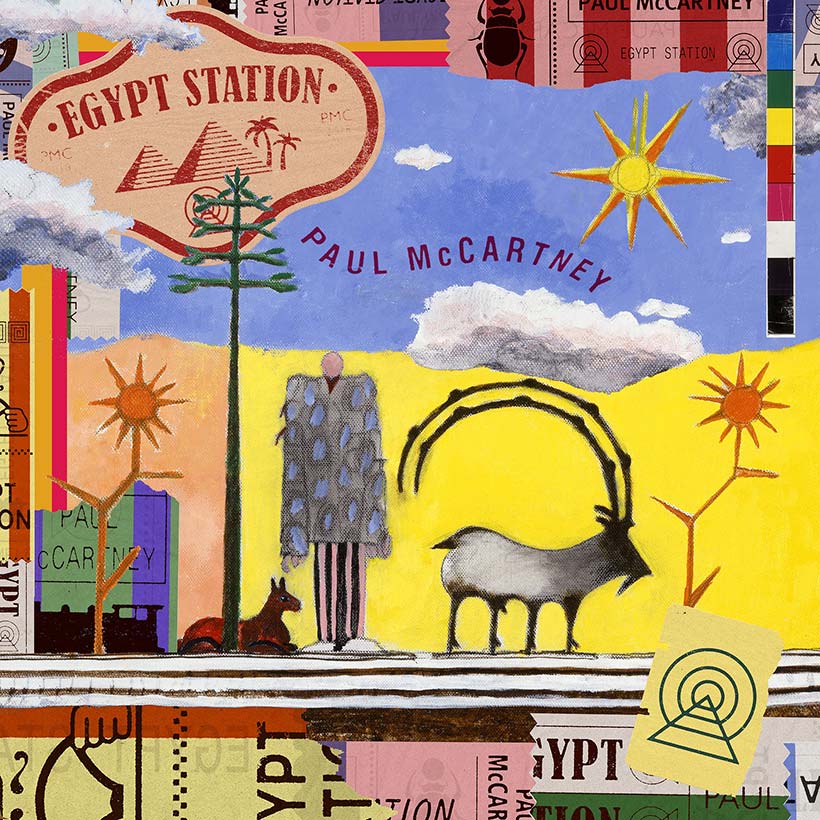 The eagerly-awaited details of the new studio album by Paul McCartney are confirmed today, with the announcement of the release of Egypt Station by Capitol on 7 September, on CD, LP, coloured vinyl editions. The artist has also been talking to the BBC about upcoming plans for live work, his views on gun control, retirement and more.
McCartney's first release of all-new material since 2013's New, Egypt Station was recorded in Los Angeles, London and Sussex and produced by Greg Kurstin, known for his work with Adele, Beck and Foo Fighters. That's with the exception of one track produced by Ryan Tedder, the in-demand writer, producer and frontman with One Republic.
As reported yesterday, the album is previewed by the release today (20) of the double A-sided single featuring the ballad 'I Don't Know' and the rocking 'Come On To Me.'
The album title shares its name with one of McCartney's own paintings. "I liked the words 'Egypt Station'," he says. "It reminded me of the 'album' albums we used to make… Egypt Station starts off at the station on the first song and then each song is like a different station. So it gave us some idea to base all the songs around that. I think of it as a dream location that the music emanates from."
The 14 songs on Egypt Station create a travelogue feel, bookended by the opening and closing instrumentals 'Station I' and 'Station II.' As the album press release states, each song "finds Paul capturing a place or moment before transporting the listener seamlessly to the next destination."
Tracks include 'Happy With You,' described as "an acoustic meditation on present day contentedness," the anthemic 'People Want Peace' and the seven-minute epic 'Despite Repeated Warnings', which features several movements and has, we're told, "a song suite structure harkening back to the days of Paul's previous combos."
McCartney says in an interview for today's Jo Whiley & Simon Mayo show on BBC Radio 2, that he would "probably" say yes if he was asked to play at Glastonbury Festival next year. This follows his daughters Stella and Mary saying they were launching a campaign to get him to headline there. "As long as Kanye and Ed Sheeran did it with you," says Mayo jokingly. "Yeah exactly, and Taylor Swift," says Paul.
Of his recent return home to Liverpool, toplay in a small pub and to film an episode of Carpool Karaoke with James Corden for The Late Late Show (airing this week), McCartney says: "Doing the Carpool Karaoke was a lot of fun, but the highlight was something I've not been wanting to do really, which was  revisit my old house which they've made into a National Trust house.
"I'd always heard about it and what I would do normally when I'm up in Liverpool, I'll just drive up and pull up outside it and then say to whoever I'm with in the car 'Ok that was my old room there, this is where we used to live,' and I'll tell them a few stories and I'd drive off, I'd never go in. But James [Corden] wanted to go in, so for the first time since I lived there, we went in and wow, it was kind of shocking.
"It's the same as everyone experiences when you go back — it was little. You know, it looked so much smaller because I was little. Although, I mean I was still living there when The Beatles were going on so I was early 20s, so I wasn't that little, but it just looked very small and as we say in Liverpool 'dead antwacky.'
"It was like, so old fashioned and I'm thinking 'Wait a minute, when I lived there it didn't seem old fashioned at all' because it's just your house and you don't gauge it against anything and, of course, that was the period when everyone's houses looked a bit like that, but it looked to me like, woah my God, like ancient history. But it was great. It was really exciting to go round — "oh, that was the cupboard where I kept the condensed milk. Oh, and there's where my dad washed the dishes' and all this. It sparked off a lot of nice memories for me."
In a further interview with Matt Everitt for BBC 6 Music, to be broadcast tomorrow morning (21), he says of his current mindset: "I'm always trying to be optimistic and I am always pretty optimistic…there's an expression somebody said to me once 'I'm an old man with many worries, most of which never happen' and I think that can be very true.
"We do worry worry worry worry about things…and people around us worry and I'll often say this to someone whose worrying about something, I say 'Don't worry, you know it's probably not going to happen, it'll be ok.' So yeah, I'm somewhere in the middle. I am optimistic, but I'm a realist so I try and keep this check on me that just doesn't allow myself to get carried away with 'Oh it's just all roses and sunshine.' I know it's going to rain, I know the winter's coming round. I know about that stuff for me to keep a check on myself and just think land somewhere in the middle of all of this and you'll be ok.
Speaking about his recent attendance at the March For Our Lives gun control rally in New York in March, Paul says: "I just think America's got itself in a crazy position, where I think we all know in the old days when the constitution was written it said the right to bear arms…but as time's gone by I think it should have been adjusted.
"Musket, yeah, you fire one shot then you've got to load, you've got to do this, and maybe it gives you time to think about firing the second shot. But with the assault rifles it's just got to a ridiculous stage. I've spent some time in Arizona where it's allowed to carry a weapon as long as it's visible. I remember being in a shop and some guy just swaggering around with a big gun and I said to the assistant, 'Is this allowed?' 'Yep, as long as it's visible' so I think all of that's catching up with America and I really don't know how they're going to do it, that's what I think is going to be the biggest problem.
"I'd love to see gun control. The greatest hope I think is the kids, the kids from all these shootings who were at this rally that we went to in New York and it was so powerful, they were so powerful. I really did think, if anyone's going to change it, it's going to be them."
Finally, on the subject of retiring, McCartney comments: "I was talking to — name dropping, clunk — Willie Nelson. I was talking about this whole retiring thing, 'cause you know he's older than I am even! And he says 'Retire from what?' and I think that just says it, you know 'Retire from what?'
"So no, I love it, I enjoy it…so we're going to do some little gigs in July, don't know what those are going to be yet. Note to self, must try and figure it out 'cause they're approaching fast and then we do some bigger productions and things after that."
Egypt Station is released on 7 September, and can be ordered here.
Format:
UK English