Streets In Plainfield, NJ Renamed To Honor P-Funk Master George Clinton
Clinton, 80, then played a two-hour show at the New Jersey Performing Arts Center in Newark.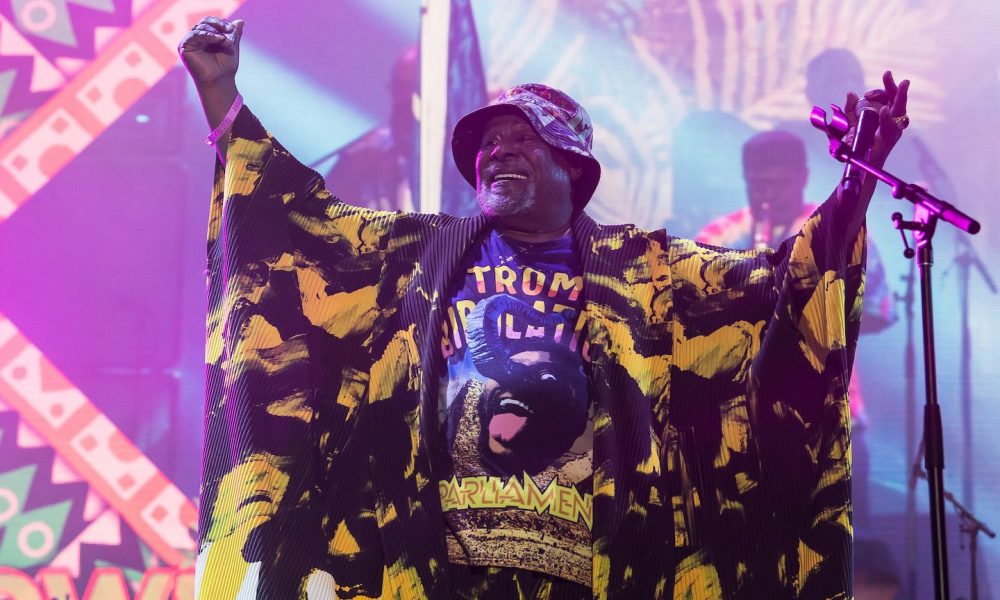 P-funk master George Clinton played a two-hour show to enthusiastic fans at the New Jersey Performing Arts Center in Newark last Friday (18), after local streets were renamed Parliament Funkadelic Way by city officials.
The show, by George Clinton and Parliament Funkadelic, was billed as an 80th birthday celebration for the veteran funk overlord, who hit that anniversary in July 2021. Clinton was joined on stage by Questlove, who plays drums on a number of songs, Nona Hendryx, and Ice-T.
"The crowd was in constant motion," reported Chris Jordan for mycentraljersey.com, "both young fans in their teens and 20s, and older ones, one pushing a walker down the aisle. The party kept going after the two-hour show in the NJPAC lobby where fans, and some P-Funk members, danced afterward to a deejay. The crowd wore platform shoes, top hats, casual Friday wear, sequined jackets – one literally had wings on."
Give Up The Funk (Tear The Roof Off The Sucker)
On Thursday (17), five blocks of Plainfield Avenue in neighboring Plainfield, south-west of Newark, were renamed Parliament Funkadelic Way by the city. Plainfield is where Clinton formed the early version of his pioneering funk band, as the Parliaments, in 1959. The music room at Avon Avenue School in Newark, which Clinton attended, was renamed the George Clinton Music Room. More than $5,000 worth of musical instruments were donated by Clinton and his music partners, Fender and JBL.
"I appreciate this so much," said Clinton before the renaming ceremony. "I want you to know there were a lot of people in Parliament making this music with this thing here. The band was from Plainfield and we made the music in Silk Palace and this organization was on 2nd Street. We're here with P-Funk and we stand here almost 50 years later." A P-Funk-themed mural is also planned for the city's train station and the Cleveland Avenue arts district is also due to be renamed.
Clinton is due to bring the Parliament and Funkadelic show to the UK in May for a tour that begins in Nottingham on the 22nd. The itinerary includes a date at London's O2 Forum Kentish Town the following night.
Buy the best of George Clinton and Parliament on vinyl.