Queen + Adam Lambert Talk 'Live Around The World' During Virtual Q&A
Hosted by BBC Radio presenter Matt Everitt, the trio sat down for a live-streamed Q&A about the new live album, their favorite performances, and the band's enduring legacy.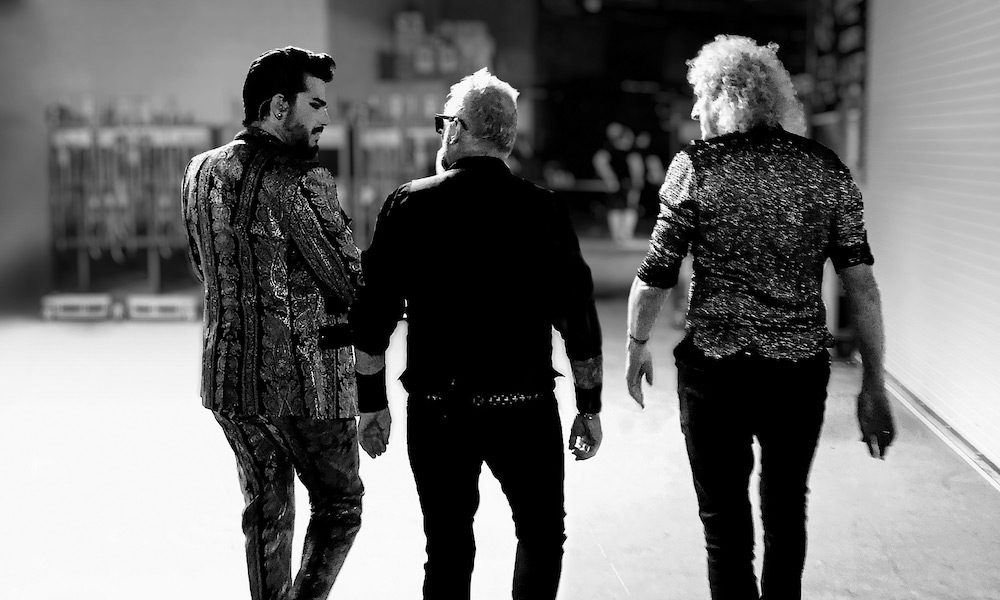 Even with tours on hold, fans can watch and enjoy some of the greatest live performances by Queen + Adam Lambert with the release of their new live collection, Live Around the World.
Ahead of the album's release on October 2, Queen's Brian May, Roger Taylor, and Adam Lambert participated in a virtual Q&A, answering questions from fans and journalists around the world.
Hosted by BBC Radio presenter Matt Everitt, the trio sat down for a live-streamed discussion about the new live album, their favorite performances, and the band's enduring legacy.
Live Around the World marks Lambert's first live record in nearly a decade and Queen's first since 1986's Live Magic. After nearly a decade of Lambert touring with the iconic rock group, the three artists reflected on their memorable experiences touring the globe.
One of the most common questions the band always gets is, what is their favorite Queen song? While all of the members expressed difficulty choosing, Brian May highlighted the Freddie Mercury-penned "Miracle" as a personal favorite.
"It always had this sort of strange, unique magic to it," shared May. "Especially since he wrote it at a time when it was hard for him to be optimistic, and he was. It's just very beautiful."
The group also talked about how certain songs resonate with different audiences, as evidenced by the various performances found on the new DVD.
"Different songs have a different meaning in different places in the world," said May. "'I Was Born to Love You' is a very big song in Japan, but not as much anywhere else. But playing things like 'We Will Rock You' and 'We Are The Champions' is wonderful because you know that will be a moment of extreme connection and joy."
Lambert echoed his sentiments, "Songs take on a different meaning, depending on what's going on in the world. Putting out a song like the 'Show Must Go On' right now with everything that's going on, it's pretty poignant."
"This was something that Freddy recorded with the band when he was suffering, and he was towards the end there. So, there are some parallels there and the idea that things may get hard, but you have to pick yourself up and carry on is a really good message."
When Lambert joined the group in 2009, he was stepping into some very big shoes, but he also acknowledges that he could never be seen as a replacement.
"You've got somebody who will never imitate him [Freddie] in any sense," said May. "Adam is his own person, and he's able to deliver that kind of magic, which we kind of wove together."
He continued; "Adam is the perfect vehicle; he can make you laugh and make you cry. We have benefited massively from having him around. He's a younger brother who comes in with all these lovely new ideas and enthusiasm."
Lambert shared May's enthusiasm for the band's comradery: "I've learned so much from Brian and Roger. Just being on the road with them and chatting about the world and life and love, I feel like I'm a better person and a better musician for it."
Along with sharing some of their favorite places to perform – Sydney, Tokyo, Seoul, New Orleans – the band also talked about what they missed the most about touring.
"There is a communal experience and shared joy with the audience that's uplifting, that's really what our shows are all about," said Taylor.
"It's really about celebrating this band and the music that Queen has put out," added Lambert.
"It's woven into pop culture. I knew Queen songs before I knew who Queen was!"
"We sort of became the establishment in some ways," explained May. "A lot of people think 'We Will Rock You' has always been there and they don't think anybody wrote it," he laughed.
One of the biggest challenges the band faced while making this record was choosing the performances that best captured the experience of a live concert.
Taylor name-checked a few of his favorite live records – The Who's Live at Leeds and James Brown's Live at the Apollo – while May said it was about capturing the chemistry between the band and the audience.
Like all musical artists, the band feels the loss of touring acutely, but the one silver lining has been the additional downtime that has allowed May to recover from his leg surgery.
"I've been given a year to recover my physical state and it's become my religion now." shared May. "It's getting fit because you have to be. To do our show, you have to be very fit."
"Every situation that changes gives you a new opportunity and so much has happened on the internet now. We've done stuff on Instagram and I think we're probably even closer to the fans because of that really."
As for Queen songs the band has yet to perform on stage together, Lambert said he would like to perform "You Take My Breath Away," while Taylor added he would love to hear Adam sing "A Kind Of Magic."
While Live Around the World captures Queen + Adam Lambert's global fanbase, it also showcases the band's intergenerational appeal, much in part to the lasting impact of the Bohemian Rhapsody film.
"You get a complete spectrum of ages there and that's really is wonderful to see," said Taylor. "We feel very honored that we can still connect with these younger people as well as our original fans that have always come to see us."
Queen + Adam Lambert's Live Around The World is out on October 2 and can be bought here.