Queen Relive Record-Breaking 'Rock In Rio' Show In 'The Greatest' Series
The clip recalls the band's 1985 trip to Rio de Janeiro to headline at what was to be the biggest rock festival ever held.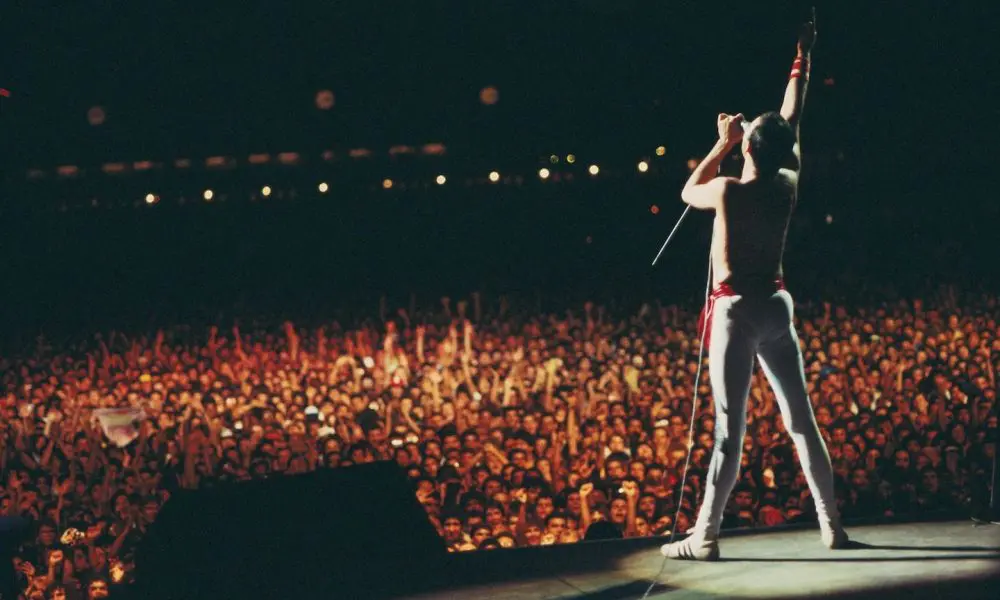 A look back at Queen's record-breaking performance at the massive Rock In Rio festival of 1985 forms Episode 29 of the Queen The Greatest video series, now available on the band's official YouTube channel.
The clip recalls Queen's trip in January 1985 to Rio de Janeiro in Brazil to headline at what was to be the biggest rock festival ever held, running over an epic ten days. They played on the event's opening night, January 12, and again as the closing headliners on January 19. The combined performances saw Queen entertaining more than 600,000 fans, and the edited highlights, broadcast on Brazil's national O Globo television channel throughout South America, were watched by nearly 200 million people.
Rock In Rio marked the expansion of a love affair between the band and South America that endures to this day. Queen's stadium tour stadium experiences in South America on the Gluttons For Punishment tour of 1981 opened that door, but they couldn't dare to expect the overwhelming reception they would receive on their return to Brazil four years later.
Asked by an interviewer how everything was going ahead of their opening performance, Freddie Mercury said: "I think everything is going to be OK. I've got first night jitters, I think, this is the first big night. We're going to watch the other bands and see how it's all going. I just want to get a feel of it all."
At the Cidade do Rock, purpose-built with a capacity of 250,000 people, Queen took to the stage at 2am, to be greeted by an extremely excitable crowd that stretched as far as the eye could see. As a BBC television report from the after-show party at Rio's famous Copacabana Palace Hotel shows, the band clearly didn't want such a memorable night to end.
'I do my job and come home'
"It's mind-boggling you know," said Freddie about playing to such a vast audience. "It's like a housewife to be honest, just go on there and do my job and then come home…it's just a job to me anyway, but it's mind-boggling, what can I tell you, it's quite amazing. I mean, you saw those people there."
Roger Taylor, asked how the concert had gone, added: "Very well. Fantastic. Our biggest audience yet, I think…the only thing was it was very late by the time we went on, but everybody stayed so, I mean, it was great really."
Noted Mercury: "When you've got a crowd as large as that, and the event, the adrenaline just takes you over, and so I guess I was sort of cavorting about more than usual, I don't know."
'We took the plunge…and look what happened!'
Of their ability to play in Brazil, Freddie observed: "The Government actually wanted us to be here, and I think a lot of the groups were scared to come here in the early days, as it were, and we took the plunge. And look what happened!"
Queen fans placed 500 lighted candles in the sand spelling out the band's name, and when Brian May noticed such a moving gesture, he and his daughter left the party for a while to join them on the beach, which their admirers there still remember. The band made an emotional return for Rock in Rio in 2015 with Adam Lambert, for the festival's 30th anniversary, and once again received a rapturous reception.
Watch every episode of Queen The Greatest on Queen's official YouTube channel.