Queen Share 'We Will Rock You – The Musical', Episode 43 Of 'The Greatest' Series
After its initial launch at London's Dominion Theatre, the musical would go on to become a global phenomenon.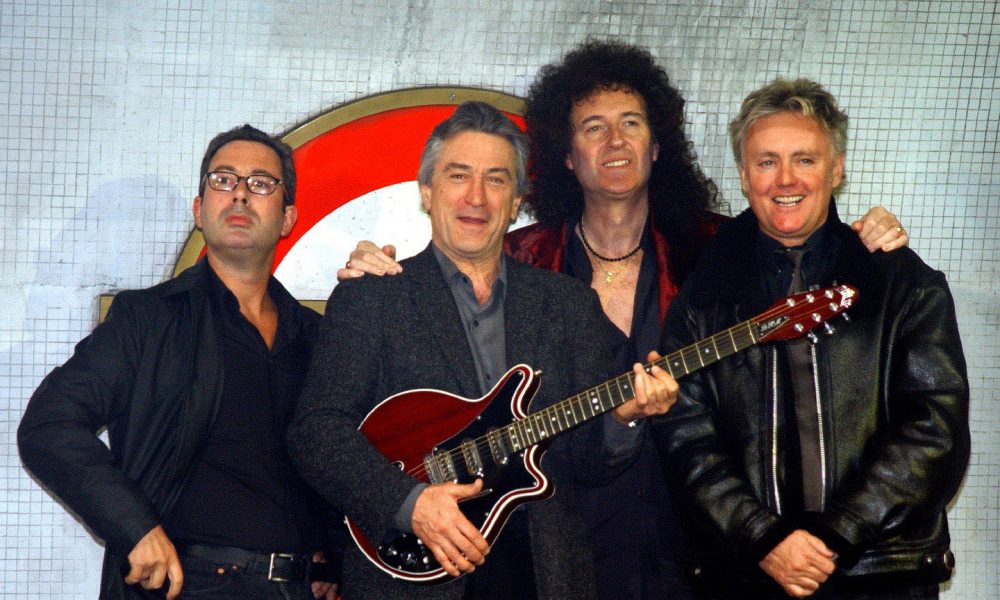 This week's episode of Queen's 'The Greatest' series returns to remember when Queen rocked London's West End with the launch of – We Will Rock You, their musical which would go on to become a global phenomenon. You can watch the episode in full below.
In May 2002, the Dominion Theatre in London opened its doors for the first time on a brand new rock theatrical experience set entirely to the music of Queen. We Will Rock You had been lovingly brought to life under the watchful eyes of Brian May and Roger Taylor, but was made possible by the unlikely pairing of Queen with a Hollywood legend after a chance meeting at the Venice Film Festival.
Roger Taylor: "We had a series of scripts given to us, and Robert De Niro, strangely, took an interest, which came completely from leftfield, and said he was starting the theatrical arm of Tribeca, his company, and he'd like us – this – our musical, to be his first thing. So we ended up co-producing it."
Another key partnership was involving esteemed comedy writer, Ben Elton, to create the story that the hit songs would be woven into.
Queen - We Will Rock You: The Rock Theatrical (2002) (Episode 43)
Roger Taylor: "And it's ended up being hugely funny as well as, you know making some points which Ben normally manages to weave into anything he does. And so I think it's a very good mixture of having something to say, having a sort of slightly silly story, but very funny and hopefully uplifting with tons and tons of hits."
Brian May: "It is funny, and it's also… it has a kind of serious side to it, it has something to say and I think it will… You better bring your handkerchief as well. I think there are some, some moments where you will feel something, something rather sad and feel something rather personal."
He adds: "Very often we've made very small changes to the lyrics and sometimes none at all. And somehow they just seem to fit the story incredibly well. Now this isn't an accident. You know, we've molded the story around the songs, and we've molded the songs around the story. It's not just like, let's sling some songs into a story at all. It's very much, I guess, we always took our work very seriously. So this is a genuine attempt if you like to make something which will stand for the rest of time as a musical, and perhaps some people in the future will forget that these songs ever had a life elsewhere. I don't know."
Predictably, some of the press reaction at the beginning was unduly harsh, but that proved irrelevant as the theatre going public flooded in, giving the show nightly standing ovations, and eventually making it the longest running show ever to play at the Dominion Theatre – an extraordinary achievement that was marked in 2012 when the stars turned out for a gala performance to celebrate the show's 10th anniversary.
Sam Fox: "Oh, it's amazing it's been going ten years, shows how popular still rock and roll is."
Chris Tarrant: "I was here at the first night, absolutely love it."
Emma Thompson: "I've seen it about 17 times."
Arlene Phillips: "Bring on another ten years."
Aldo Zilli: "I think it's going to go on forever. Ten years is nothing.
Tim Minchin: "It's Queen songs; it'll go forever won't it?"
Ben Elton: "We've had a laugh for ten years and so have the audience so we're thrilled, absolutely thrilled."
Brian May adds: "6 million people have been to this building to see the show over the last ten years, but we've always been doing new stuff for the show, just keeping it alive and moving, evolving."
From its opening night at the Dominion on 14 May 2002, We Will Rock You quickly became the overwhelming people's choice of musical in the UK and overseas. In its second year at the Dominion it won top honours in five categories in the Theatregoers Choice awards including Best New Musical. In 2011, nine years after the curtain first went up, the show won the prestigious Olivier Awards Audience Award, the only category voted for entirely by the public. The show went on to win a number of international awards for productions around the globe.
By the time the show closed at London's Dominion theatre on 31 May 2014, We Will Rock You had become the longest running show ever at the Dominion by a margin of nine years and performed an astonishing 4600 times. Taking its rightful place in West End history, the show sits proudly in the Top 10 longest running musicals of all time notching up over four and a half thousand standing ovations!
Internationally too, the show became a global phenomenon, playing in more than 20 countries and entertaining well over 15 million people.
And today, twenty years after that opening night, We Will Rock You is still going strong around the world, and with a new tour about to start in the UK, clearly Queen will be rocking the theatrical world for many more nights to come.
Watch every episode of 'The Greatest' on Queen's official YouTube channel.