R.E.M.: 'Out Of Time' An "Instinctive Response To A Big Change"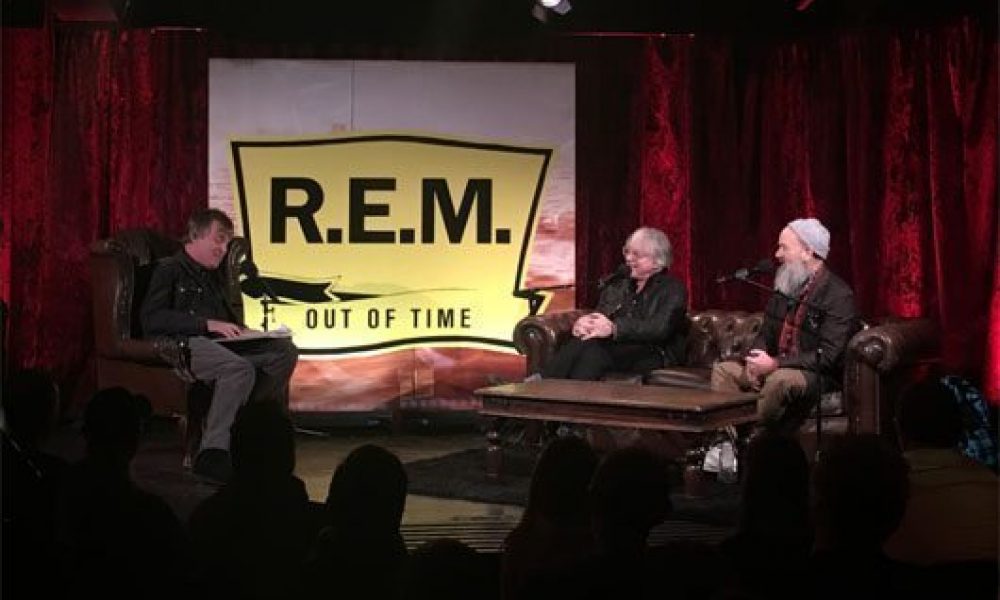 Twenty-five years since Out Of Time made R.E.M. the biggest band on the planet, its reissue is a sharp reminder that the album remains as relevant today as it ever has been. Returning to London's Borderline – the site of their infamously one-off chaotic gig as Bingo Handjob – for a Q&A with journalist John Harris, Michael Stipe recalls that the album came out at "a time of great change". With a new US President, Bill Clinton, on the horizon, the band were also faced with "the advent of technology".
Back then, Clinton was about to take office and the home computer was about to take over in the home. (Stipe noted that Out Of Time was "the last record that I wrote on a typewriter" – his mother's, which she'd had since university). Now, technology has taken another great leap, and the US has a new President elect. If Out Of Time was written as an "instinctive response to a big change", then it's no surprise that many fans' instinct is now to return to the album – now reissued in a 3CD+Blu-ray deluxe edition.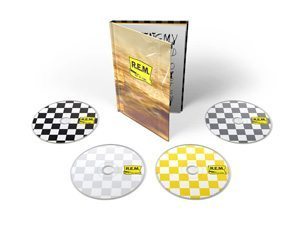 Yet while the world was changing around them, R.E.M., too, were in a state of transition. "I listen to the songs and I see me stretching myself as a lyricist and a singer," Stipe says today, adding that though, individually, the songs are "all over the map", the album remains a cohesive listen. "As it turns out, a lot of it stuck."
Mike Mills recalls that, after coming off the worldwide tour for the Green album, "We felt like we were making records that didn't sound like anybody else," and that the band were determined to write ones that didn't sound like R.E.M. "One of the rules we had was: there will be no more R.E.M. songs."
Guitarist Peter Buck was "getting a little tired of playing electric guitar", Mills adds, and, as a band, "we knew we had a lot of freedom to try and open things up". Mills, Buck and drummer Bill Berry swapped instruments, with the result that the songs on Out Of Time were "very different from what went beforem and very different from one another".
As part of the deluxe edition reissue of Out Of Time, many of the early demos that shaped the album are included. And while the band admit that they scrapped many "good" songs because they sounded too much like what had gone before, it's also fascinating to listen to the early versions of what did remain – among them a wholly instrumental version of 'Losing My Religion'.
R.E.M. - Losing My Religion (Official Music Video)
"As a creative person, it's me at my most vulnerable," Stipe notes of the demos. "To me, it's process. You're seeing me really stretching, really reach for something and not quite get there."
But the process is fascinating. Mills recalls that, for 'Shiny Happy People', "I came up with the little guitar riff that became the chords under the chorus," adding that they were initially "dark, sexy and mysterious". But that the song "got poppier and poppier as it went along… beyond The Beach Boys of poppiness", and grew into "a children's song for kids and young adults".
Mills also recalls that most of the songs were written between the three instrumentalists, before Stipe would sing his vocals on top, with lyrics that the band had never heard before. Where Mills might have felt  there were "a couple of songs where I heard great pop hits", Stipe would provide lyrics which revealed that he "did not". (Only years later, when the group were recording Accelerate, did Stipe find out that Peter Buck "had been putting riffs into these songs as hints for where he thought the vocals would be going" – though the singer would usually take the vocals in another direction entirely.)
R.E.M. - Country Feedback (Official Music Video) [This Film Is On Video Version]
Which is fitting, really, for a band that always went in their own direction anyway. Though Mills and Stipe revealed that Out Of Time earned its name because they had literally run out of time to pick a one – that it almost received no title at all, unless the group came up with one immediately – the name now not only captures what made the record so special in 1991, but why it has lasted well into the 21st Century. It was unlike anything that R.E.M. – or anyone else – was doing at the time.
"It really is a transformative record for us – and for me," Stipe says. And at a time when the world is once again in flux, Out Of Time retains the power transform the listener as well.
Featuring a host of rarities, outtakes and unreleased music, the Out Of Time: Deluxe Edition 25th-anniversary box set is out now. Order it here:
Format:
UK English