Ric Ocasek, Frontman Of The Cars, Dies Aged 75
The Cars' sound would prove massively influential on radio-friendly guitar rock and synth-pop alike, and continues to be celebrated today.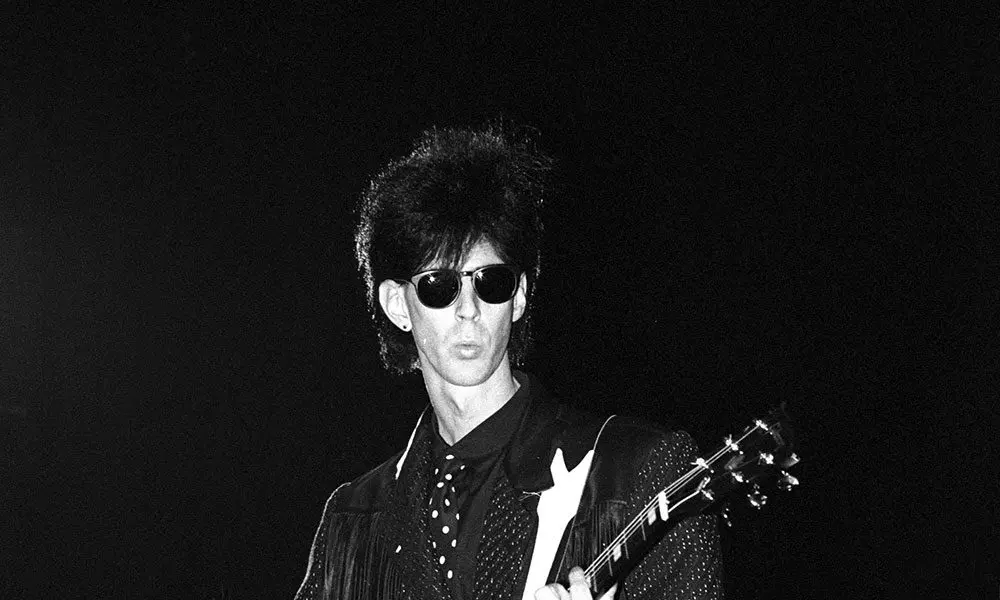 Ric Ocasek, frontman of pioneering Boston new wave rockers The Cars, died on Sunday, 15 September, after being found unresponsive in his Manhattan townhouse, New York City police confirmed to Billboard. The Cars' singer, rhythm guitarist and primary songwriter was 75. The cause of death has not been released at the time of writing.
The Cars story began when Ocasek met bassist Benjamin Orr (who died in 2000) in the '60s, and the two performed together in various bands (including a folk-oriented outfit called Milkwood) over the next decade, eventually forming The Cars in 1976 with Elliot Easton, Greg Hawkes and David Robinson.
Ocasek told Creem magazine in 1978 about The Cars getting noticed and signing their record deal:
"We did a live two-track tape locally, and pulled out about four songs and gave them to the local radio stations, and they started playing them", he said. "It was getting tons of requests — 'Just What I Needed' and 'You're All I've Got Tonight' were getting played on the main FM stations — and it got reported in the trade playlists. All of a sudden, the record companies noticed it and started coming to our shows — there were about eight of them interested."
The band's self-titled 1978 debut was a milestone in the burgeoning new wave scene, melding the sonically stripped down, rockabilly-inflected approach to rock of the punk explosion with the quirky synthesizers of art rock acts such as Roxy Music; but unlike a punk or an art rock band, the Cars were radio-friendly thanks to Ocasek's sturdy, lean songcraft, an abundance of irresistible guitar riffs and producer Roy Thomas Baker's immaculate production.
The Cars went top 20 on the Billboard 200 and produced two top 40 singles on the Billboard Hot 100, 'Just What I Needed' and 'My Best Friend's Girl.' The album's sound would prove massively influential on the next decade of radio rock and synth-pop, and continues to be celebrated by arena-filling and avant-leaning musicians alike.
The band's next three albums, Candy-O, Panorama and Shake It Up, continued in the same vein. If they weren't as masterful as the band's first outing, each still went top 10 on the album chart and produced their fair share of gems and radio smashes, such as 'Let's Go' (No. 14), 'Touch and Go' (No. 37) and 'Shake It Up' (No. 4).
Ocasek spoke of The Cars' musical approach in a 1982 interview with Creem.
"In the whole general picture, it doesn't seem as bland as most Top 40 and FM music. We haven't really changed it in that sense", he reflected. "We've tried to progress and basically work under the same principles. It's nice to have an esoteric taste and all that business. It's good that there are alternative kinds of music but it doesn't have to be for everybody."
1984's Heartbeat City found the band returning to the creative heights of their debut, placing Ocasek's brilliantly off-kilter turns of phrase over a lustrous bed of polished, synth-heavy rock. It produced five top 40 smashes, including the No. 3-peaking 'Drive,' one of the most popular ballads of the '80s. Additionally, several of its singles were early MTV staples, with 'You Might Think' winning video of the year at the first MTV Video Music Awards in 1984.
After a Greatest Hits and 1987's Door to Door, The Cars called it quits (although the proper line-up would reunite for 2011's well-received Move Like This album). They received six Grammy nominations, including best new artist, but never won, although the band was inducted into the Rock and Roll Hall of Fame in 2018.
Ocasek released seven solo albums, with 1982 Beatitude and 1996's This Side Of Paradise (which are both available digitally) being released through Geffen Records. Elsewhere, he found his biggest post-Cars success as a producer, helming Weezer's landmark self-titled debut (the Blue Album) and albums for an eclectic mix of artists such as Guided by Voices, Motion City Soundtrack, Bad Brains and Suicide. He released a book of poetry, Negative Theatre, in 1992, and 2012's Lyrics and Prose collected the lyrics of his solo and Cars albums.
Tributes to Ric Ocasek have already begun to appear on social media. "So sad. Such a great writer, singer, player, producer. My thoughts are with his family. Rest in peace," Peter Frampton wrote.
"Sorry 2 hear about #ricocasek RIP loved his work with the band #Suicide," Billy Idol tweeted, referring to the band Suicide, whom Ocasek worked with as a solo artist and producer.
Canadian rocker Bryan Adams tweeted, "RIP Ric Ocasek. Great songwriter and singer for the Cars," while a post from Weezer reads, "The Weezer family is devastated by the loss of our friend and mentor Ric Ocasek "
The Hold Steady shared a concert clip along with the caption "Our walkout: 'Since You're Gone.' RIP Ric Ocasek."
Format:
UK English