Rolling Stones Announce 50th-Anniversary 'Their Satanic Majesties Request' Box Set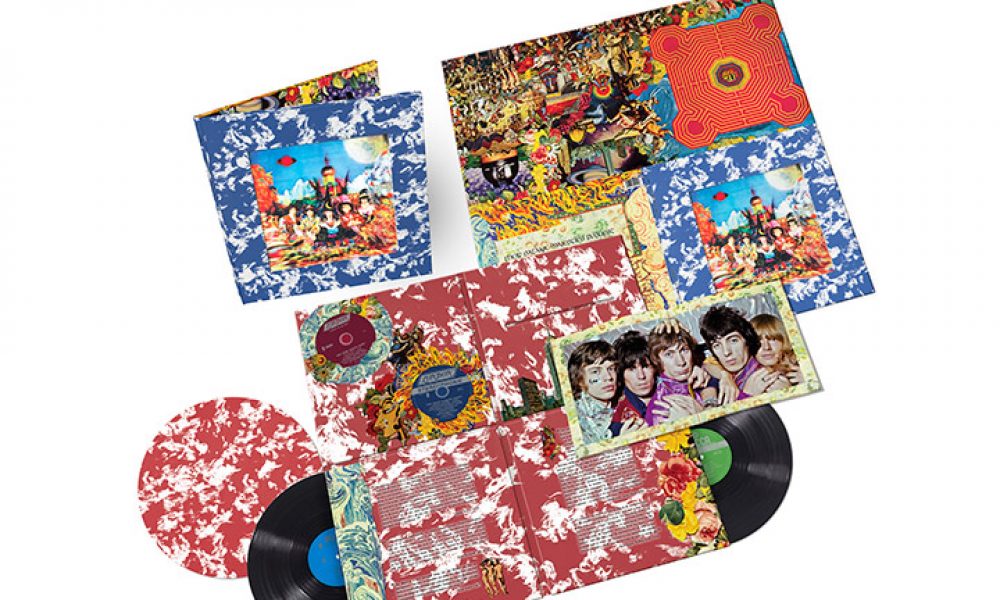 Released as 1967 was coming to an end, The Rolling Stones' Their Satanic Majesties Request took a bold step away from the group's blues and R&B roots, embracing psychedelia to keep the Summer Of Love going well into winter.
On 22 September, 50 years after its release, Their Satanic Majesties Request is being reissued in a limited edition deluxe double-vinyl/double-hybrid SACD box set containing new remasters of both the stereo and mono mixes of the album, plus a 20-page book featuring photos from the original album cover shoot, all housed in packaging that replicates the original 3D lenticular artwork that caught the Stones in their psychedelic pomp in 1967.
ABKCO Full Unboxing | Their Satanic Majesties Request - 50th Anniversary Special Edition
Hailed by DownBeat magazine as a "revolutionary event in modern pop music", but dismissed by Rolling Stone as "too infused with the pretentions of their musical inferiors", Their Satanic Majesties Request has gone on to divide fans and critics alike – though the album continues to fascinate, and remains an important stepping stone in the Stones' development from British Invasion pioneers to becoming "The World's Greatest Rock'n'Roll Band".
Awash with emerging experimental electronic instruments the likes of the Theremin and Mellotron, and bolstered by string arrangements from future Led Zeppelin bassist John Paul Jones, the original Their Satanic Majesties Request mix was a dense barrage of sound that found the Stones throwing every conceivable idea into their psychedelic vision. Fully revamped by Grammy-winning engineer Bob Ludwig, the new mono and stereo remasters offer fans a newfound clarity to the likes of 'She's A Rainbow' and '2,000 Light Years From Home'.
With Michael Cooper's original 3D artwork restored in all its glory, the 50th-anniversary edition of Their Satanic Majesties Request is as bold and bright as the era it came from – a request that cannot be denied.
The 50th-anniversary deluxe box set reissue of Their Satanic Majesties Request will be released on 22 September, and, while stocks last, uDiscover has an exclusive limited edition bundle with a slipmat (pictured, above). Scroll down to read the full tracklist and order the bundle here.
The full Their Satanic Majesties Request deluxe box set tracklist is:
Disc One, Side One (Stereo)
'Sing This All Together'
'Citadel'
'In Another Land'
'2,000 Man'
'Sing This All Together (See What Happens)'
Disc One, Side Two (Stereo)
'She's A Rainbow'
'The Lantern'
'Gomper'
'2,000 Light Years From Home'
'On With The Show'
Disc Two, Side One (Mono)
'Sing This All Together'
'Citadel'
'In Another Land'
'2,000 Man'
'Sing This All Together (See What Happens)'
Disc Two, Side Two (Mono)
'She's A Rainbow'
'The Lantern'
'Gomper'
'2,000 Light Years from Home'
'On With The Show'
Hybrid SACD One (Stereo)
'Sing This All Together'
'Citadel'
'In Another Land'
'2,000 Man'
'Sing This All Together (See What Happens)'
'She's A Rainbow'
'The Lantern'
'Gomper'
'2,000 Light Years from Home'
'On With The Show'
Hybrid SACD Two (Mono)
'Sing This All Together'
'Citadel'
'In Another Land'
'2,000 Man'
'Sing This All Together (See What Happens)'
'She's A Rainbow'
'The Lantern'
'Gomper'
'2,000 Light Years from Home'
'On With The Show'
Format:
UK English