Sabrina Carpenter Releases Music Video For Latest Single 'Skin'
'People can only get to you if you give them the power to and a lot of people were trying to get to me.'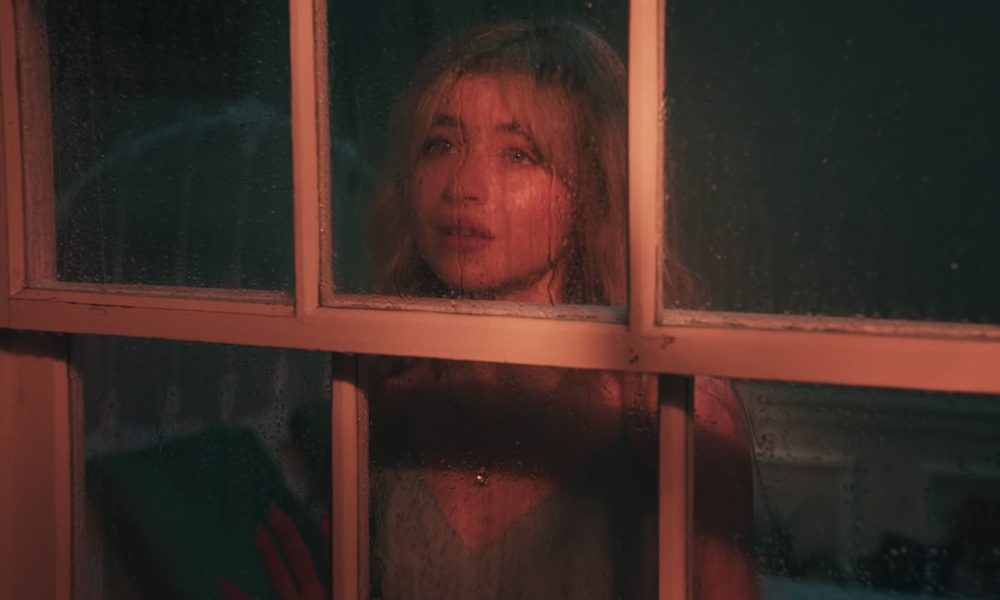 Sabrina Carpenter has shared the music video for her latest single "Skin" released via Island Records.
In the Jason Lester-directed visual, Carpenter appears alongside actor Gavin Leatherwood in a picture-perfect happy relationship. There's slow-dancing, reading on the couch, and dinner with champagne. But about halfway through, rain, snow, smoke, and an earthquake threaten to disrupt the pair's on-screen serenity.
Carpenter wrote "Skin" with Tia Scola and Ryan McMahon last month after reaching a breaking point in allowing outside forces to have an influence on her emotional state. In an Instagram post discussing the meaning of the song, she wrote: "People can only get to you if you give them the power to, and a lot of people were trying to get to me. The song isn't calling out one single person, some lines address a specific situation, while other lines address plenty of other experiences I've had this past year. It also shows that many things have actually gotten under my skin, and I'm still learning to not give other people so much power over my feelings. I know a lot of you struggle with the same thing."
The post was also issued as a clarification about the origin of the song, addressing speculation that the song was written in response to Olivia Rodrigo's debut single "Drivers License." The song, which features the lyric "And you're probably with that blonde girl / Who always made me doubt / She's so much older than me / She's everything I'm insecure about," is said to be about Rodrigo's split with Joshua Bassett, who has recently been linked to Carpenter.
Whether or not "Skin" functions as a direct response, the connection between the two tracks is evident as the 21-year-old singer and songwriter sings: "Maybe we could have been friends / If I met you in another life / Maybe then we could pretend / There's no gravity in the words we write / Maybe you didn't mean it / Maybe blonde was the only rhyme."
Aside from the fan-fueled drama surrounding both artists' releases, "Skin" is a solid introduction to Carpenter as a skilled songwriter for her Island Records debut.
"Sabrina Carpenter is a star," Darcus Brees, president, and CEO of Island Records, said in a statement. "Her powerful vocals, infectious personality, and successful career as a singer, songwriter, and actress attest to that. We are thrilled to welcome such a talented young woman to the Island Records family."
The 21-year-old artist was equally excited to join Island. "Darcus and the team really understood my vision from the moment we first met. They just got me and have been super supportive," she explained in a statement. "It's the perfect place for me to start the next chapter of my music career and evolution as an artist. I can't wait for everyone to hear what we're working on for this year!"
With the arrival of its visual component, new listeners are granted a glimpse at the singer's attention to detail and creative vision.
Listen to Sabrina Carpenter's latest single "Skin" here.