Rudolf Schenker Tells Of Trouble In Corpus Christi In Latest 'Beyond The Bus' Starring Scorpions
'We were on the Blackout Tour in 1982 with special guests Iron Maiden…,' begins the tale.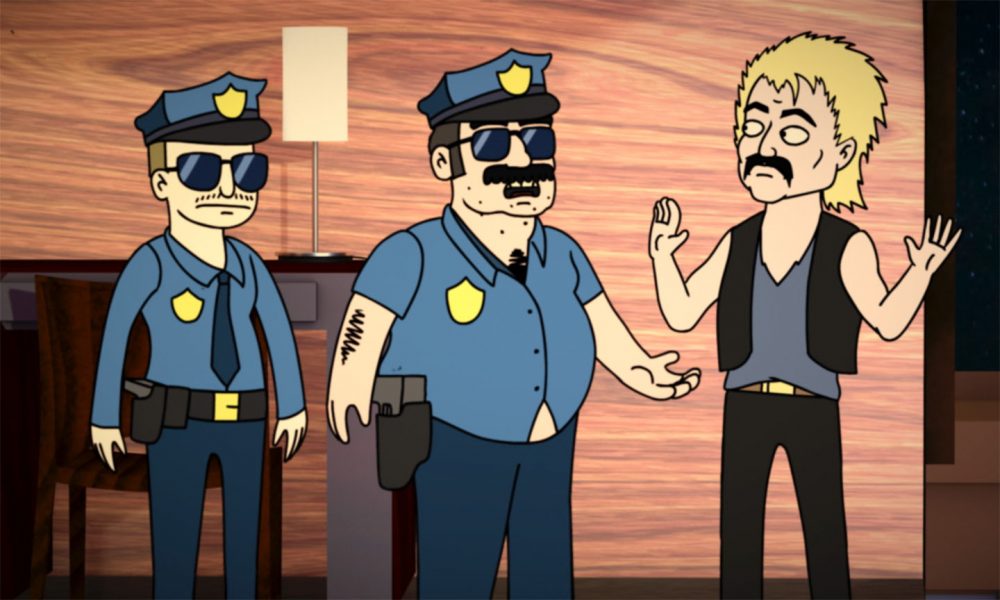 Shortly after releasing their celebrated new album, Rock Believer, Scorpions have become the latest band to be featured on uDiscover Music's animated video series, "Beyond The Bus."
Filmed exclusively for uDiscover Music, 'Beyond The Bus' has already showcased tales of ribald rock' n' roll revelry from Billy F Gibbons, Eagles Of Death Metal's Jesse Hughes, irrepressible Aussie rockers Airbourne and blues-rock legend George Thorogood among others. Indeed, it's fair to say that only bands with an unquenchable thirst for the road and the more exotic fare available at rock's top table are likely to be immortalized in this series. This is where Scorpions come in, who have plenty of tales from their decades on the road.
Scorpions | Beyond The Bus
"We were on the Blackout Tour in 1982 with special guests Iron Maiden…We were all staying in the same hotel in Corpus Christi," explains Scorpions founder and guitarist Rudolf Schenker. "We all went up to this bar on the roof of the hotel and partied like crazy. The security of the hotel came to me and asked me to come with him…I didn't think there was anything bad about it, so I went with him. As soon as I left the rooftop bar, he took me to his office."
Band members like Klaus Meine and fans of the group witnessed Schenker enter the office, and all were puzzled as to what, exactly, was going on. "They were shouting outside of the office, 'Let him go!' A second guy entered the office and asked what was going on," adds Schenker. He was asked to wait for the police to arrive because he was behaving…poorly, according to the security officer. "The police came and people were still shouting for my freedom. The cops asked my name and told me I had to stay in jail until tomorrow. Fans were still chanting my name, but the police took me out the doors and we went to the station."
Schenker headed to the Corpus Christi police station, but all these years later, he still finds humor in the crazy event. "I can't believe I spent six hours in jail! In the morning, someone asked me to go with him and I went into the police office. He asked what was going on with me, and I said, 'What's happening with me? What are you guys doing!' Apparently, the security guard at the hotel was scared by how we were behaving." Schenker owed $68 for his infraction, and had to call his tour manager to get the money. Schenker was waiting with the police officers and taking photos and autographs with them, who happened to be fans. Even in trouble, Rudolf Schenker and Scorpions have fans wherever they go.
Scorpions are currently on tour in support of their new album Rock Believer. The band's next date is May 6 at Madison Square Garden. Visit Scorpions' official website for more information.