Watch The Video For Shania Twain's Feisty New Single 'Giddy Up!'
The track sets the stage for the star's eagerly awaited new album, 'Queen of Me,' set to arrive on February 3, 2023.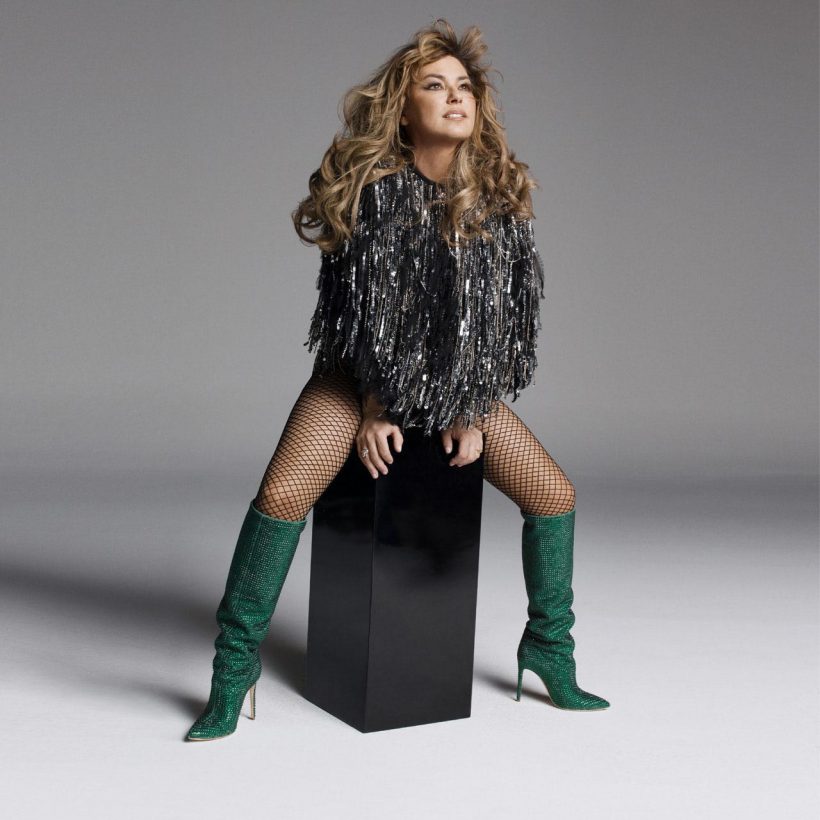 Strutting into 2023, five-time Grammy Award-winning legend and the best-selling female artist in country music history Shania Twain shares a brand-new single entitled "Giddy Up!" today. You can watch the song's official video below.
The track sets the stage for Twain's eagerly awaited new album, Queen of Me, arriving on February 3, 2023. It notably stands out as her sixth original full-length offering, first record since 2017, and official debut for her new label partner Republic Nashville, a division of Republic Records.
Shop the best of Shania Twain's discography on vinyl and more.
Kickstarting the record, "Giddy Up!" rides out of the gate with a fiery, flirty, and fun chorus tailormade for singing and dancing along. As always, it showcases her show-stopping range and undeniable charisma.
Shania Twain - Giddy Up! (Official Dance Video)
Shania says, "The saying "Let's Go Girls!" is such a wonderfully uplifting sentiment now, but it's just something I said during the recording in the studio and I guess that's the same for "Giddy Up!". These lines come to me when I'm thinking about how to put a little "pep in my step." I want people to feel good when they hear the new album. I want to set a celebratory tone and "Giddy up!" is a way to call to the audience and say "let's get ready for some fun!"
Queen of Me consists of 12 new tracks. From the energetic opener "Giddy Up!" through the empowered title track "Queen of Me" and passionate finale "The Hardest Stone," produced by and featuring Tyler Joseph (Twenty One Pilots), the LP represents a deep and dynamic creative statement from this iconic voice. She set the stage for everything with the single "Waking Up Dreaming" which Rolling Stone called "a shot of caffeinated bliss" and The Today Show called "an absolute bop."
To celebrate this next era in style, Shania will also embark on the global 'Queen of Me' Tour, produced by Live Nation. The tour marks the first time fans around the world will get to see the queen in all of her glory in nearly five years, following a highly successful Vegas residency run. Kelsea Ballerini, Lindsay Ell, Hailey Whitters, Breland, Robyn Ottolini, Priscilla Block, and Mickey Guyton, Lily Rose, Talk, and Tinelle Townes will be joining Shania on select dates throughout the tour.
The 'Queen of Me' Tour kicks off on Friday, April 28 at Spokane Arena in Spokane, WA and makes stops across North America and Europe in Vancouver, Denver, Toronto, Los Angeles, New York, London, Dublin and more before wrapping up on November 14 at Rogers Arena in Vancouver, BC.
Queen Of Me includes the following tracks:
"Giddy Up!"
"Brand New"
"Waking Up Dreaming"
"BEST Friend"
"Pretty Liar"
"Inhale/Exhale AIR"
"Last Day of Summer"
"Queen of Me"
"Got It Good"
"Number One"
"Not Just A Girl"
"The Hardest Stone"