Watch The Cryptic New Video For Sleep Token's 'DYWTYLM'
The enigmatic alt-rock's third album 'Take Me Back To Eden' will be released through Spinefarm on May 19.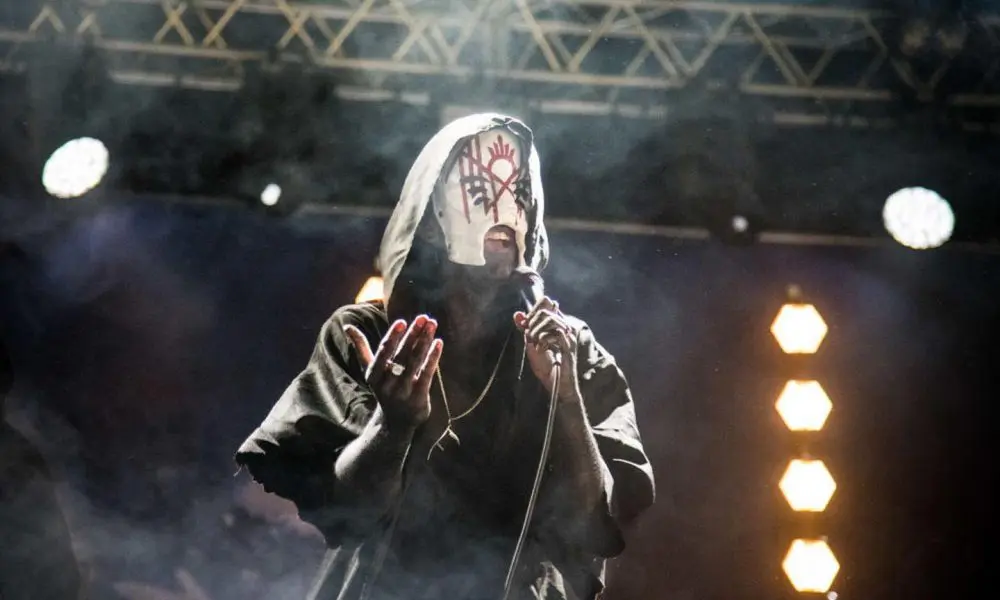 Mysterious, fast-rising alt-rockers Sleep Token offer up another tantalizing taste of their upcoming album, Take Me Back To Eden with "DYWTYLM," which is out now.
"DYWTYLM" is the least metallic of the band's 2023 songs so far. Indeed, singer Vessel and his numbered bandmates, II, III and IV, fully forego the trademark heaviness they're known for, and lean into their poppiest inclinations. The results are still surreal and captivating. Check out "DYWTYLM" above via its cryptic music video, which, like its predecessors, introduces a mysterious, otherworldly biomechanical figure. You can check the track out below.
Sleep Token also recently announced details of their 'Rituals' headlining tour of North America, which kicks off in Philadelphia on September 9 and finishes up the following month. Sleep Token will also be playing several U.S. festivals during this stint, including Louder Than Life and Aftershock.
With fan worship more intense than ever, and worldwide interest and intrigue growing fast on a global basis, Sleep Token recently announced album number three, Take Me Back To Eden, set for release on May 19 via Spinefarm.
Take Me Back To Eden (an hour-plus of music across 12 distinctive tracks) is Part 3 of a trilogy, a spectacular chapter-closer in the ongoing Sleep Token saga – a saga that kicked off in earnest with debut album Sundowning (2019).
Meanwhile, available album tracks, "Chokehold", "The Summoning", "Aqua Regia", "Granite" and "Vore" have collectively amassed over 85 million streams, whilst standout single, "The Summoning", has generated some 38.8 million streams alone, causing the track to trend on Twitter and take the #1 song spot on a host of international Spotify viral charts, as well as being selected as a 'YouTube Trending Artist On The Rise', featuring on YouTube's home page, viewed by millions of people every day.
The unprecedented accolades keep rolling in, between the fact that ST has never played a headline show in the UK that didn't sell out, "Aqua Regia" picking up consistent airplay on the Radio One 'Future Sounds' show hosted by Clara Amfo, plus huge popstar Demi Lovato sharing Sleep Token's music with her 153 million Instagram followers, Sleep Token consistently smash boundaries that they refused to acknowledge in the first place.
And even though Sleep Token notoriously do not speak to the press (out of necessity, not ego or gimmick), media can't help but write about the phenomenon, reporting on the band's every move; NME note, "Sleep Token offer their fans an entire world to immerse themselves in if they so wish. It's a place of escapism, and the foundation of a huge fan community that's dedicated to studying the band's creativity. While they have the same fervor as any other fandom, there's still a notable difference." Whilst Metal Hammer called them "the most exciting band in metal right now."
Pre-order Take Me Back To Eden.
Sleep Token 'Rituals' US Tour Dates:
September
8 Alton, VA — BLUE RIDGE ROCK FEST*
9 Philadelphia, PA — Union Transfer
10 New York, NY — Webster Hall
12 Worcester, MA — The Palladium
13 Baltimore, MD — Ram's Head Live
15 Detroit, MI — The Cathedral at The Masonic
17 Minneapolis, MN — The Myth
19 Dallas, TX — Studio at The Factory
20 Oklahoma City, OK — Tower Theatre
22 St. Louis, MO — Hawthorn
23 Louisville, KY — LOUDER THAN LIFE*
25 Denver, CO — The Ogden Theatre
26 Salt Lake City, UT — The Complex
28 Spokane, WA — Knitting Factory
29 Boise, ID — Knitting Factory
30 Seattle, WA — The Showbox Market
October
1 Portland, OR — Roseland Theatre
3 San Diego, CA — The Observatory NP
4 Los Angeles, CA — The El Rey Theatre
5 Anaheim, CA — House of Blues
7 Sacramento, CA — AFTERSHOCK*
* = festival appearance