The Killers Announce Deluxe 'Pressure Machine' Reissue And Live Film
The bonus-filled deluxe edition of the band's seventh studio album is available March 25.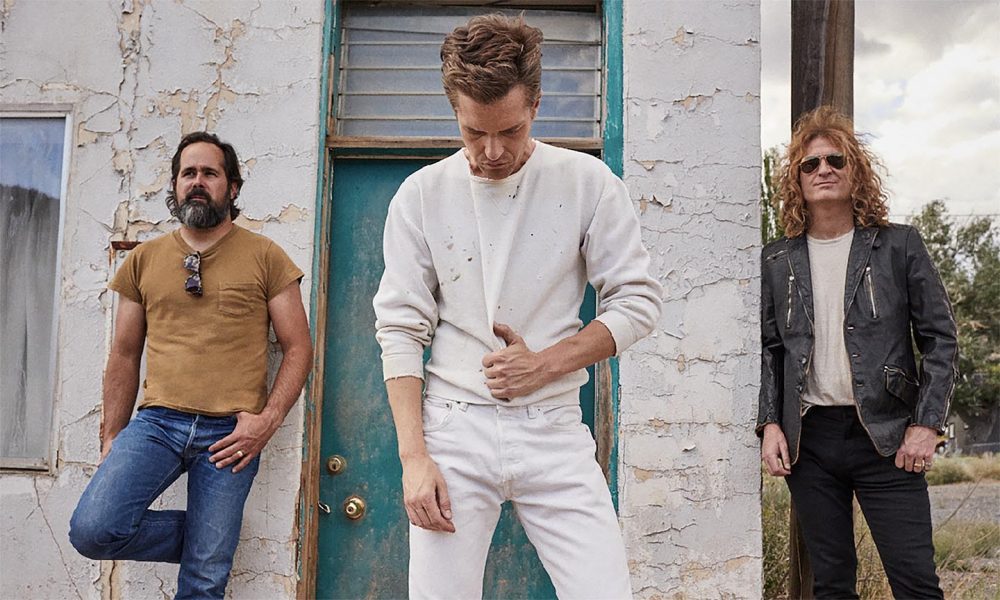 The Killers have announced a deluxe edition of their critically-acclaimed seventh studio album, Pressure Machine. Available March 25, the expanded album will include reimagined versions of select songs, including an acoustic rendition of opener "West Hills"  and new, full-band take on the Phoebe Bridgers collaboration, "Runaway Horses."
Staying in tune with the album's initial creation, the updated songs were co-produced by The Killers, as well as Foxygen's Shawn Everett and Jonathan Rado. Originally released in August of 2021, Pressure Machine marked the band's seventh No.1 record in the UK. It also topped Billboard's Top Rock Albums chart in the US.
In an interview with the NME, drummer Ronnie Vannucci Jr. shared that the band began working on Pressure Machine immediately following the release of their 2020 album, Imploding The Mirage. "The original intent was to roll those over into another record," he recalled. "But the sky was falling and we were hit with this emotion – especially [frontman] Brandon [Flowers]. We wanted to do something following that feeling. I remember him saying, 'Follow me down this road'. We put those songs to the side and embarked on something new and fresh. That's what became Pressure Machine."
Along with the deluxe reissue, The Killers are also releasing a short live film, Notes From A Quiet Town, through Facebook on March 21. Filmed in Flowers' Utah hometown, which served as the conceptual inspiration for the album, the band will perform three stripped-back songs and spotlight the stories of local residents. The band shared a cryptic trailer today, which featured images of a moving train.
Notes From A Quiet Town (Trailer)
The band is also readying to launch an an extensive tour, launching April 15 in Las Vegas. The 50+ date run will take the band across North America and Europe, with headlining performances at a number of festivals throughout the summer, including Sweden's Lollapalooza Stockholm and Czech Republic's Colours of Ostrava. More information, along with a complete list of tour dates, is available through the band's official website.
Buy or stream Pressure Machine here. Continue scrolling for the complete Deluxe Edition tracklist.
Pressure Machine Deluxe Edition Tracklist:
1. West Hills
2. Quiet Town
3. Terrible Thing
4. Cody
5. Sleepwalker
6. Runaway Horses
7. In The Car Outside
8. In Another Life
9. Desperate Things
10. Pressure Machine
11. The Getting By
12. "The Getting By II"
13. "The Getting By III"
14. "The Getting By IV"
15. "The Getting By V"
16. "Runaway Horses II"
17. "West Hills II"
18. "West Hills III"