The Police's 'Greatest Hits' Comes To 180 Gram Vinyl In Double LP Edition
The compilation features 16 tracks, of which five were No.1 singles in the UK.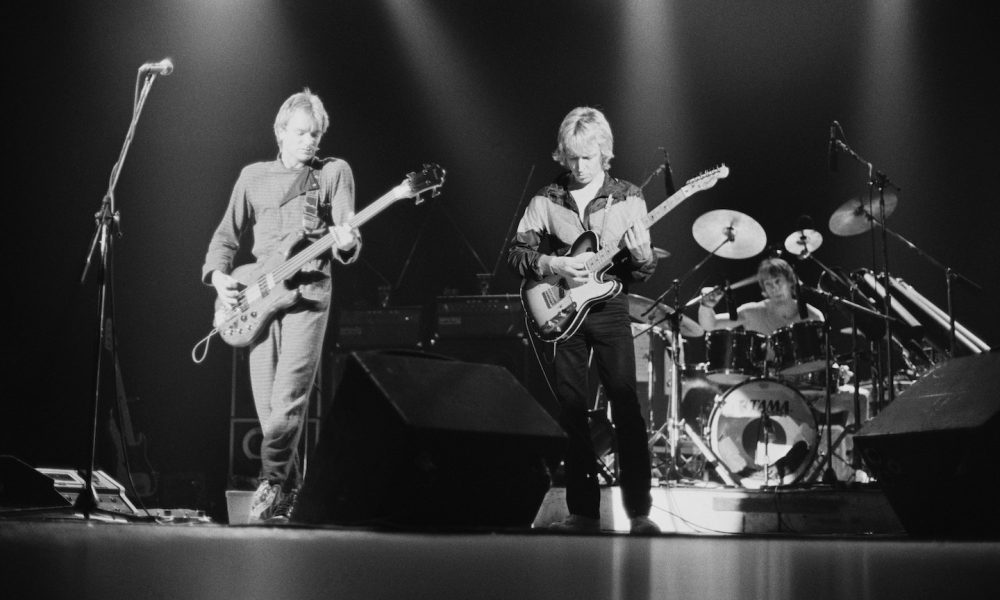 The Police's Greatest Hits collection, first released in 1992, will be reissued as a double LP set on 180 gram vinyl on March 24.
Shop the best of The Police's discography on vinyl and more.
This definitive anthology of one of the most popular and successful groups in rock and pop history first appeared during the CD era, when only a limited run of vinyl was made available. They became much sought-after among fans, while the CD edition rose to five-times platinum status in Australia, double platinum in the UK and Argentina, and platinum in Belgium, Canada, France, and New Zealand.
The compilation, remastered at Abbey Road Studios, features 16 tracks, of which no fewer than 14 were UK Top 20 hits and five reached No.1 there: "Message In A Bottle," "Walking On The Moon." "Don't Stand So Close To Me," "Every Little Thing She Does Is Magic," and "Every Breath You Take."
Greatest Hits continues to stand as a testament to one of the biggest bands of all time, whose worldwide sales total some 75 million records. The trio of Sting, Andy Summers, and Stewart Copeland won two BRIT Awards, six Grammys, and an MTV Video Music Award. The Police were inducted into the Rock and Roll Hall of Fame in 2003.
Pre-order The Police's Greatest Hits, which is reissued as a 180 gram 2LP set on March 24.
The full tracklist is:
Disc One:
Side A
Roxanne
Can't Stand Losing You
So Lonely
Message In A Bottle
Side B
Walking On The Moon
The Bed's Too Big Without You
Don't Stand So Close To Me
De Do Do Do, De Da Da Da
Disc Two:
Side A
Every Little Thing She Does Is Magic
Invisible Sun
Spirits In The Material World
Synchronicity II
Side B
Every Breath You Take
King Of Pain
Wrapped Around Your Finger
Tea In The Sahara