The Weeknd Shares How Quincy Jones Changed His Life During Music In Action Awards
'Doing something more than just talk; we all share that common goal,' said Willie 'Prophet' Stiggers.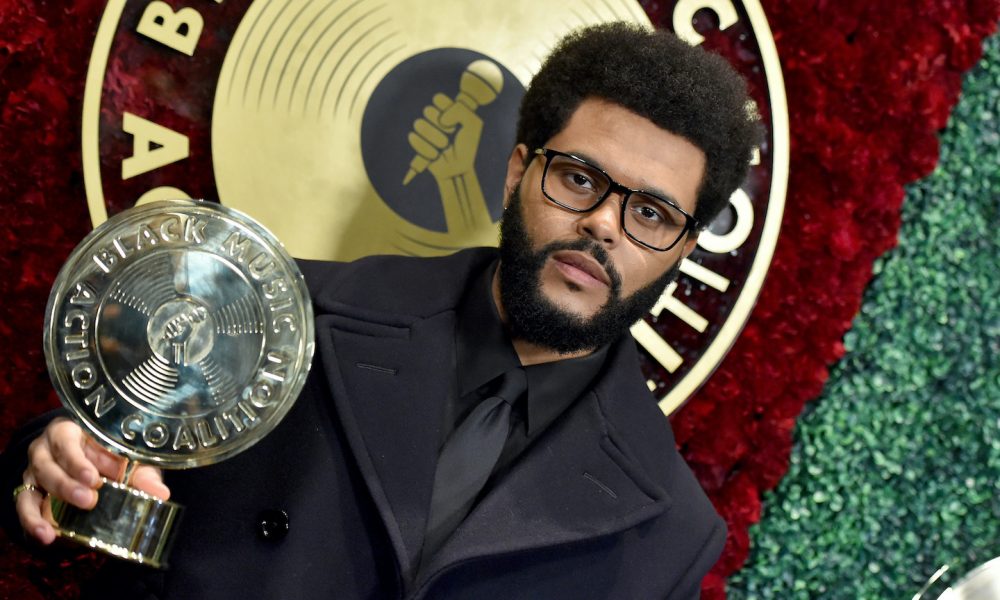 The Weeknd, H.E.R., Motown chairman/CEO Ethiopia Habtemariam, and attorneys Dina LaPolt and Ben Crump were among the honorees at the Black Music Action Coalition's first annual Music in Action Awards on Thursday night (Sept. 23). The inaugural event took place at the 1 Hotel in West Hollywood.
The Canadian crooner was in attendance to receive the Quincy Jones Humanitarian Award and gave a moving speech on how the musical icon inspired him early in his career.
"I actually first met Quincy Jones in Vegas a long time ago," shared The Weekend aka Abel Tesfaye. "He pulled up to one of my club shows and when I got off stage, he was waiting on the side and I was so excited to meet him. There were fans on the other side of the stage screaming and trying to get my attention but I was so focused on him, Quincy Jones, the reason why I do this.
He told me to go to the fans, go take pictures and sign autographs, I'll still be here waiting., they're more important. And that stuck with me til this day, he was teaching me a lesson in that moment that nothing is more important than the people and giving back is always better than receiving.
And tonight in honor of Quincy Jones, I will accept this accolade. This is the best award I've ever gotten in my life, I swear."
Billboard also reported Willie "Prophet" Stiggers' speech, writing that he said, "Doing something more than just talk; we all share that common goal," he told the packed ballroom after being introduced by the evening's emcee Kenny Burns. "That's why we're here tonight. And we're going to encourage, celebrate and support each other moving forward."
The award's other co-recipient was H.E.R., who was unable to attend. Accepting on her behalf was Walter Jones, co-head of A&R at Universal Music Publishing Group. Calling her his "little sister," Jones cited her song "I Can't Breathe," saying, "She seizes the opportunity to be heard and takes that seriously." Via videotape, H.E.R. said she was "proud to be part of this new generation speaking up and standing up."
Habtemariam, presented with The Clarence Avant Trailblazer Award, was paid tribute by Avant in a video clip before; her right-hand man Jeff Harleston, Universal Music Group general counsel/exec. vp business and legal affairs; Quality Control COO Kevin "Coach K" Lee; and award presenter and Warner Chappell senior director of A&R Brandra Ringo.
The evening's other spirited moments involved THE BMAC Agent of Change Award, presented to entertainment lawyer and artist rights advocate Dina LaPolt of LaPolt Law P.C., civil rights attorney Ben Crump and designer-activist Aurora James.
Given her award by family friend Gloria Jean Cox, the only sister of Tupac Shakur's mother Afeni Shakur, LaPolt declared to a standing ovation, "We have to make some changes, little things like losing the term master recordings, using rap lyrics against artists in courts and f__king getting rid of confederate monuments. It's all unacceptable. And I will never take my foot off the gas pedal."
Listen to the best of The Weeknd on Apple Music and Spotify.