Thomas Rhett Scores 22nd Country Airplay Top Ten With 'Angels Don't Always Have Wings'
The song will be a bonus track on his upcoming vinyl compilation 'Twenty Number Ones.'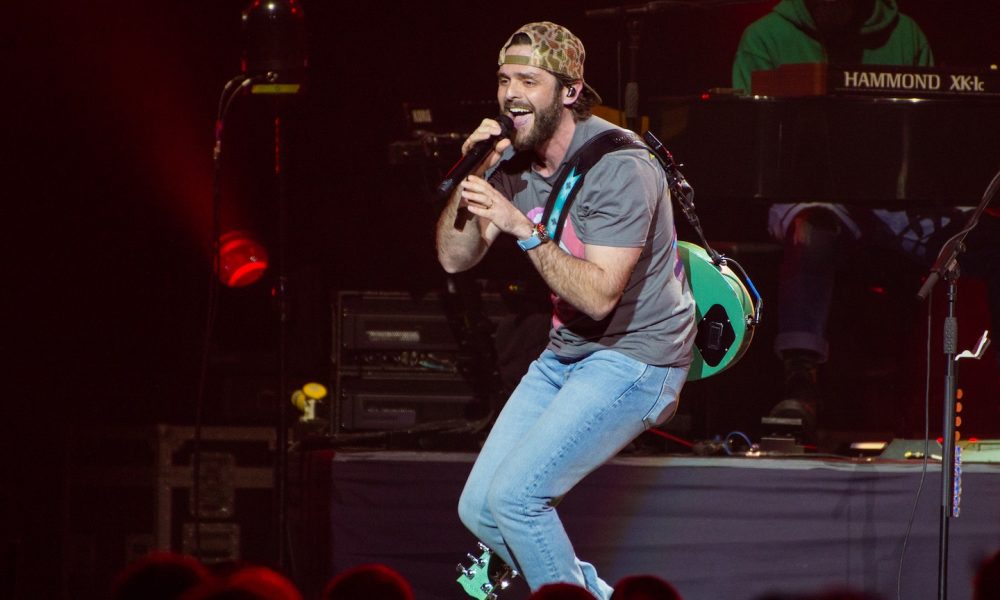 Thomas Rhett has achieved his 22nd Top 10 hit on Billboard's Country Airplay chart with the Valory/BMLG release "Angels Don't Always Have Wings."
The song is up 11-10 on the chart dated July 29, which covers the tracking week of July 14-20 tracking week. Rhett wrote it with Julian Bunetta, Teddy Swims, and Josh Thompson and it's the third single from the star's Where We Started album. It's now approaching ten years since Rhett scored the first of those airplay top tenners with "It Goes Like This," which went on to No.1 for a three-week run in October 2013.
Thomas Rhett - Angels (Don't Always Have Wings) (Audio)
In June, he announced the release on September 29 of the Twenty Number Ones vinyl compilation, which celebrates that country chart achievement and will include "Angels Don't Always Have Wings" as a bonus track. The album will be available in special edition packages as well as a clear vinyl LP at Target and a gold metallic version at Walmart.
The current single, released by Valory to country radio in January, has ascended to the Top 10 over the course of six months, not uncommon in the genre. Rhett told Billboard that his falsetto vocal on the track, coupled with the personal relevance of the lyric, provided particular challenges. "I really just wanted to lock myself in that emotion alone and see what would come out," he said. "The intricacies of my voice breaking up or the falsetto not being perfect – that's the realness of it."
Taste Of Country wrote of his performance: "Rhett unlocks a new vocal dimension in this soaring ballad, braiding vocal finesse and firepower to maximize emotional impact." He told ToC: "It's just like working out any type of muscle. But learning how to breathe correctly and all that stuff. You know, I just started doing vocal lessons a couple years ago, so I think I've got a lot of stuff to learn."
Pre-order Thomas Rhett's 20 Number Ones.