Three Vinyl Editions Celebrate Blues-Rock Kings George Thorogood & The Destroyers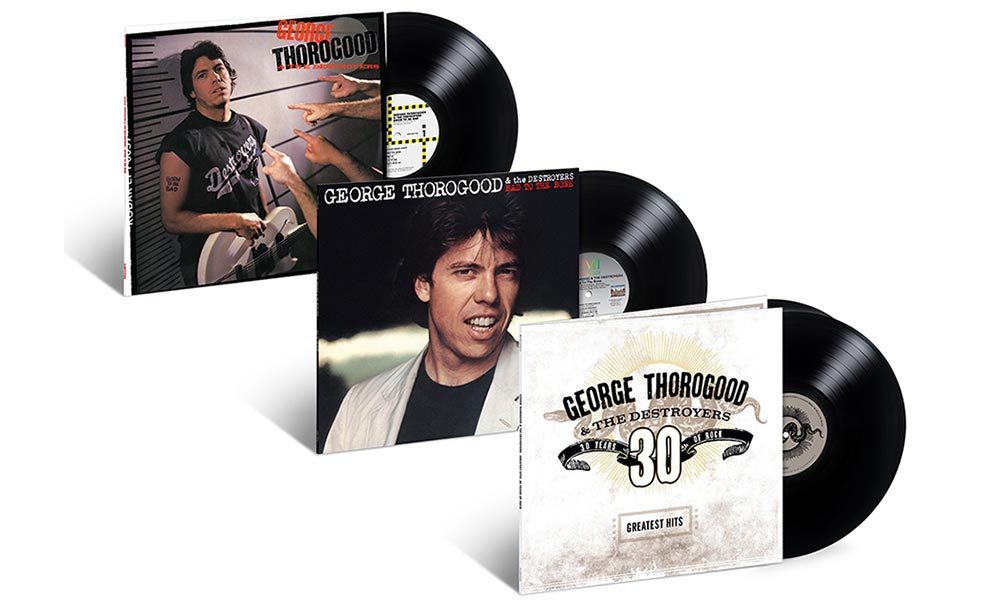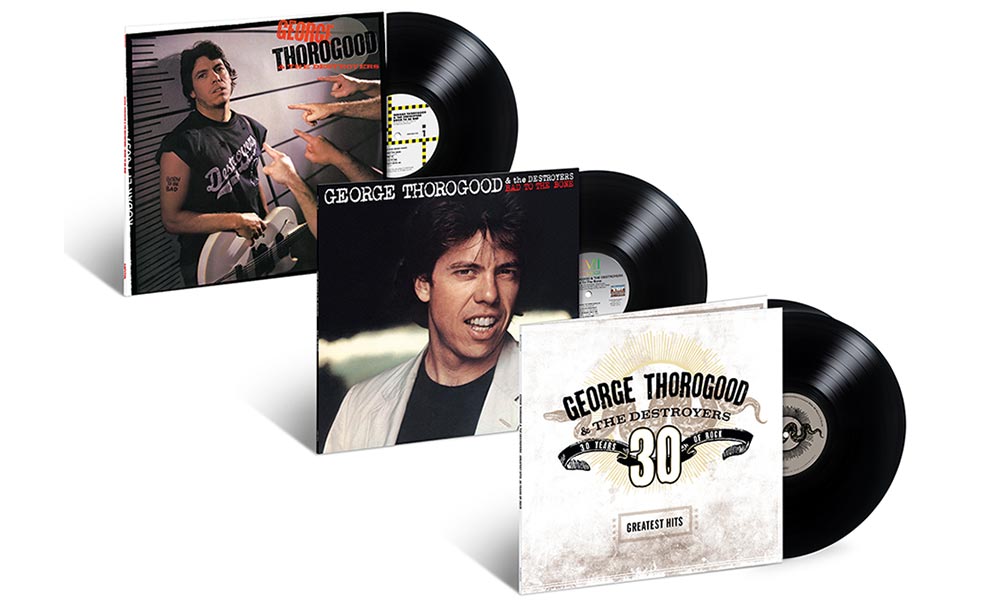 Powerhouse blues-rock favourites George Thorogood & the Destroyers will be honoured with three special vinyl LP releases from Capitol/UMe on 30 March. They are their 1982 major label debut Bad To The Bone, 1988's Born To Be Bad and the 2004 retrospective Greatest Hits: 30 Years Of Rock.
All three of these notable entries in the band's catalogue were certified gold by the RIAA; the two studio albums have long been out of print on vinyl, and the compilation has never been available in the format before. Each is now available for pre-order as both black vinyl LPs and in limited edition, 180-gram colour vinyl editions.
By the time Bad To The Bone marked the arrival of Thorogood and the Destroyers on EMI America, they'd made their name as a formidable live entity, touring with the Rolling Stones and performing 50 US shows in all 50 states in 50 days. The album featured the much-loved title track and crossover hit, as well as other originals like 'Back To Wentzville' and 'It's A Sin' alongside covers of Chuck Berry's 'No Particular Place to Go' and the Isley Brothers' 'Nobody But Me.'
George Thorogood - Bad To The Bone - 7/5/1984 - Capitol Theatre (Official)
Born To Be Bad was the group's seventh studio album, and included covers of the Roy Head hit 'Treat Her Right' and songs by Berry, Elmore James, Howlin' Wolf and others, plus their original 'You Talk Too Much.' 30 Years Of Rock gathered 16 of their most outstanding tracks, including 'Bad To The Bone,' 'One Bourbon, One Scotch, One Beer,' and 'If You Don't Start Drinking (I'm Gonna Leave),' plus two live tracks advertising their famous preeminence as a touring attraction.
George Thorogood & the Destroyers continue to tour around the world, and tickets are now on sale for their North American itinerary in April and May.
Pre-order Bad To The Bone, Born To Be Bad and Greatest Hits: 30 Years Of Rock.
Explore our George Thorogood Artist Page.
The track listings for the vinyl editions are as follows:

Bad To The Bone [1LP black vinyl; limited edition 1LP buttercream color vinyl]
1. Back To Wentzville (Side A)
2. Blue Highway (Side A)
3. Nobody But Me (Side A)
4. It's A Sin (Side A)
5. New Boogie Chillun (Side A)
6. Bad To The Bone (Side B)
7. Miss Luann (Side B)
8. As the Years Go Passing By (Side B)
9. No Particular Place to Go (Side B)
10.Wanted Man (Side B)
Born To Be Bad [1LP black vinyl; limited edition 1LP opaque yellow color vinyl]
1. Shake Your Money Maker (Side A)
2. You Talk Too Much (Side A)
3. Highway 49 (Side A)
4. Born To Be Bad (Side A)
5. You Can't Catch Me (Side A)
6. I'm Ready (Side B)
7. Treat Her Right (Side B)
8. I Really Like Girls (Side B)
9. Smokestack Lightning (Side B)
10.I'm Movin' On (Side B)
Greatest Hits: 30 Years Of Rock [2LP black vinyl; limited edition 2LP root beer color vinyl]
LP 1
1. Madison Blues (Side A)
2. One Bourbon, One Scotch, One Beer (Side A)
3. Move It On Over (Side A)
4. Who Do You Love (Side A)
5. Bad To The Bone (Side B)
6. I Drink Alone (Side B)
7. Gear Jammer (Side B)
8. Willie And The Hand Jive (Side B)
LP 2
1. The Sky Is Crying (Live) (Side A)
2. Reelin' And Rockin' (Live) (Side A)
3. You Talk Too Much (Side A)
4. If You Don't Start Drinkin' (I'm Gonna Leave) (Side B)
5. Get A Haircut (Side B)
6. Rockin' My Life Away (Side B)
7. American Made (Side B)
8. Who Do You Love? (Side B)
Format:
UK English